UPDATE AS OF JULY 4, 2023:
ESTES PARK FIREWORKS DISPLAY POSTPONED TO JULY 15 DUE TO SEVERE WEATHER FORECAST
Due to forecasted severe weather for the evening of July 4, 2023, the Town of Estes Park has postponed the Independence Day fireworks display. This decision was made out of concern for the safety of spectators and event staff. The display has been rescheduled for July 15, 2023 at 9:30 pm.
Original article:
The Fourth of July is one of the busiest days in Estes Park, rightfully so. It's a great idea. Seeing fireworks over the lake and celebrating America among the mountains is awesome. Get here early (the fireworks start around 9-9:30 pm over Lake Estes, and we suggest staying the night before). And if you get stuck in traffic, play those car games and bop along to our Estes Park 4th of July Spotify playlist. Here's what you need to know for parking.
Whether you like to be in the middle of the celebration as the life of the party or watching from above to soak it all in, we curated a list of some fun spots every kind of celebrator would enjoy the fireworks from.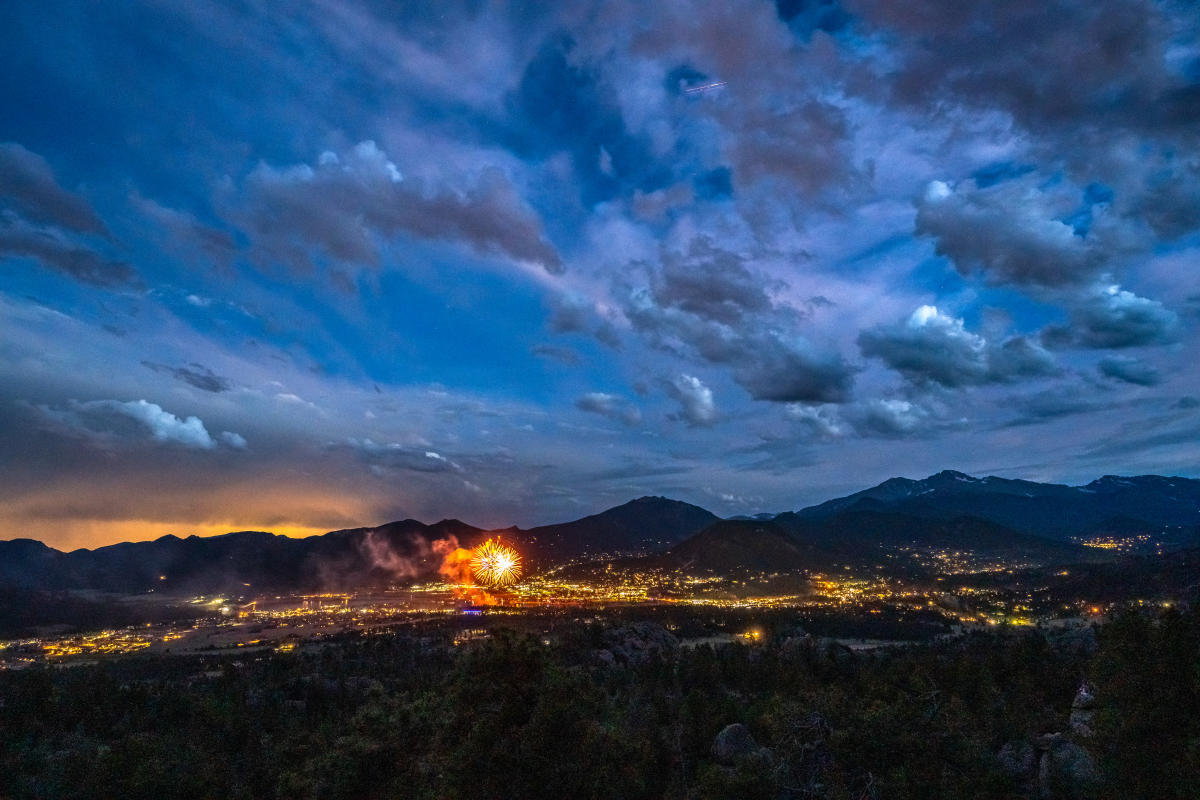 For those who want to earn their fireworks…
Of course, let's remember our hiking safety and pack those headlamps! And bring a buddy! 
 
The Knoll
This trail starts in downtown Estes, making it extremely accessible at only .5 mile and rewarding you with a good view of downtown and Lake Estes.

Kruger Rock
This trail starts a little bit outside of Estes, down Highway 36 in Hermit Park. After hiking through fields and up and around a forested mountain, you'll reach Kruger Rock after about 2 miles. You'll get 360 views up there but the fireworks and town lights make it obvious to know which way to look. Your dog could even enjoy the fireworks (not too loud to spook a pup hopefully). Again, you don't need to go all the way to Kruger Rock for a prime viewing spot.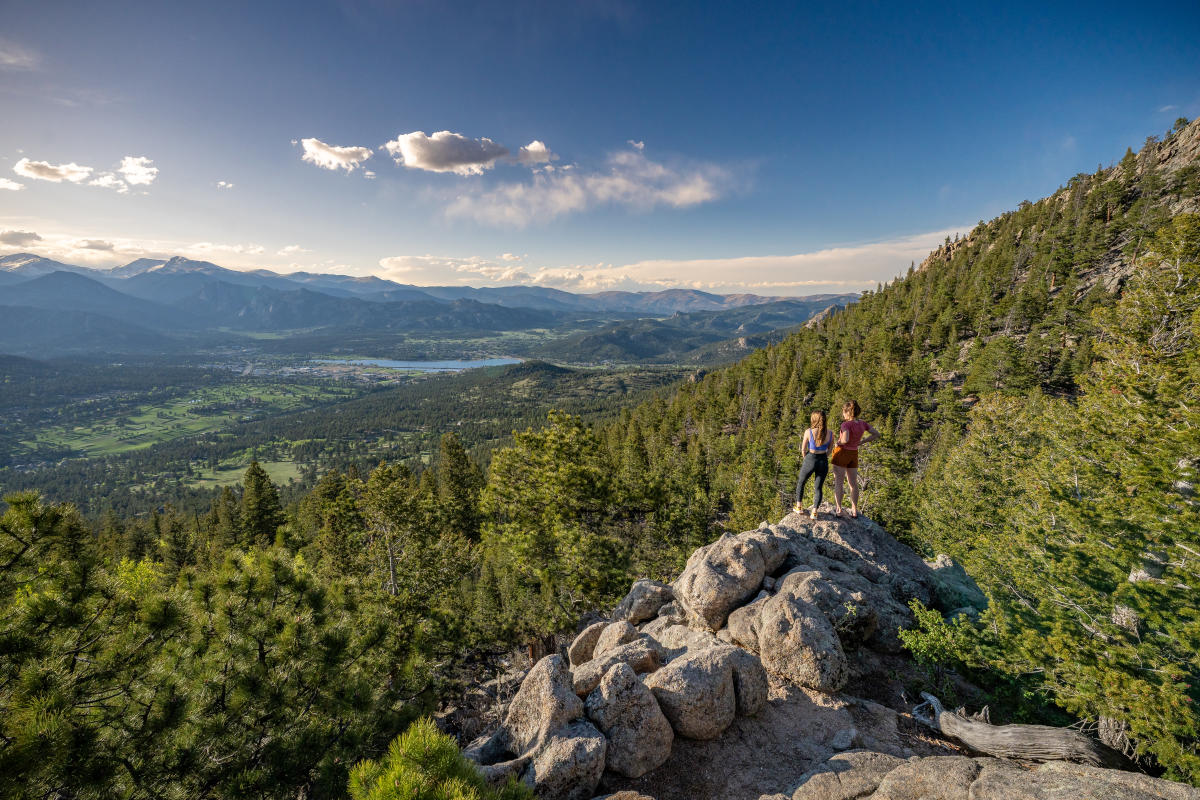 Gem Lake Trail
We don't recommend going all the way to Gem Lake this late at night but there are several rest points on the way. Just start hiking until you find an overlook you can jam with (there are several).
For those who want more than fireworks…
Enjoy a display of classic cars and fireworks at the American Legion! Car staging begins at 10am, Legion opens at 11AM.
 
The Estes Park Village Band presents a free Fourth of July Concert at Performance Park at 7 p.m. Jam along to traditional patriotic songs with local musicians and singers. 
 
An Estes tradition, the Event Center Complex hosts their annual Big Bang Event, celebrating the fourth with music, food, craft beer & wine and once again, a great view of the fireworks from the covered grandstands. Grab your ticket here.
For those who want a front row seat…
 
Around the Lake
The Lake Estes trail is a little under 4 miles and is waiting for you to set up your camping chairs, look up and enjoy.
 
The Dunraven at the Estes Park Resort
This restaurant and lodge is located on the northeast side of the lake and has a front-row seat to the fireworks show over Lake Estes.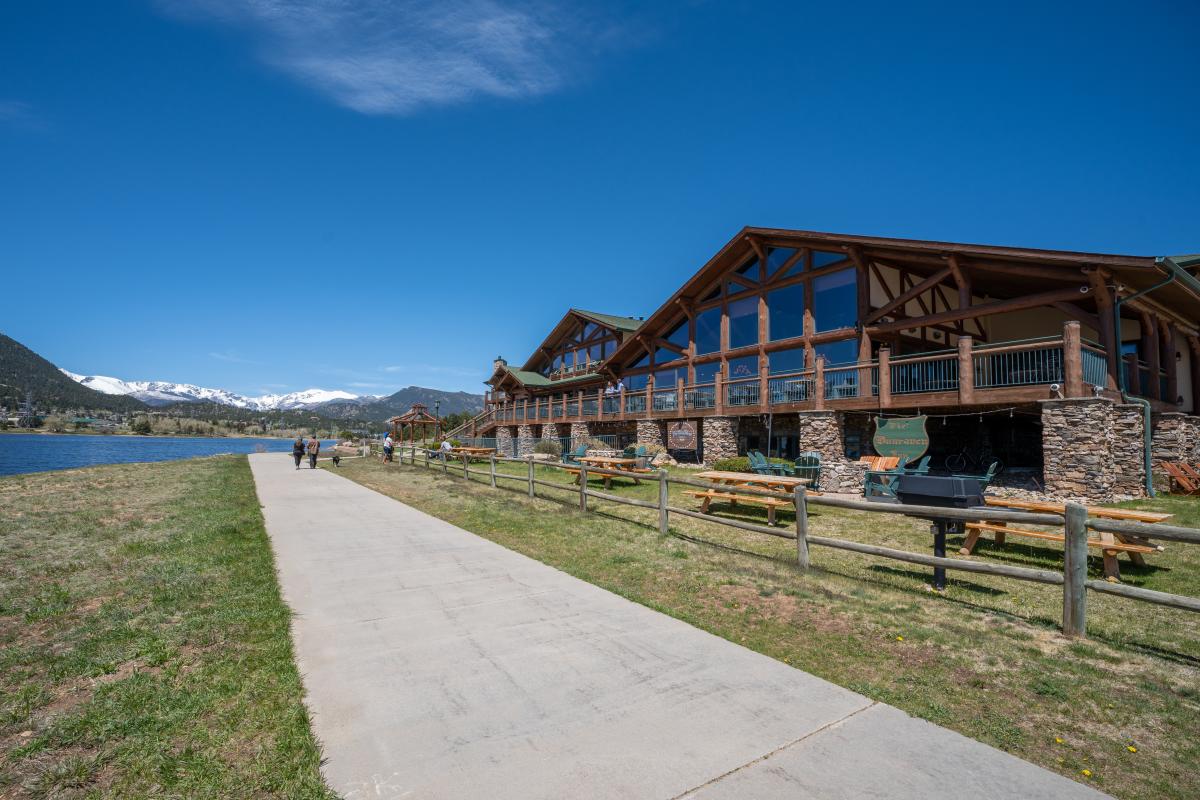 If you are staying in lodging that surrounds the lake like Estes Lake Lodge, or any of the long list of lodging that line the lake on Highway 34, you already have prime real estate for viewing the fireworks... and you already have a parking spot!
SnowyGrass Music Festival
Jam out to awesome BlueGrass music and enjoy sparkling explosions in one fell swoop at SnowyGrass Music Festival. Taking place at Stanley Park, tickets to this festival will also provide you with a front-row seat for the fireworks show.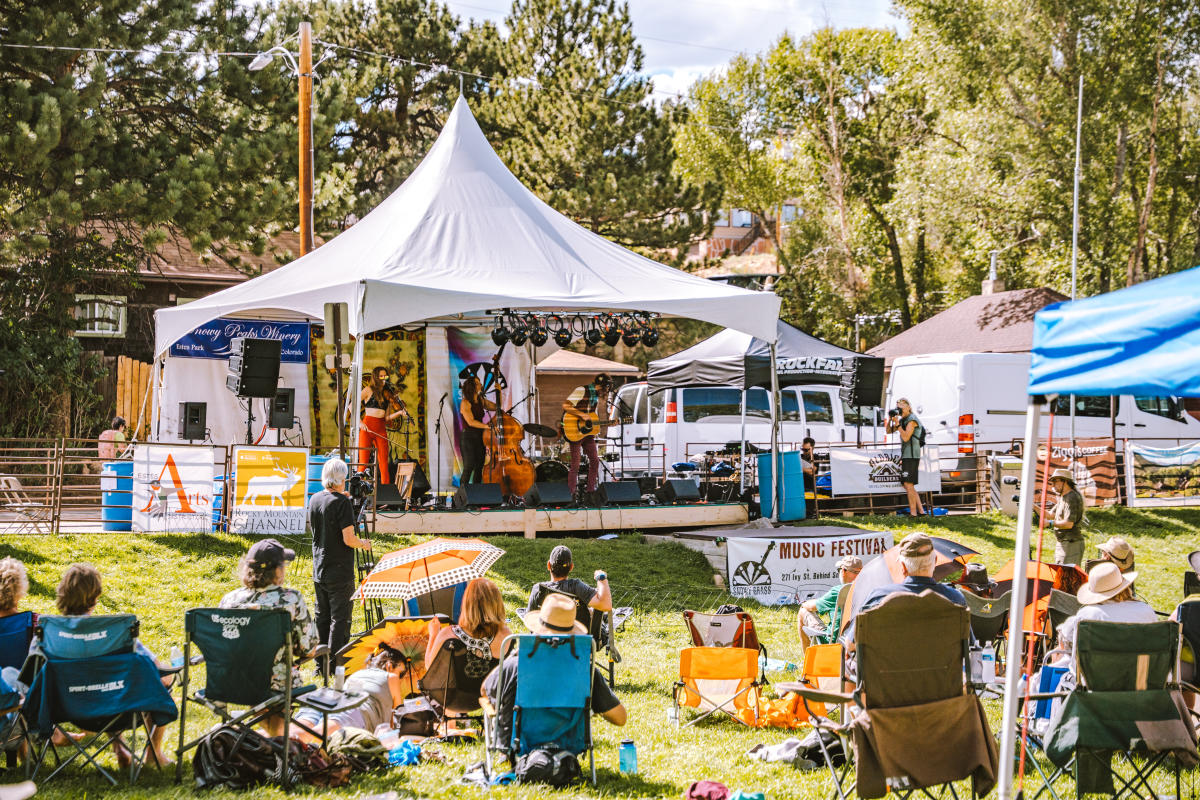 And lastly, let's be safe. We really like our visitors and want you to have the best time you can. Check out the shuttles page or call 970-577-9900 for more information about that one! Oh, one more thing - have fun!