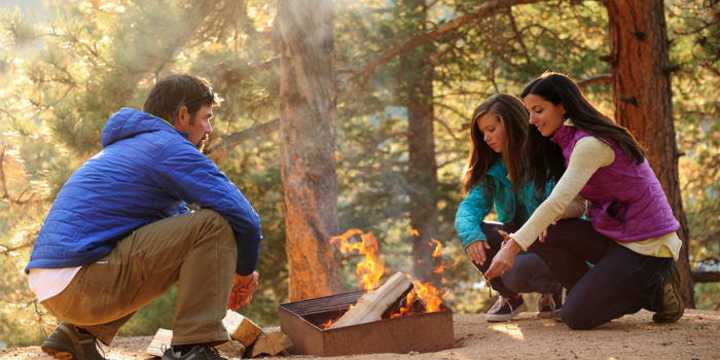 Rocky Mountain National Park Camping
The Ultimate Campout
There is nothing like camping in Rocky Mountain National Park to experience true wilderness. Luckily, there are many ways to overnight in its pristine lands, from backcountry campsites to tent villages to a few RV sites - ensuring you feel one with nature no matter how you prefer to camp. For complete details and information visit the official Rocky Mountain National Park Camping Webpage. 
For updated information on fire restrictions visit our Fire Information page.
Campgrounds
Campgrounds in Rocky Mountain National Park offer unique, wilderness-meets-community experiences for couples, families and groups. Camping fees are $26 per site, per night in the summer, and $18 in the winter (when the water is off) - some park passes include discounts. Campers may check in after 1 p.m. and are requested to check out by noon; abide by posted quiet hours.
Aspenglen Campground
Located just inside the park from the Fall River Entrance, this 53-site campground is open during summer months only. It can accommodate RVs up to 30 feet, but does not have a dump station or hook-ups. Reserve your spot early.
Glacier Basin Campground
Located on Bear Lake Road, approximately six miles south of the Beaver Meadows Entrance Satation, this 150 site campground provide easy access to many areas of the East side of the park. Reservations are available for this popular summer-only campground which offers a shuttle stop, tent & RV (35 feet) spots and on-site Ranger-led evening programs. 
Longs Peak Campground
Find this tents-only campground in the Wild Basin area, off Highway 7 south of Estes Park. It holds 26 sites and features vault toilets and water access and quick entry to the Longs Peak Trailhead. Reservations are not taken for this site, open summer only. 
Moraine Park Campground
Campers, particularly hikers, favor this year-round campground, where several trails originate. It's easily accessed via Bear Lake Road, near the park's Beaver Meadows Entrance (southwest), and features 244 sites, all able to be reserved. It allows RVs up to 40 feet long and accommodates them further with a dump station and water hook-ups. Group sites also are available. 
Timber Creek Campground
The only campground on the park's west side, Timber Creek is often the best bet for those seeking an open spot on a first-come basis. This campground offers 98 sites, accommodations for RVs up to 30 feet, a dump station and water hook-ups. Timber Creek is summer only and access from Estes Park is available only when Trail Ridge Road is open (usually Memorial Day through mid-October, depending on weather) approximate drive time from Estes Park is an hour and a half. 
Backcountry Camping
Many hikers want to experience the thrill of camping in the wild, which is what backcountry camping in Rocky Mountain National Park is like. Backcountry permits are necessary and may be obtained at the Backcountry Offices. Near Estes Park, the Backcountry Office is located at the Beaver Meadows Visitor Center. Many backcountry campsites dot the park, including special sites for groups of more than seven people. Campers are asked to take responsibility for their sites, such as practicing proper Leave No Trace techniques and taking appropriate wildlife protection measures. More information on these tips plus suggestions for how to plan a backcountry camping trip may be found at the official Rocky Mountain National Park Backcountry Webpage.