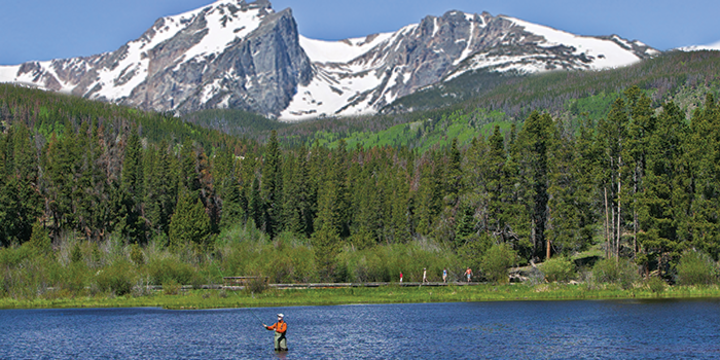 Maximize Your Partnership with Visit Estes Park
Be engaged & involved with Visit Estes Park! Communication is a two-way street and we want you to be part of the destination marketing conversation. There are lots of ways to maximize your stakeholder status with Visit Estes Park:
Engage Our Staff
Tell us about your business! All of us on the Visit Estes Park team want to hear what's new, how your business is doing, ideas you have for destination marketing, and what we can do to help.  Reach out to any of us on staff and we'll be happy to chat or set up an appointment.
Email Communications - Get 'Em & Read 'Em!
Since we have such a large number of tourism partners (close to 500!), the best way for us to mass communicate is via email. If you're part of our email list, you are already receiving newsletters, cooperative marketing invitations, information from our partners, board meeting agendas and reminders, and more. Please read them and respond, if necessary! And if you're not on the list, let us know by filling out the Partner Feedback form or by emailing visitestespark@visitestespark.com.  We'll get you added and in the loop.
Attend Meetings & Events
Whether it's the Annual Stakeholder Meeting (typically held the first week in May), a Visit Estes Park Board meeting (usually the 1st & 3rd Tuesdays of each month), an educational workshop, or any other get-together, we value your presence.  Consider attending Visit Estes Park meetings and events to get some face time with the staff and/or board. 
Keep Your Listings & Other Website Content Updated 
Enhance the website guest experience by periodically refreshing your content on VisitEstesPark.com.  If you have an Enhanced Listing or above, you can add photos, post specials/coupons, integrate your social media channels, or just update your description to keep guests better engaged.  Check out the OLIVE User Guide and the Coupon Guide for step-by-step instructions. Find out more about listings, online advertising, how to engage with current promotions and more on our Website Advertising page. Don't have an Enhanced Listing but want one? Or, looking to update another element of your web program?  Reach out Visit Estes Park at 970-586-0500.
Follow Our Social Channels
Connect with Visit Estes Park on social media!  Share your content with us, or share our content with your guests.  Join the conversation on our Facebook, Twitter, Pinterest, Instagram, or on our blog. Need help navigating the social media waters? Want to become a guest blogger? Contact Josh Harms at jharms@visitestespark.com
Media Visits, FAM Trips, and Other PR Initiatives
Visit Estes Park, along with our PR firm, works to garner Estes Park mentions and stories about Estes Park in publications around the world.  These stories and articles result in millions of dollars worth of reader impressions, and most importantly, of getting eyeballs on Estes Park.
Oftentimes, these articles are a result of a media visit or FAM trip to Estes Park.  We are always looking for hosting businesses for these trips!  If you are interested getting involved with these stories by providing a meal, activity or overnight stay for press, please contact Rachel Oppermann at roppermann@visitestespark.com.
Visit Estes Park's PR team is always looking for information on what's new and upcoming in Estes Park to share with press and to use for website, blog and social media content and promotions. We would like information on  anything that is new or scheduled to be introduced within the next 12 months. The entire item doesn't need to be new, but an element of the item needs to be. For example, the addition of live music to an annual event or a new menu at a restaurant. Any major anniversaries coming up are also helpful to know about.
To be included in this media release opportunity, please send details on anything new (include the introduction date) that fits one of the following categories to Rachel Oppermann at roppermann@visitestespark.com.
Brand New Openings & Major Developments - Hotel, Restaurant, Shops & Attractions 

Ex: Updates on the new wellness center; new breweries; new shops; upcoming hotels 

Upgrades, Renovations & New Offerings (exhibits, tours, classes, etc.) 

Ex: New chefs/owners; new hot tubs with a view; new fat bike trails; room renovations; upgraded room amenities; new menu items; new spa treatments and experiences; new classes and seminars; new fall foliage tours

Fall and Winter Updates 

Ex: Secret fall foliage vantage points; Snowshoeing where it's never been done; best ice climbing hikes and new ice experiences; special events (stargazing party during meteor shows; Halloween/Thanksgiving/Christmas activities; etc.); Estes Park's most haunted locations, etc. 

Upcoming Events: They don't need to be new events (but they can be), just need to have a unique story behind them or something new added to an existing event. (I.e. new Estes Park beers at the Fall Back Beer Festival)
Unusual Offerings & Industry Trends 

Ex: Mixology competitions and classes between restaurants; farm-to-table dinners outdoors or in unique places; sleep therapy concierge; underground/secret art exhibits

Packages & Deals 

Packages do not need to be largely discounted but rather can include value-added components (the price can be increased with those items).
The more creative the package, the better chance media will be interested in it.
For example, a "Hunger Games" package that includes accommodations, wilderness survival course, archery lesson and a feast for two (with game meat included).

Prestigious Awards Received in 2018 or 2019
Upcoming Anniversaries for 2019 02 2020 (Include any special activities to celebrate them) 

Ex: Celebrations for the National Park Service's Centennial in 2016