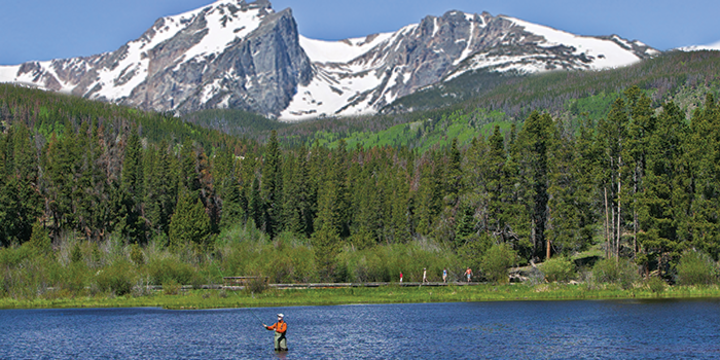 Visit Estes Park Destination Marketing & Promotions
Visit Estes Park's intent is to grow visitation to Estes Park through effective marketing. This is done through many tools, mainly paid, earned and owned media. Paid media includes all paid advertising, whether print, broadcast, digital or out-of-home. Earned media is another term for press exposure which is done through our public relations program. Owned media are the channels that we own, create and produce, like the Official Visitor Guide, the VisitEstesPark.com website, social channels, creative assets, etc. Various tactics in each of these areas comprise the overall destination marketing plan. Peruse our Current Promotions to see what temporary opportunities there are for you to participate in today!
Destination Advertising
Visit Estes Park's mission is to attract visitors to Estes Park. Part of how we do that is through paid and owned marketing. Our paid marketing mix includes both print and digital advertising in local, regional and national outlets. Owned media marketing includes our many on-line social media channels through which we share our messages, update followers on news & events, and 'sell' Estes Park as an amazing vacation destination. Our current social media channels include Facebook, Twitter, Google+, Instagram, Pinterest, Flickr, YouTube and our blog.
Click here to see Visit Estes Park's Telly award-winning commercial, "Take Flight."
Click here to see Visit Estes Park's commercial, "Escape to Estes."
Public Relations Efforts
Visit Estes Park is continuously working with members of the media, freelance writers and our partners to promote Estes Park through print and digital articles or stories. These efforts include targeted pitches, meeting and events, press tours and visits, press releases, and ongoing relationship management. Our efforts in these areas are assisted by partners at the Colorado Tourism Office and Turner Public Relations. 
Stakeholders can participate in Visit Estes Park's public relations by hosting media when they visit Estes Park, by being part of promotional packages, and by keeping Visit Estes Park informed of news about their businesses and organizations. Press hosting and promotional packages can include lodging, dining, activities and more.  Email Josh to find out how you can get involved and get some media exposure for your business or organization: JHarms@VisitEstesPark.com. 
Consumer Communications
In addition to paid media and earned media, Visit Estes Park manages several areas of owned media, which include social media channels, a blog, website and e-newsletter program.  These tools allow Visit Estes Park multiple platforms to engage with and communicate to various consumer groups over time. Through a variety of tactics, including the sharing of news, updates on local events & businesses, and promotions and giveaways. 
Stakeholders can participate in these programs in a variety of ways, including:
Contribute to giveaways for promotions
Keep Visit Estes Park updated on news in your business: openings, closings, new products/services, upgrades/remodels, etc.
Share an area of expertise as a guest blogger, photographer or videographer
 Current Promotions 
Centennial Restaurant Challenge with Grand Lake
Visit Estes Park has been working with Grand Lake to develop a fun and creative way to compete with each other while celebrating the centennial through food! We are presenting the Centennial Cook-Off Challenge pitting our great restaurants against their's in three categories: main course/entree, dessert or snack, and cocktail or drink. Get the details and register your entry by downloading the pdf here.
Promotional Landing Pages & Coupons
Centennial: We are celebrating the RMNP Centennial through advertising and public relations. Coupons with a RMNP and/or Centennial theme or element can be featured in this promotional coupon section and category. Offers will live on a landing page where tens-of-thousands worth of advertising will direct consumers to. Take advantage of this great opportunity by submitting your coupon today!