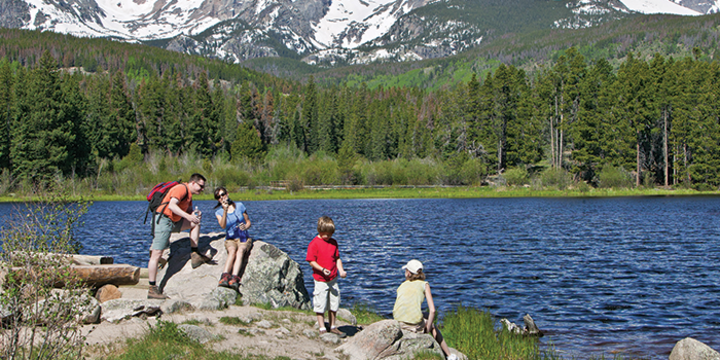 Rocky Mountain National Park Hiking
A Trek to Remember
In Rocky Mountain National Park, hiking is the number-one activity. Whether you are walking around a peaceful lake trail or climbing a 14er, this park has something for you! We have compiles a short list of hikes at a variety of skill levels, so you can find the perfect trail adventure for you.
Easy: Hike Without the Incline
For those with restriction of time, mobility or skills a simple trek around a lake or meadow will suffice quite nicely.  The ambiance and wildlife are just as spectacular if you aren't huffing and puffing up a steep mountainside, after all.  We suggest trying these trails out:
Lily Lake: The Lily Lake Trail encircles the pristine Lily Lake for 0.8 miles with very little grade, or incline. Located south of Estes Park in Rocky Mountain National Park, this trail is easy to access directly along Highway 7. The lake and trail are surrounded by beautiful forests of aspen and pine. Fishing is also allowed in the lake and both the pier and trail are wheelchair accessible. Option: For a bit more of a challenge take the Lily Ridge Loop that splits off the Lily Lake trail on the north edge, offering the same 0.8-mile distance, but with a 180-foot rise. Perfect for groups with people at different skill levels.


Sprague Lake: A second wheelchair accessible, looped trail to explore is the Sprague Lake Nature Trail. Located inside Rocky Mountain National Park off of Bear Lake Road, this favorite spot offers an easy, but scenic stroll around the lake. Birds abound along this 0.5-mile path that features many benches for resting or just taking in the amazing views of the Continental Divide.


Copeland Falls: Enjoy an easy hike with a great payoff! These gloriously cascading falls are at the end of a 0.3-mile hike with little to no incline. This trail starts at the Wild Basin Trailhead in the Wild Basin area of the national park, south on Highway 7 from Estes Park. Option: Slightly more advanced hikers can continue on to Calypso Cascades along the Thunder Lake Trail for about another 1.1 miles. This journey involves a slight, 780-foot incline.

Moderate: Short or Sweet
Looking to challenge yourself a bit more and spend a good part of the day hiking along beautiful trails? These moderate day hikes provide big views for a relatively short time on the trail. Be sure to start early in the morning during summer months to avoid afternoon thunderstorms, pack a lunch or snack and wear layers!
Gem Lake: One of the most popular hikes in the Estes Valley, the Gem Lake Trail starts at the Lumpy Ridge Trailhead in Rocky Mountain National Park north of Estes Park off of Devil's Gulch Road. While there is a slight incline of 968 feet, there are some rather steep spots.  Up and back, this trail involves 3.4 miles in all and boasts some of the most spectacular views of the Estes Valley along the way.  Tip: Look for a unique rock formation along the way, known as Paul Bunyan's Boot; it looks like a boot with a hole in the sole.Option: If you want to make a day of it, the Lumpy Ridge loop continues past Gem Lake, looping around the Cow Creek and the Black Canyon Trails. This option is 10.7 miles in all, so be prepared.


Finch Lake: One of the less traveled trails, the Finch Lake Trail is an excellent journey for birders and naturalists. At almost 10,000 feet, the swampy shoreline of Finch Lake provides the perfect habitat for local and migrating feathered friends to find respite. Starting at the Finch Lake Trailhead, follow the trail 4.5 miles, up 1,442 feet to the lake. The trailhead is located off of Highway 7 (south of Estes Park) in the Wild Basin area of Rocky Mountain National Park.  Option: Continue along the Finch Lake Trail an additional two miles to reach Pear Lake, once a man-made reservoir, where you can explore the 'bathtub rings' of the shoreline. The great views and peaceful setting make this a great place for a midday lunch break.


Fern Lake: This stellar lake is the former home of the Fern Lake Lodge - a hotspot for winter adventure from 1916 to 1934. One of the more challenging 'moderate' day hikes, it covers a 3.8-mile section of trail with a 1,275-foot rise.  terrain ending with spectacular views of Notchtop and Little Matterhorn.  The Fern lake Trailhead is located centrally in the park, near the west end of Moraine Park, inside Rocky Mountain National Park. Tip: The Fern Lake area was the location of the Fern Lake Fire in late 2012. Look for new growth and wildflowers along the way.  Option: Another mile up the trail is Odessa Lake, offering an additional target for those with more time and energy. 

Difficult: Challenge Yourself
Please note that the hikes listed below are technical hikes for experienced hikers only. Please do your research on the official Rocky Mountain National Park website and take all precautions necessary for your safety. 
Longs Peak: The ultimate mountain challenge, this famous 14-er will test your skills.  Getting an early start and carefully planning your route are important to making it off the peak before the afternoon showers (and lightening) tend to strike.  The trailhead is located south of Estes Park, off of Highway 7. 
 
Andrews  Tarn & Andrews Glacier: This frigid, glacier-fed lake resides at over 11,000 feet. The journey will take you 4.6 miles and over 2,000 feet in elevation.  For the technical climber, continue past the lake to the south to find the bulging Andrews Glacier. Depending on conditions, technical equipment is typically recommended for safe climbing. Access both points of interest from the Glacier Gorge Trailhead off of Bear Lake Road in Rocky Mountain National Park, following the Loch Vale Trail to the Andrews Creek Trail.    
For information on additional hiking in the Estes Park area, including outfitters, guided options and pet-friendly excursions (as pets are only allowed along roadsides, in parking areas, picnic areas and campgrounds in RMNP) please visit our Hiking section.
Winter hiking in Rocky can be quite different. Find details in the winter hiking section.
For current trail conditions and more information on trails and hiking in Rocky Mountain National Park, please visit NPS.gov/ROMO.