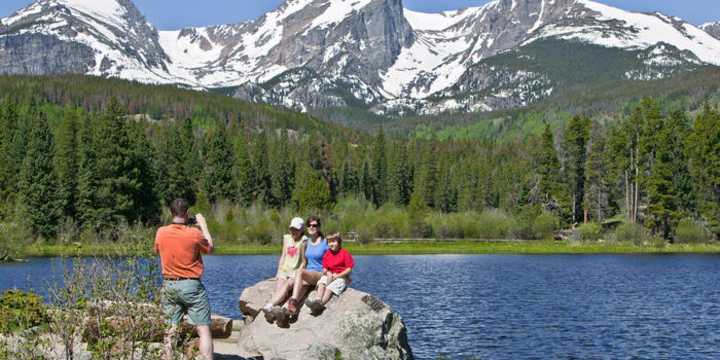 Scenic Walks
Scenic Strolls in the Sun
You don't have to have legs of steel and a heart to match to enjoy Rocky Mountain National Park's scenic wonders. Sure, much of the great outdoors here caters to avid adventurers, but not all. The park contains several mellow walks that show off the area's vast natural beauty in summer and fall-snowcapped peaks, dainty summer wildflowers, prolific wildlife and stunning autumn foliage. Short, with little elevation gain, these trails are perfect for people and families who want to stretch their legs but not pull a muscle.
Tundra Communities Trail: .5 miles roundtrip; paved
Found north of Rock Cut on Trail Ridge Road, this paved walk is accessible only when the road is open (typically Memorial Day through mid-October). It meanders out-and-back across the tundra, gaining little elevation. Sweeping vistas of the Continental Divide, including Longs Peak and the Never Summers, extend in every direction. You truly feel like you're on top of the world. Guests should note that the air is thinner since the trail sits at 12,110 feet.
Sprague Lake: .25 miles roundtrip; packed gravel
Homesteader Abner Sprague knew beauty when he saw it, so he settled near this upper-montane lake. A century later, walkers appreciate the same breathtaking views he did of the Continental Divide, best admired from the far end of the lake. Accessed from Bear Lake Road, the trail shows off panoramas of the Continental Divide, including Hallett, Otis and Taylor peaks-draped with snow. Enjoy benches along to way to take a rest and soak in the view. 
Lily Lake: .8 miles roundtrip; packed gravel
Located off Highway 7, this trail welcomes families and easily accommodates strollers-all-terrain wheels not required. Visit during spring and early summer to see wildflowers in gorgeous bloom in the fields around the lake. Timed right with the sun, you might catch Mount Meeker, Twin Sisters and Longs Peak reflected in the clear water.
For information on scenic walks in the Estes Park area, please visit the Outdoor Adventures section. Additional information on the trails and trail conditions in Rocky Mountain National Park can be found at NPS.gov/ROMO.