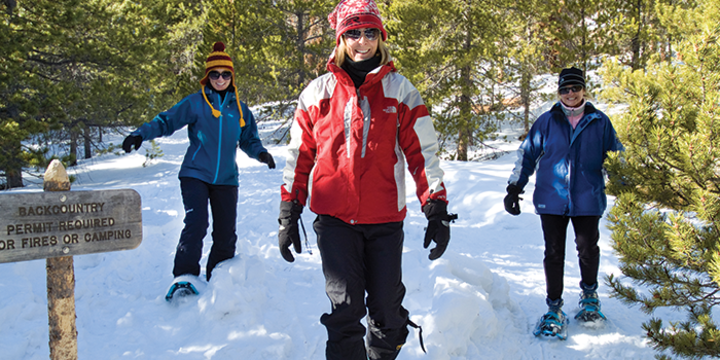 Winter & Spring Adventures
Hunker Down No More, Explore!
While not quite the bustle of the warmer months, winter and spring in Rocky Mountain National Park have their own allure. It's true that heavy alpine snows render Trail Ridge Road and other routes impassible, but the fluffy white stuff doesn't stop outdoor adventurers from getting out and about. Indeed, most embrace it. They like the challenges, fun and winter wonderland that snowstorms in Rocky create.
To them, snow accumulation means skiing and snowshoeing, sledding and snow forts. Colder temperatures mean ice climbing and winter mountaineering. On the Estes Park side-the national park's east side-cross-country skiing is possible on various trails, as is backcountry skiing near the former Hidden Valley Ski Area. The lower reaches of this area appeal to families and others who arrive after a big storm with sleds and tubes in hand for a day of snow play.
Because large snowfalls may be infrequent, many snowsports enthusiasts prefer snowshoeing or winter hiking. Rangers and volunteers lead a few treks, and snowshoeing equipment is available for rent in Estes Park. Both pursuits provide active ways to enjoy the park's quiet beauty. With snow blanketing the peaks and hanging in the trees, the park looks magical.
It typically stays that way through April since spring storms often dump ample amounts of thick flakes, which ultimately water wildflowers and melt into stunning waterfalls. Birds begin migrating in March and elk start calving in late April-there's certainly plenty for wildlife watchers and birders to spy. Slowly, the valleys green and color marches back up the mountainsides, turning the whole of Rocky into a postcard-perfect scene of snowcapped mountains framed by emerald meadows and azure skies.
As long as there's snow, skiers and snowshoers keep coming to the national park, but eventually they'll trade their winter gear for hiking boots and horses. The milder temperatures beckon and the summer season buzzes again with a different beauty, different views and a slew of new adventures.
For information on activities in Estes Park, including outfitters and service providers, visit our Outdoor Adventures section.