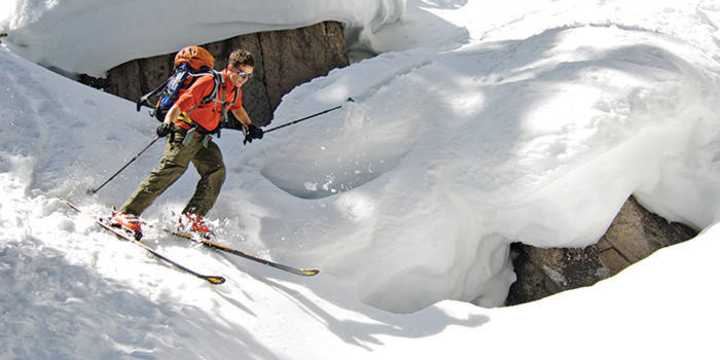 Back Country Skiing
Beyond Backcountry, True Wilderness
Deep, steep and untracked...those are the snow conditions at Rocky Mountain National Park that compel backcountry skiers to trade a sick day for a powder day. Lured by the national park's remote reaches and solitude, fit, hardy souls grab their backcountry skis, skins, backpacks and warm layers to hit runs they carve themselves.
Although the national park stopped operating Hidden Valley Ski Area in 1991, the freshies still lure experienced skiers and snowboarders willing to put in the extra effort. There's no longer a lift, so the athletes must get themselves to the top. Most "skin up," although some might snowshoe or bootpack, depending on the conditions. The winter playground spreads before them-challenging, untouched and pristine.
As pretty as it is, hazards exist. Skiers and boarders must be prepared for avalanches, quick changes in weather and exhaustion. Heavy snows blanket other dangers as well-cliffs, rock fall, tree wells and deadfall. Skills and gear to handle these risks are essential when skiing or snowboarding off-piste. Before setting out, the national park service encourages backcountry adventurers to stop by its office to get updates on the latest conditions.
Effort and precaution have their rewards. The Hidden Valley area presents roughly 1,200 skiable acres of untracked powder-at least for those who arrive first. The terrain varies, with the lower, treed portion good for beginner and intermediate backcountry skiers. Expert and experienced snow sports athletes head above treeline for the advanced runs.
Similarly the peaks around Bear Lake beckon skiers and snowboarders seeking backcountry fun. Much of the terrain in this area requires a serious "skin" or hike up-roughly one to three hours. Popular runs radiate from the top of Flattop Mountain, including what users have dubbed Corral Couloir, The Drift (east face), North Bowl and Ptarmigan Glacier.
A busy day in the backcountry-whether at Hidden Valley or above Bear Lake-renders the slopes a maze of tracks, evidence of all the winter fun the skiers and snowboarders enjoy in Rocky Mountain National Park. The first runs, ungroomed pistes and more than 150 inches of fluffy powder make it worth calling in sick.
For more information on skiing & snowboarding in Estes Park, including outfitters and rentals, please visit our Skiing section.
For more information on skiing & snowboarding in Rocky Mountain National Park, please visit the Official Rocky Mountain National Park Backcountry Webpage.