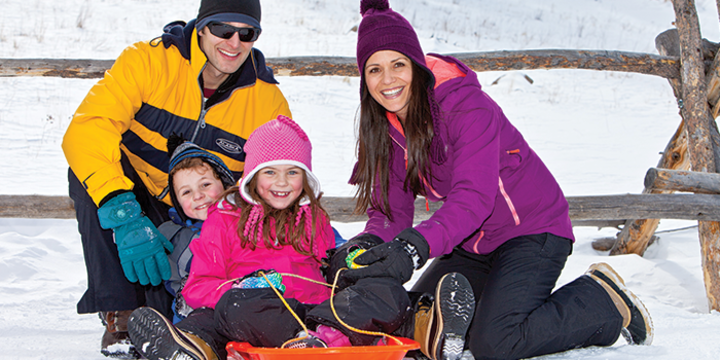 Sledding
Watch Out Below!
At the top of the small snow-covered hill, a young sledder grabs a hold of her tube and pushes off. Whoosh! She spins clockwise, shrieking and giggling as gravity pulls her down across the slippery surface. Around her, other sledders and tubers take their turns in an area designated and roped off for such activity-Hidden Valley.
A former ski hill located off Trail Ridge Road just below and west of Many Parks Curve, it's the only place within Rocky Mountain National Park where sledding is allowed. Contrary to other reports found online and heard by word-of-mouth, the slopes around Bear Lake are no longer open to sledding: Sledding is permitted solely in the lower reaches of Hidden Valley. And when the snowpack is heavy enough to cover the wetlands and boreal plants that grow in warmer months, families flock to the hill armed with all kinds of sliding devices. Sleds and tubes are the most popular, but skis and snowboards without bindings also are allowed.
Again and again, sledders trudge up the hills that the park service has contoured to enhance the safety of sledding and other snowplay activities. Families take turns experimenting with their toys. What if we go two at a time? What happens if I shift my weight this direction? What if I lay on my stomach instead of sit? All the while, they hope to gain speed, slide farther, and enjoy some old-fashioned family fun.
They stay within the bounds of the sledding area, aware that venturing onto the old ski runs is not permitted by the park service. That said, Hidden Valley makes a great base for snow-centric adventurers, such as backcountry skiers, snowboarders and snowshoers, heading into its undeveloped areas.
Throughout the winter, as snow permits, the sledding area at Hidden Valley is open. Typically it closes by late April, though sometimes earlier if there's not enough white stuff. A warming hut is open on the weekends; heated restrooms are open the rest of the season. Sledders must bring their own sleds or tubes, plus food and drink. Visitors may purchase or rent equipment from one of the outdoor gear or sporting goods shops in town.