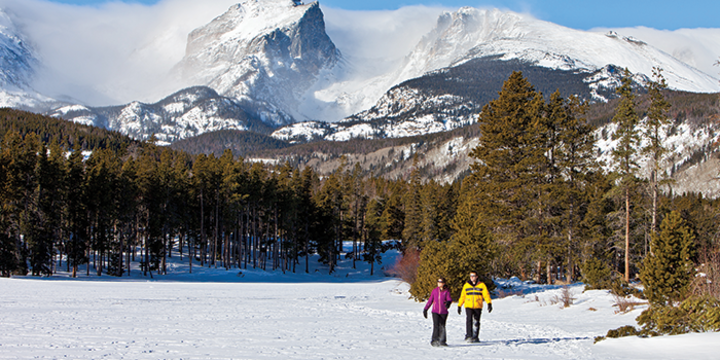 Scenic Walks
Walk with a View
When Jack Frost sprinkles Rocky Mountain National Park with snow, the landscape transforms. Walk through that winter wonderland on easy trails that are sometimes free from ice and snow. With more than 300 days of sunshine in Colorado, snow often doesn't linger long on trails at lower elevations. That said, guests should be adequately prepared to deal with wind and cold temperatures. Wear layers, hats, and gloves. Guard against potential falls by wearing walking shoes with adequate traction. Though the trails may be clear, all the just-in-case preparation is worth it on blue-bird days when the snow sparkles like diamonds and the crisp air refreshes.
Lily Lake: .8 miles roundtrip; packed gravel
This hard-packed, flat trail wends around frozen Lily Lake, just off Highway 7. Special footwear is likely unnecessary given the area's openness: The unsheltered path finds little reprieve from the sun. Beyond the meadows around you, snow blankets leafless aspens, stoic evergreens and kingly peaks that rule from more than 14,000 feet. It's so magical, you'd swear snow pixies were following you.
Bear Lake Nature Trail: .5 miles roundtrip; packed gravel
Gorgeous anytime of year, the Bear Lake Nature Trail at the end of Bear Lake Road makes an especially good winter walk. It loops through a snowy paradise of spruce and fir forest at the base of Hallett Peak and Flattop Mountain, gaining a bit of elevation. Although often clear because of the protective trees, heavier snows sometimes render the trail more suitable to snowshoeing or cross-country skiing.
Sprague Lake: .25 miles roundtrip; packed gravel
Homesteader Abner Sprague knew beauty when he saw it, so he settled near this upper-montane lake. A century later, even in winter and spring, walkers appreciate the same breathtaking views he did of the Continental Divide, best admired from the far end of the lake. Accessed from Bear Lake Road, the trail shows off panoramas of the Continental Divide, including Hallett, Otis and Taylor peaks-draped with snow that lasts nearly through fall.
For information on scenic walks in the Estes Park area, please visit the Outdoor Adventures section. Additional information on the trails and trail conditions in Rocky Mountain National Park can be found at NPS.gov/ROMO.