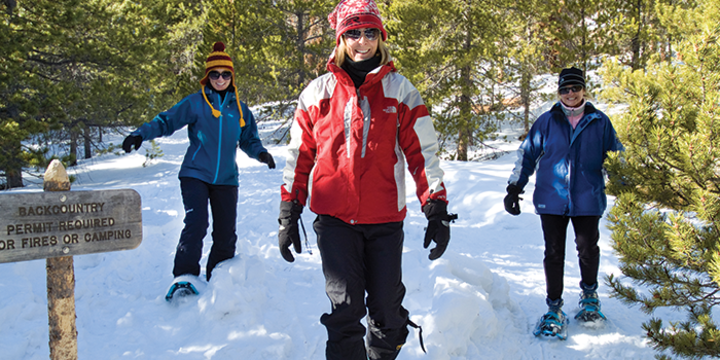 Snow Shoeing
A Peaceful Winter Journey
Snow blanketing a trail in Rocky Mountain National Park lures snowshoers like kids to candy. At higher elevations where the snow sticks and stays, the trails are thick with powder, the views astounding and the conditions ideal for snowshoeing. It's fun, too, that even though you may know a route from summer, it changes during winter. For example, snowshoers can trek off the usual path and across frozen lakes or down creek beds. The creek might still be running underneath, but with snowfall and careful traverses by earlier, experienced snowshoers, the snow gets packed down until it forms a snow bridge.
When choosing a destination, consider the weather, the snow conditions and your ability. Or, if you would like to get acquainted with trails in the park before embarking on your own, contact the local outfitters in Estes Park. Some offer guided snowshoeing treks as well as rental gear. Until then, here are some suggestions to whet your snowshoeing appetite:
Bear Lake Trailhead: The trails here pack a dynamic scenic punch in a trek that can be shortened or lengthened as the user chooses because the trails connect. Beginners will appreciate the half-mile trek through the trees and out of the wind to Nymph Lake, where they can choose to turn back or continue another half mile to Dream Lake. If they press on, they will be rewarded with pretty, open views of the surrounding peaks. Once at Dream Lake, they can traverse the frozen lake en route to Emerald Lake (another 7/10 of a mile farther) or loop back to the trailhead.
Glacier Gorge Trailhead: Trails to Mills Lake and Loch Vale prove more challenging and have greater appeal for a more experienced snowshoer. Mills Lake runs 2.7 miles one way. The Loch, as locals refer to it, requires more effort to access but the pay-off views 1,000 feet higher make it worth every step.
Black Lake: This one also begins at the Glacier Gorge Trailhead, but doesn't follow the summer trail. It passes more safely along creek beds. Not for the inexperienced snowshoer, the trail requires some technical experience and excellent fitness. It runs 10 miles roundtrip, ensuring a full day's outing that includes pausing to appreciate the lake itself from where you can see McHenrys Peak, The Arrowhead, Chiefs Head Peak and The Spearhead.
For more information on snowshoeing in Estes Park, including outfitters and rentals, please visit our Snowshoeing section.
For more information on snowshoeing in Rocky Mountain National Park, please visit the Official Rocky Mountain National Park Snowshoeing Webpage.