Written by Shaine Smith for Matcha in partnership with Visit Estes Park.
Estes Park, Colorado, is surrounded by a treasure of natural and scenic wonders. It's the perfect basecamp for adventure, boasting more than 300 shops that showcase everything from handmade local goods to outdoor gear to good food and drink. It's become a destination for art-lovers, foodies, and craft-beer enthusiasts alike. And with it all comes with those incredible views that attract visitors from around the world. Here are some of the ways to spend your time in this scenic Colorado town:
Shopping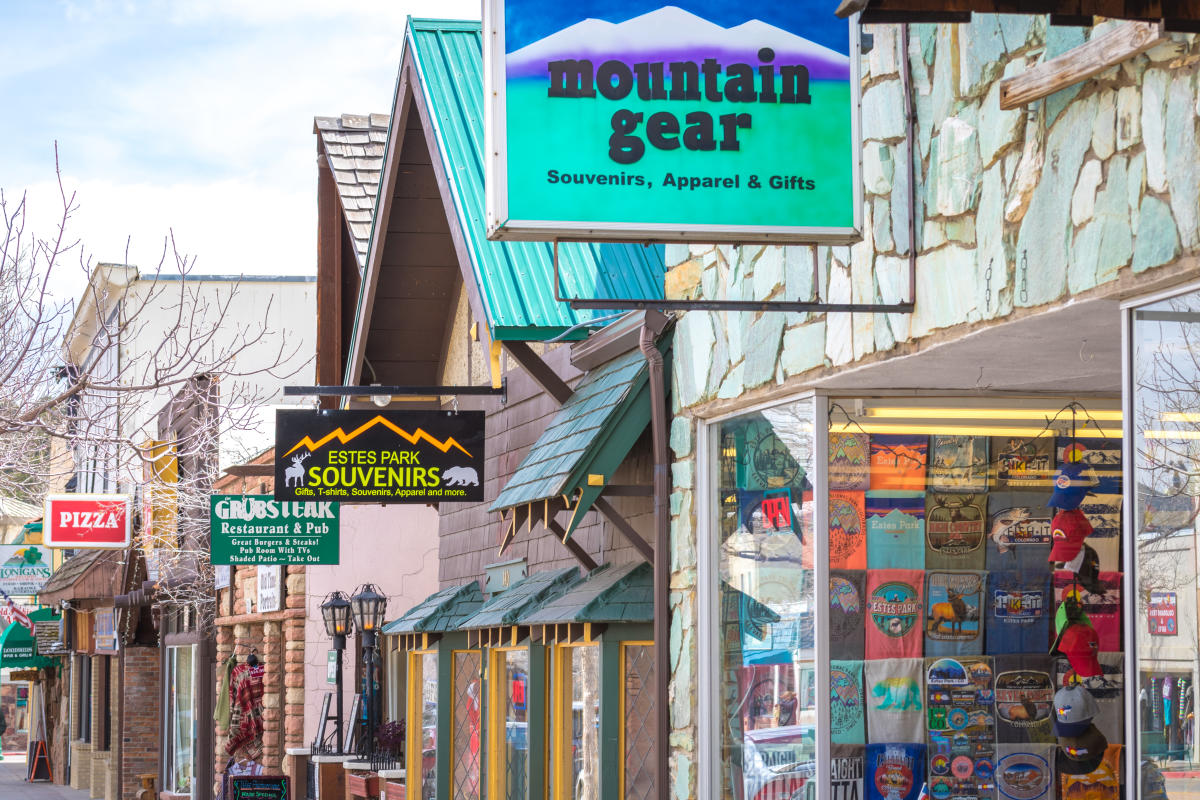 Estes Park's bustling downtown is filled with shops, boutiques, and galleries offering something for everyone. At Patterson Glassworks, you shop for exquisite handmade bowls, pitchers, and ornaments, to name a few of its offerings. Thirty Below Leather specializes in high-quality leather goods like purses, backpacks, wallets, gloves, and more. And to keep it interesting, everything in the store is less than $30. (Get it? ...Thirty Below.)
Earthwood Artisans features the work of 240 different artists that create American-made pottery, jewelry, photography, prints, paintings, art glass, metal art, wind chimes, kaleidoscopes, woodworking, and more. Often there are a few of the artists on-site for demonstrations and meeting people. Trendz has the largest selection of contemporary home decor, decorative accessories, jewelry, and gifts in town.  As you wander around town, you'll see murals and even utility boxes that have been turned into art. Stop by Inkwell & Brew and notice the newest mural, dedicated to the firefighters who defended Estes Park from wildfires last year or walk down the riverwalk past Kirk's Fly Shop for this one.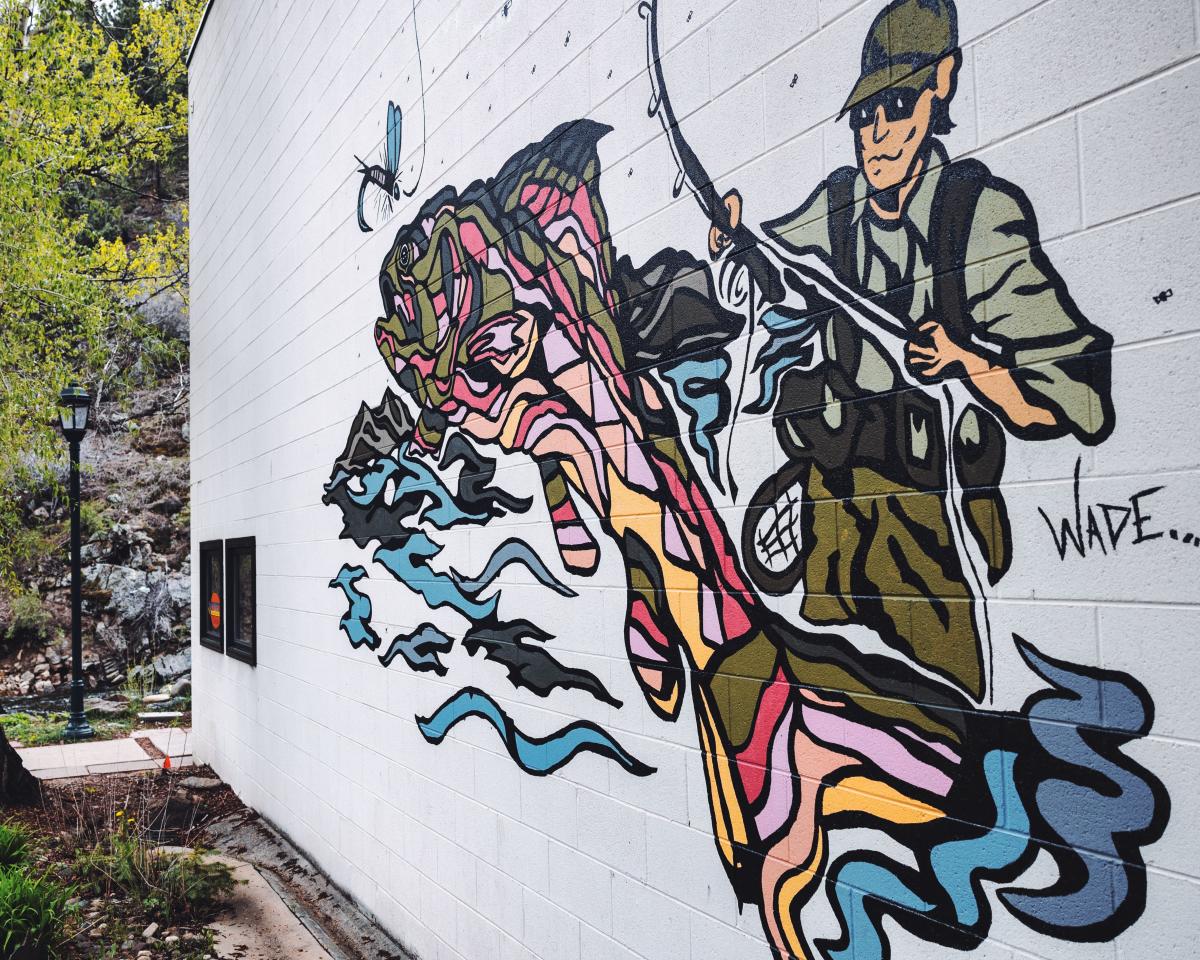 If you're gearing up for an outdoor adventure, stop by the Estes Park Mountain Shop (on Big Thompson Avenue on the north side of Lake Estes). It offers gear for all manners of outdoor sports from hiking and climbing to camping and skiing. Rent a tent and other camping equipment so you don't have to bring your own. You'll also find guided trips to help you enjoy the best outdoor adventures in the region. They even have a climbing gym to put your skills to the test.
See listings for all of the shops around Estes Park here.
Dining
Estes Park is more than 7,500 feet above sea level, and all that outdoor adventure (and shopping) makes for hungry and thirsty visitors.
Fuel up for the day with a good breakfast at Big Horn Restaurant, a family-run favorite since 1972. Try the eggs Benedict, huevos rancheros, or one of their croissant breakfast sandwiches At the Mountain Home Café, locals and tourists alike sit down to enjoy all the breakfast staples from its big menu featuring everything from a veggie scramble to country fried steak. If grabbing a coffee before heading out, Mocha Angelo's and Coffee on the Rocks are the places to go.
For lunch and dinner, you can choose from almost any cuisine you could want. In the mood for Mexican? Ed's Cantina is a local favorite and climber hangout. Esmeraldas Tamale House isn't fancy, but visitors love their signature tamales as well as other traditional Mexican dishes.
For Italian, Mama Rose's and the Dunraven Inn are both good sit-down spots for those who like hearty pasta, steak, and seafood. And while some argue that it's hard to find legit New York Pizza west of the Mississippi, Antonio's Real New York Pizza is run by real-life New Yorkers. They've nailed it.
For a special night out, do not leave town without having dinner at Bird & Jim or Seasoned. Bird & Jim celebrates this beautiful mountain town and it's history through Isabella Bird's and Mountain Jim's pioneer, nonconforming, mountain-loving spirit. Seasoned has formed partnerships with family farms all over Colorado to supply local, seasonal ingredients—and the result is out of this world. Cascades Restaurant & Lounge at the Stanley Hotel is another fine-dining option, with an innovative menu and an outdoor patio that offers incredible views of the Cascade waterfall.
With all the cattle ranches in Colorado, there has to be a great steakhouse, right? Of course there are. Twin Owls has served as an area standard for 20 years. It's housed in the Taharaa Mountain Lodge, which boasts some of the best views in the valley, hands down. If looking for a luxurious and comfortable B&B, look no further. Hunters Chop House is a casual steakhouse that features hand-cut beef aged in-house, along with chops and some unique wild game dishes. For hamburgers, Latitude 105 Alehouse at the Ridgeline Hotel has creations that will undoubtedly turn heads. Try "The Woodrow," which includes Colorado cherry jam, prosciutto, brie, and arugula. Grubsteak is another family restaurant that's perfect for beef lovers—and those who want to try buffalo, elk, and yak. It's also got excellent burgers that hit the spot after a long day on the trails.
You can't possibly still be hungry, can you? You'll want to save room to get at least a scoop from Munchin House, which has been serving hand-made sweets since 1968. Choose from more than 40 flavors of all-natural ice cream in addition to fudge, chocolate, and caramel corn. It's also a good spot for espresso, coffee, and tea.
Peruse all of the Estes Park restaurant listings here.
Drinking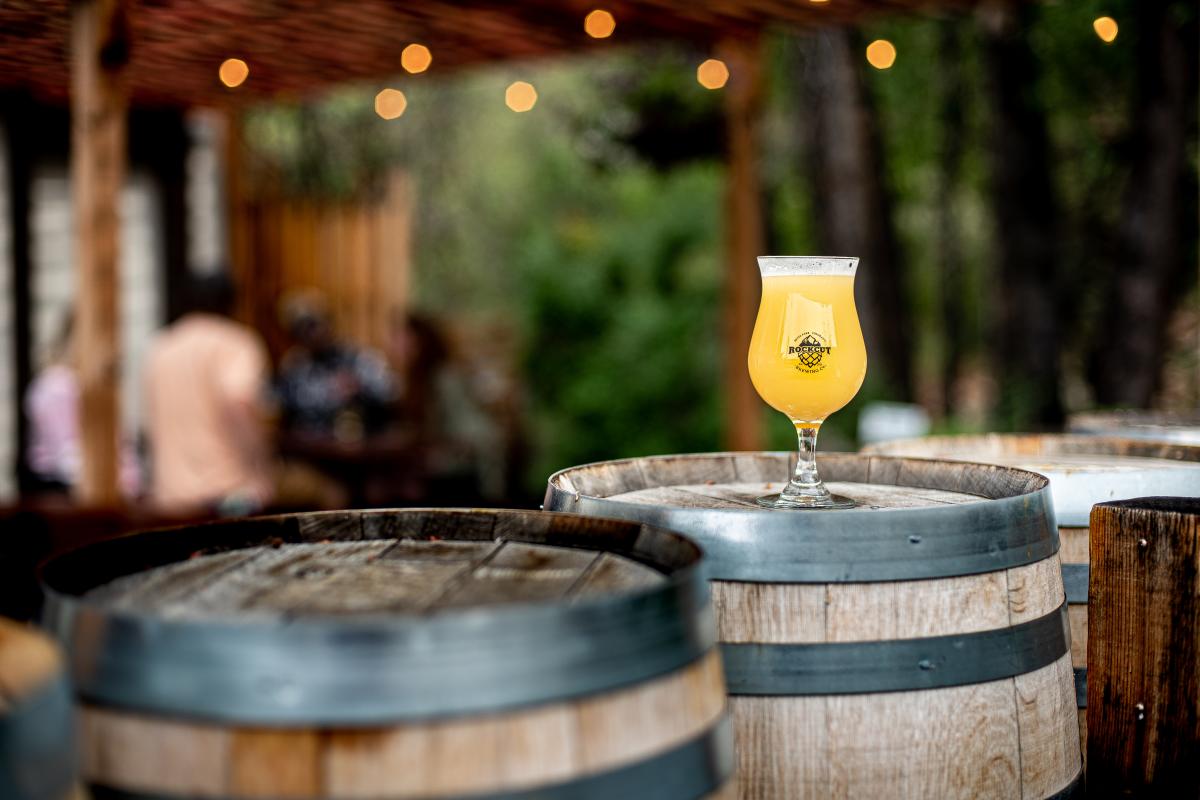 There's nothing like a good local brew to quench the thirst and connect a visitor to an area. Colorado has a booming craft-beer scene, and Estes Park is a big part of it. The first stop on the tour is the Estes Park Brewery, the oldest brewery in town. They handcraft a dozen beers and serve them straight from the tap. Try the Stinger Wild Honey Wheat—it's made with Colorado clover honey. Their beer chili is heavenly as well. Rock Cut Brewery usually features about a dozen of its craft beers on tap, and you can enjoy your drink in the taproom or outside on the patio (where dogs are welcome). Order a glass of Altruism, a German-style amber, and $1 is donated to one of the brewery's favorite nonprofits. The Galactic Portal IPA is a citrusy favorite as well. Stop by Lumpy Ridge Brewing, which also has a dog-friendly patio. Food trucks are often out front, and they have a constantly rotating (and innovative) season selection. Their Ranchero Deluxe with lime, however, satiates in just about any season. And Estes Park's newest brewery, Avant Garde, boasts a patio worth hanging out on and having a beer - or two.
Snowy Peaks Winery makes wine from Colorado-grown grapes like Merlot, Syrah, Viognier and Riesling. While taking in the views of the Rockies from their tasting room, you can nosh on some gourmet cheese and jams from Colorado makers. There's live music every Friday night, making this a great place to start a weekend getaway.
Ready for a whisky? Elkins Distilling makes a corn whisky that took a silver medal at the 2016 Denver International Spirits Competition. If visiting in the fall, try some Elkins Apple. They take their white whisky and add Palisade apples, sugar, and spices. It's like autumn in a glass. Stop by their downtown tasting room and mercantile location. 
Browse all of the Estes Park drinking establishments here.
To Do
The outdoors dominates the activity here, from hiking in Rocky Mountain National Park to rock climbing in Lumpy Ridge. But if you're looking to sample a little history without much work, head to the Knoll Willows Open Space Trail. It's right downtown, and a mile-long trail features some historic remains of early settlements and a cabin. Dig a little deeper into the area history at MacGregor Ranch, a living history museum. This working ranch was started in the 1870s and showcases the early life of settlers and homesteaders in the Colorado Territory. The Estes Park Museum features more than 30,000 artifacts from the town's history. There you can take advantage of Stories Under the Stars, a space where visitors can listen to recorded stories from Estes Park pioneers.
Enos Mills is known as the "Father of Rocky Mountain National Park," and he was instrumental in convincing the U.S. government to set aside large areas of public land for preservation. The Enos Mill Cabin was the home he built in 1885, and it's been transformed into a museum to his many achievements. It's open year-round, but by appointment only. Take the time to learn more about one of the lesser-known fathers of the environmental movement.
The Stanley Hotel has been a world-renowned destination almost since its inception in 1909. It started as a resort and health retreat for wealthy East Coasters suffering from tuberculosis, and its setting, views, and architecture made it famous. One particular visitor made it infamous. Stephen King used the Stanley as inspiration for his novel The Shining, and it served as the set for the TV miniseries.
Who's up for a scavenger hunt? Pikas in the Park is a fun adventure for everyone, especially the kids. There are 12 bronze sculptures of pikas, the friendly local mammal, scattered downtown. Seeking them out provides a tour of the village along with historical facts in honor of the Estes Park Centennial. Catch all 12 and claim a prize at the visitor center.
This short list barely scratches the surface of all that is to see, do, and eat in this mountain town. So sure, make the trip to Rocky Mountain National Park. But the next time you're in Estes Park, take advantage of all that the town has to offer as well.
Written by Shaine Smith for Matcha in partnership with Visit Estes Park.