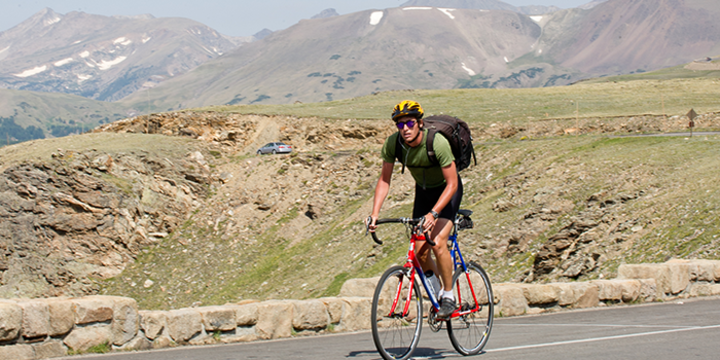 Biking
Thrills on Two Wheels
Considered one of the nation's friendliest states for bicycling, Colorado attracts cyclists of all kinds-mountain bikers, casual cruisers and road cyclists. The latter flock to Rocky Mountain National Park for one of the uphill rides of their life-Trail Ridge Road. Open only from late May through mid-October, weather permitting, the road climbs to 12,183 feet. Essentially road bikers can tackle it in one of two ways, starting from either of the park entrances: Fall River or Beaver Meadows. For cyclists who want more elevation gain, Beaver Meadows starts at a lower altitude. The shorter of the two rides ascends to Rock Cut, the road's high point, before turning around for an epic descent.
The second continues past Rock Cut and the Alpine Visitor Center, to Grand Lake, about 48 miles one way. After a rest in Grand Lake, they pedal Trail Ridge Road back to Estes Park, again gaining elevation on the way up. Either ride shows off the scenery for which the national park is famous-meadows and woodlands, lakes and rivers, jagged peaks and flattop mountains. Above tree line, the tundra takes over-particularly spectacular in early summer when the wildflowers carpet the ground with purples, yellows and blues. In fall, the lower elevations take their turn presenting a tapestry of trees, yellow, orange and red against a backdrop of evergreens.
Avid cyclist and bicycle tour operator Vern Miller suggests that serious bikers start early (he likes to be on Trail Ridge Road by 7 a.m.) when fewer cars are sharing the road. He also reminds cyclists to be prepared: an extra layer of clothes, including a light jacket; gloves; hat; pump; and spare tubes. Another great tip from Vern, riders should be sure to check their front skewers to be sure they're tightened.
For recreational cyclists who want the thrill and scenery of Trail Ridge Road, bicycling tour companies such as Miller's do the work for you. They will shuttle you and a rental bike to the top of Trail Ridge Road, then send you downhill for an exciting, speedy return toward Estes Park. Enjoy the views from the top because on the way down, the surrounding landscape gets lost in feelings of exhilaration, giggles and shouts of "Wheeeeeeee!"
For information on biking in the Estes Park area, including outfitters and guided excursions, visit the Outdoor Adventures section.
Please visit the official Rocky Mountain National Park website for additional information on biking and current bike trail conditions in Rocky Mountain National Park.