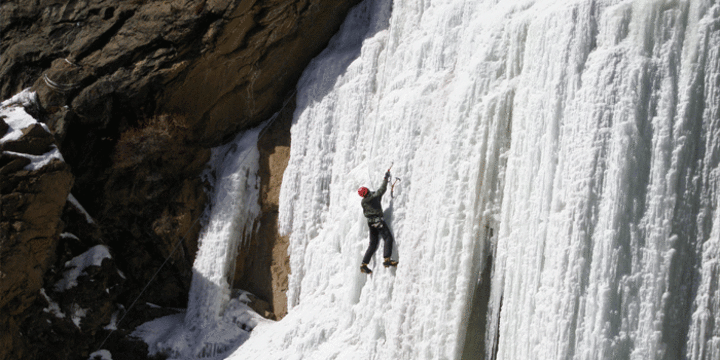 Ice Climbing
A Cold Ascent
The trick with ice climbing is patience. You have to wait for things to freeze-and to freeze solid. The cycle goes something like this on faces where water flows over the rock:
Snow. Melt. Freeze. Snow. Melt. Freeze. As the pattern continues in Rocky Mountain National Park, waterfalls solidify and ice climbers start noticing. They take special care in selecting routes that don't get tons of southern exposure, which would weaken and sometimes eliminate ice flows altogether. And they don't mind packing in their gear on approaches that would max out other athletes' commitment to exercise. Outfitted with ropes, ice axes, carabineers, helmets and super-warm layers, they get up early to make the approach and get in a full day of climbing.
The national park harbors dozes of ice-climbing routes, including one of the most popular and ironically named-Hidden Falls. Not concealed at all and boasting comparatively easy access, this moderate climb draws climbers because of its short approach (just a 40-minute snowshoe or ski from the Wild Basin Trailhead), scenic setting and variety of routes. Climbers say the ice forms consistently, often creating a lower bulge and an upper column. In all, the climb ranges 75 to 90 feet high.
The Bear Lake Trailhead sees a lot of alpine climbing traffic, too. Several ascents around the Loch Vale attract ice climbers. Womb with a View on Cathedral Wall challenges intermediate climbers. It presents a mix of rock, snow and ice, with the final push up a hanging ice curtain. Other tried and true routes around Loch Vale include the easy Wham Couloir, attacked in three pitches, plus several other intermediate classic ice pitches: The Crypt, Freezer Burn and Cold Storage.
For an epic ascent on an iconic peak, experienced ice climbers look to Alexander's Chimney on the lower east face of Longs Peak. The approach alone is a four-hour doozy from the Longs Peak Ranger Station. Once there, the climb requires rock and ice skills since part of its exposed face doesn't freeze.
Oh, and patience. Even though dozens of routes exist in the park, ice climbers have their favorites and they're willing to wait for them.
For more on climbing in Rocky Mountain National Park, please see our summer Rock Climbing section or visit the Official Rocky Mountain National Park Ice Climbing Webpage.
For additional information on climbing in and around Estes Park, including outfitters, rentals and tours, please visit our Estes Park Climbing & Mountaineering page.