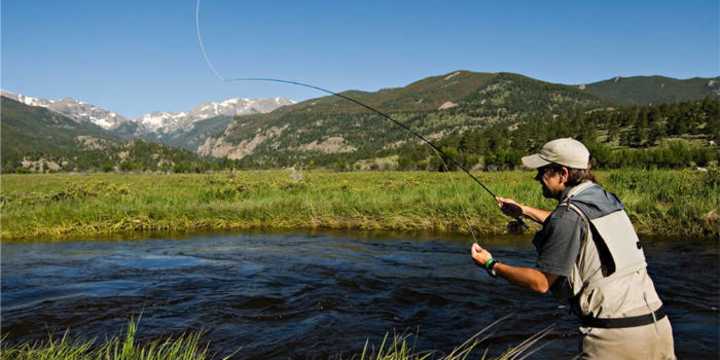 Fishing
The Quest for the Big Catch - or at Least the Big Story
Peak fishing in Rocky Mountain National Park takes place from mid-June through mid-October when the trout are plentiful and bite frequently. Like fishing in Estes Park, browns, brookies and rainbows swim the waters, but so do greenback cutthroats and Colorado River cutthroats, indigenous trout species that the park has helped restore and propagate since 1975. Here it's possible to land a "grand slam"-a brookie, a brown, a rainbow and a cutthroat-all in the seclusion of RMNP.
According to locals, the natural beauty of the setting goes up once you're inside the park, but the size of the fish goes down. Fish size in the creeks and streams near Moraine Park, for example, averages six to 10 inches. In the high mountain lakes, size increases to between 12 and 16 inches, larger but still small compared to the 18- to 22-inchers snagged in the valley.
The tradeoff is worth it for some outdoorsmen, however. "You might get smaller fish, but you get insanely good scenery," noted one local fisherman. Plus, he adds, you get some exercise thanks to hiking into tucked-away waters, and you usually see more wildlife-maybe moose, bear and elk. Indeed, fall bustles with animal activity largely because it's elk mating season. Anglers often hear bulls bugling throughout the day, sounds that remind them to stay alert for what locals call the "800-pound ghost."
In spite of the bulls' unpredictable behavior each fall, guides refer to autumn as "the guide season." The tourists are gone and it's their time to get out and fish amid spectacular-colored foliage and near-perfect conditions. The best fishing takes place in the warmest part of the day, usually noon or later, using caddis flies, yellow sallies, ants, grasshoppers, or beetles. Here are some of their favorite fisheries for summer and fall (please remember that Colorado fishing licenses are required for all fishermen 16 years of age or older):
Glacier Creek-Located off of Bear Lake Road, this creek pours out of Glacier Gorge. It's easy to access with much of its right along the road. You don't need any special gear, such as waders, to fully enjoy this stretch.
Mills Lake-From the Bear Lake Trailhead, hike roughly 4.5 miles up Glacier Creek to this gem where you can snag a "grand slam."
Dream Lake-Other trails radiating from the Bear Lake and Glacier Gorge trailheads lead to several good fishing lakes, including this one and Loch Vale, which locals call simply "The Loch." Both are easy hikes. Take a float tube if you wish, it's not necessary but may increase your success-and the effort it takes to get there.
Roaring River-Access is easy here too; you can cast a line about 50 yards from your car. Or, hike about 45 minutes up a horse trail to reach the upper section where you might have the water to yourself.
Upper Thompson River-An easy hike from the Fern Lake Trailhead leads to this traditionally excellent fishery, the future of which remains uncertain because of its proximity to the recent Fern Lake fire. Anglers and biologists aren't sure how the ecosystem will react to the potential influx of mud, dirt and ash falling into the river.
For more on fishing in Rocky Mountain National Park, please see our winter fishing section or visit the official NPS.gov/ROMO website.
For information on fishing in and around the village of Estes Park, including outfitters, gear rental and guided fishing trips, please visit our Fishing page.