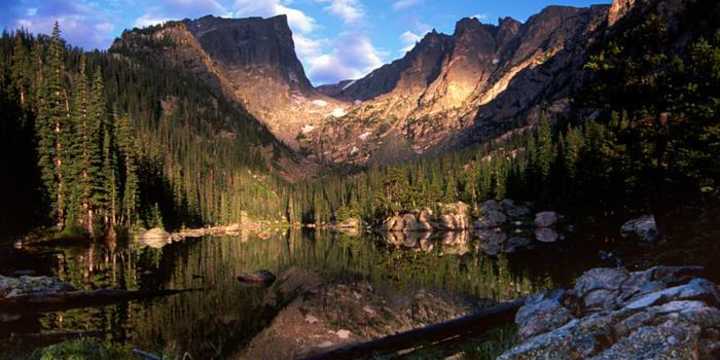 Summer & Fall Adventures
With Every Season
Purple mountains majesty. Fertile valleys dotted with wildlife. Streams that run so clear you can see the fish darting in the shallows. Those are just some of the scenes that await visitors to Rocky Mountain National Park. Boasting more than 265,000 acres of preserved wilderness, this picturesque national park presents expanses to explore. And summer offers optimal use. Snow doesn't close the roads. Trails are all open. Rivers and streams flow; fish bite. Climbers bag peaks and scale sheer cliffs. Cars and cyclists travel freely along Trail Ridge Road, crossing the Continental Divide and reaching the Alpine Visitor Center. In general, the park is wide open; access is excellent.
And so are the views. Panoramic vistas extend in nearly every direction. Rugged peaks pierce the sky; alpine lakes pool below-perfect spots for a picnic or to cast a line. Because commercial development is limited, visitors enjoy the meadows, mountains, woodlands and alpine tundra in as natural a state as possible. Anglers catch and release wild trout. Hikers occasionally cross paths with grazing elk, meandering black bear or stoic bighorn sheep- sometimes while hearing the haunting cries of coyotes. Horseback riders thread through woodlands and across rolling valleys dotted with wildflowers. The available adventures cover all kinds of terrain: paved roads for bicyclists, notched cliffs for rock climbers, streams and lakes for fly fishers, gentle paths for birders, steeper trails for hikers and trail runners.
The activities extend into fall when Mother Nature's changing weather brings new colors to the national park's scenic tapestry. Above treeline, the tundra's purple, pink and yellow wildflowers give way to plants bearing brown, gold and burgundy. Elk bugle in the distance, tucked amid yellowing aspen. At times, outdoors enthusiasts must accommodate the elements, but mid-September also surprises with days in the 80s. It's simply a gorgeous season to be in the park.
Rock climbers and hikers particularly enjoy autumn because they can get into places for a bird's-eye view of the changing colors. Bicyclists find fewer cars on Trail Ridge Road and fishing guides claim it as "their season." In truth, summer and fall are wonderful seasons for everyone to explore Rocky's plentiful treasures.
For additional adventures in the Estes Park area, including outfitters and guided excursions, visit the Outdoor Adventures section.