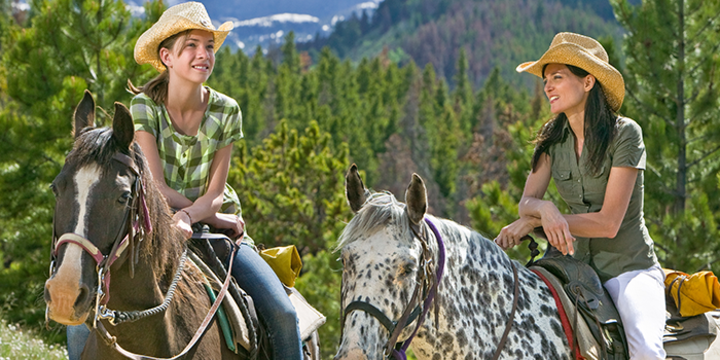 Horseback Riding
Wilderness Exploration the Cowboy Way
Surrounded by cattle ranches and cowboy culture, you might develop a hankering to ride a horse. Well, you're in luck, partner. Horses have been part of Rocky Mountain National Park since its designation in 1915. It's hard to ignore the feeling of freedom horseback riding through an open meadow inspires. No roads, no development-just you, the towering mountains and your trusty steed. The wind whispers in your ear, the saddle creaks and suddenly you're a million miles away.
In the park, day rides, backcountry camping and overnight pack trips are managed, but allowed year-round. About 260 miles of trail are available for use, some of which are shared-use. You may bring your own stock or join a guided ride out of one of the area commercial stables. Two are located within the park; others are found outside its boundaries but have access to the park's recreational trails.
Opting to go it alone? The park offers several trail suggestions: Lawn Lake via the Black Canyon Trail using the Lumpy Ridge Trailhead, Sandbeach Lake and the Finch Lakes accessed from the Wild Basin Trailhead.
Guided horseback rides last anywhere from two hours to 10. Depending on the selected ride, trails radiate from Moraine Park and the Glacier Basin areas. Short rides tend to keep the valley, showing off wildflowers and mountain streams. Longer rides usually climb to higher elevations, revealing how the ecology of the region changes from treed valleys to treeless alpine tundra.
With reins in your hand and boots on your feet, enjoy a carefree day riding the trails through Rocky Mountain National Park-yeehaw!
For more on horseback riding in Rocky Mountain National Park, please visit the official Rocky Mountain National Park horseback riding website.
For information on riding and equestrian tours in and around the village of Estes Park, please visit our Horseback Riding page.