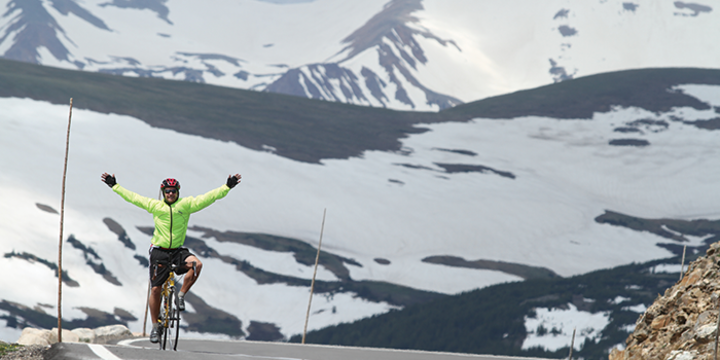 Biking
Scenic Ride Through the Wilderness
Although Rocky Mountain National Park doesn't permit mountain biking on any of its interior trails, Old Fall River Road makes a decent ride for folks who prefer fat tires. It's not technical but it does get you inside the park on your mountain bike. The road runs about 9.5 miles on the north side of Sundance Mountain. It's a gravel and dirt swath that doesn't open to cars until July 4, making it safe and scenic for mountain bikers before then. In spring, the upper reaches are still covered in snow, but the lower portions are plowed, making it good to pedal in May and June.
Old Fall River Road opened in 1920 as the first auto route in the national park. Trail Ridge Road has since taken over as the main thoroughfare through the park, but motorists-and mountain bikers-still enjoy the nature trail-like quality of Old Fall River Road. It operates one-way, except when it's closed to cars but open to cyclists, and switchbacks keep riders thinking. It passes the Alluvial Fan; Willow Park, where elk sometimes linger; and climbs into the alpine tundra. Mountain bikers go as far as they can before turning around for the long coast down.
Because Trail Ridge Road is open only seasonally-from roughly Memorial Day through Labor Day, road bikers find other routes at lower elevations to bike. Once the park's main artery is open, however, they can't wait to push up that high-altitude incline. 
For information on biking in the Estes Park area, including outfitters and guided excursions, visit the Outdoor Adventures section.
Please visit the national park website at NPS.gov/ROMO for additional information on biking in Rocky Mountain National Park.