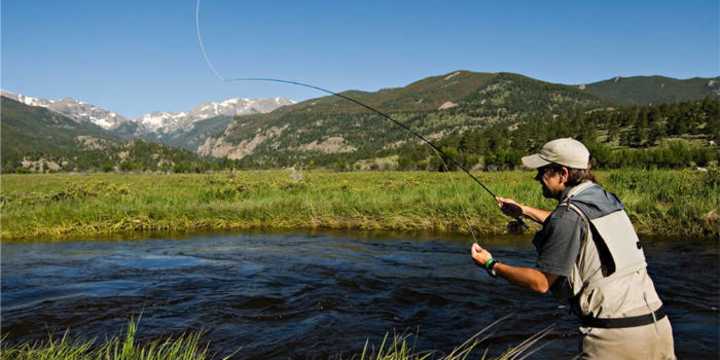 Visitor Information
Rocky Mountain National Park is one of the most visited national parks in the country and the largest national park in Colorado. At more than 400 square miles, the park offers ample opportunity for outdoor recreation, education and adventure. Over 300 miles of hiking trails, most of which transition to cross-country skiing or snowshoeing trails in the winter, take explorers across alpine tundra, through forests, over streams and near waterfalls. The scenery is unlike any other with the spectacular beauty of the Continental Divide and collection of 72 peaks that top 12,000 feet in elevation.
Year-Round Adventure 
Rocky Mountain National Park is open all year - 365 days, 24-hours a day! Camping, recreation, services and programs are offered throughout the year as well. The visitor centers offer access to nature guides and park rangers as well as share the latest in special programs and park information.
Fees for Rocky Mountain National Park
Everyone entering the park must have a pass. Standard entry passes are valid for seven calendar days from the day of purchase. Annual passes and senior lifelong passes also are available. Passes can be purchased at the entry gates of Rocky Mountain National Park or online. Credit cards are accepted at the entry gates. There are a number of fee-free days throughout the year.
Current entry fee details (entry fees will increase June 1, 2018):
1 day pass: $20/automobile 
7 day pass: $30/automobile  
Pedestrians: 1 day pass, $10 per person. 7 day pass, $15
Motorcycle: 1 day pass, $20.  7 day pass, $25
Rocky Mountain National Park Annual Pass: $50 (can purchase online)
Annual 4th Grade Pass: Available to U.S. 4th Graders, Free with provided voucher
America the Beautiful - National Parks & Federal Recreational Lands Annual Pass: $80

America the Beautiful Senior Pass: $10 lifetime pass for ages 62+
America the Beautiful Passes are available free to persons with permanent disabilities and active-duty military personnel or dependents; see RMNP website for details

Commercial Tours:

1-6 Passenger Vehicle: $25
7-15 Passenger Vehicle: $75
16-25 Passenger Vehicle: $100
26+ Passenger Vehicle: $200
Entry fee details starting June 1, 2018:
1 day pass: $25
7-day vehicle pass: $35
7-day motorcycle pass: $30
Park Specific Annual Pass: $70
Special rates and programs may apply to large groups and educational organizations. Additional service or usage fees may apply to specific activities or areas of the park. Visit NPS.gov/ROMO for additional details on fees and passes. 
Weather in Rocky Mountain National Park
The weather in the mountains can change quickly and will vary by elevation. It is recommended that guests to the park bring layers of clothing and appropriate gear for the expected activities. Mitigate the dry mountain climate by bringing - and drinking - plenty of water.
Pets
Pets are permitted in Rocky Mountain National Park, however they are not permitted on trails or in the backcountry. They are allowed only in areas accessed by vehicles, including roadsides, parking areas, picnic areas and campgrounds. Find full rules on Rocky Mountain National Park's Pet page or find some pet-friendly hikes outside the park.