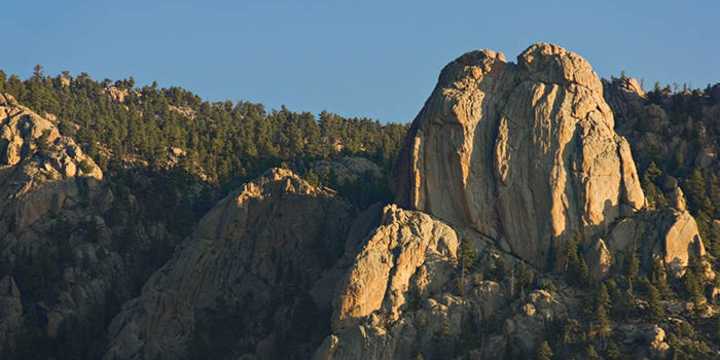 Rock Climbing
A Climber's Paradise
With hundreds of granite faces and various peaks, Rocky Mountain National Park carries a reputation as a world-class climbing destination. Sport climbing dominates in summer and fall when the temperatures are moderate and the sun rises early and sets late. Everyone wants to get in as much time on the rock as they can.
Escaping for the day into the exposed folds of the earth appeals to more than just climbers. Native animals often seek the same terrain as climbers, thus upping the chances rock climbers in Rocky will see bighorn sheep, black bear, mountain lion and birds of prey-golden eagles, peregrine falcons, kestrels and others. The raptors are particularly significant since they often nest on or near climbing routes. The park may enforce closure of some climbs, usually in March and April, when raptors are nesting. Climbers agree that a little patience has its rewards: It's not everyday that people can look down on such spectacular birds.
You can't talk about birds and rock climbing in the national park without mentioning Lumpy Ridge. Favored by both, these granite walls, pillars and spires draw climbers by the Subaru-loads. They like the easy access, which requires roughly a 1- to 3-mile hike in, depending on the route, but also the variety of climbs. Batman and The Pear are two that stand out and are accessed from the Gem Lake Trailhead. According to one local climber, the Lumpies offer quality climbing that's clean, protected, and the views are great especially during fall when the leaves change.
At 14,249 feet, Longs Peak energizes climbers from miles away. It takes a six-mile hike to reach The Diamond, located at roughly 13,000 feet on the mountain's east face. Here, a number or rock climbing routes extend, including The Casual (5.10), a challenging route that runs 1,000 feet up the center of the face.
Another great climb that doesn't require as lengthy an approach is at Hallet Peak. An hour-and-20-minute hike from the Bear Lake Trailhead leads to this 12,000-foot high peak and the Love Route (5.9). In eight pitches, the route climbs 1,000 vertical feet, where from the top, climbers view the surrounding alpine tundra, dotted with colorful flowers from June through August, and an alpine lake or two.
To preserve the national park's pristine climbing environment, the park and local climbing community support a Leave No Trace ethic, which means climbers may not place bolts on existing or new routes or chip or glue new holds. In the case of some multi-day climbs, a bivouac permit is required and may be obtained from the national park's backcountry office.
For more on climbing in Rocky Mountain National Park, please see our winter Ice Climbing  section or visit the rock climbing page on the official Rocky Mountain National park website.
For information on climbing in and around the village of Estes Park, including outfitters, guided trips and gear rental please visit our Climbing & Mountaineering page.