Pick up some food at a local restaurant and head out into the fresh air for a meal with a view.
First: find what you're hungry for
Most Estes Park restaurants provide a takeout option with utensils, napkins and condiments included, so if staying within walking distance from the restaurant or driving to your picnic location, grabbing takeout is an excellent way to go: you can eat whatever you want because a potentially messier cuisine – picnic wise – isn't going to stop you.
Packable options (for destinations that require hiking, biking, or a horseback ride to get there or when a messier option just won't do) include sandwiches from Scratch Deli & Bakery, Rocky Mountain Deli, Country Market & Deli, or Inkwell & Brew and breakfast burritos from KIND Coffee, which are served all day long.
Bonus for the coffee lovers: Country Market & Deli, Inkwell & Brew, and KIND Coffee serve coffee all day, which goes quite well with a sandwich and exceptionally well with a breakfast burrito. While coffee shops are not allowed to fill personal coffee tumblers or thermoses at this time, bring it along to pour your drink into after purchase and take it with you.
If your journey is short enough to keep your food warm, you could even pick up a panini from Estes Park's newest eateries, The Bird's Nest. 
Second: pick the perfect location
There are quite a few excellent picnic spots in and around Estes Park. Find yours.
Downtown
Performance Park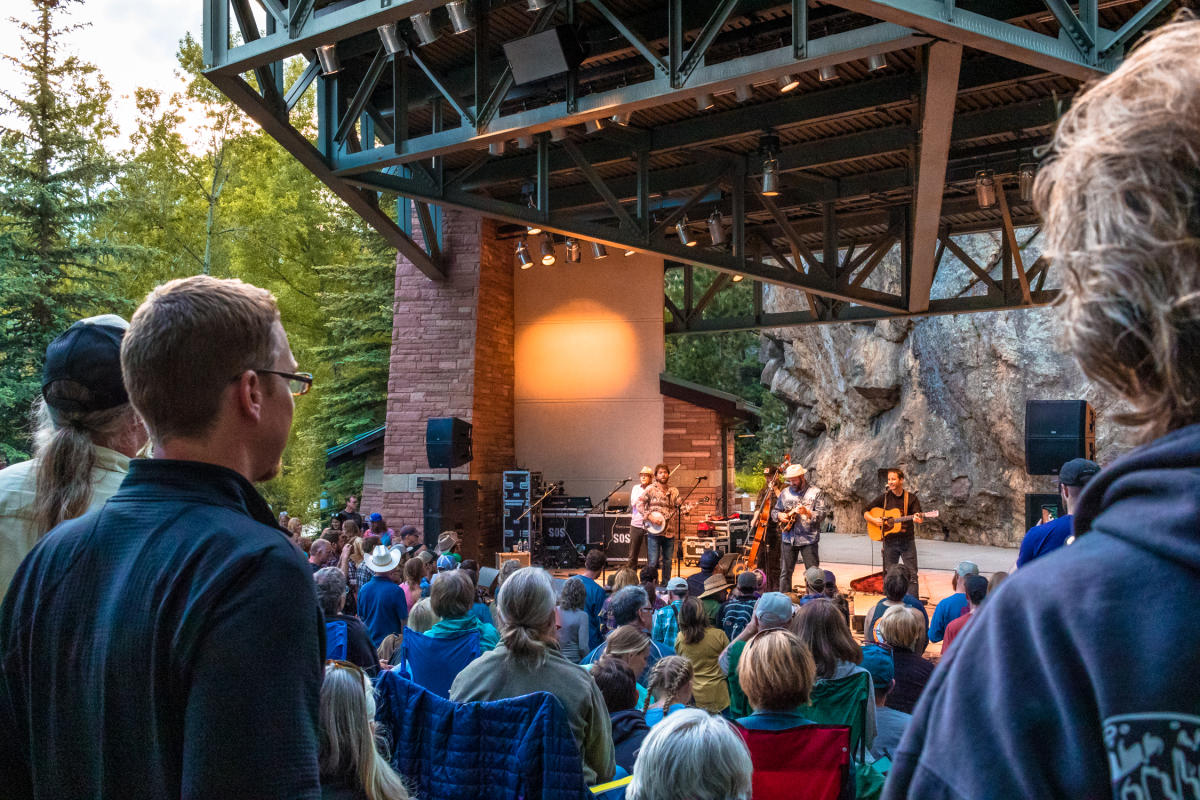 435 W Elkhorn Ave, Estes Park, CO 80517
Performance Park abuts Fall River, and has a picnic area with tables and bathrooms, lots of green grass, and a rock face set up for beginner climbers. An amphitheater shades the rock face and is used for evening outdoor concerts in the summer.
Tregent Park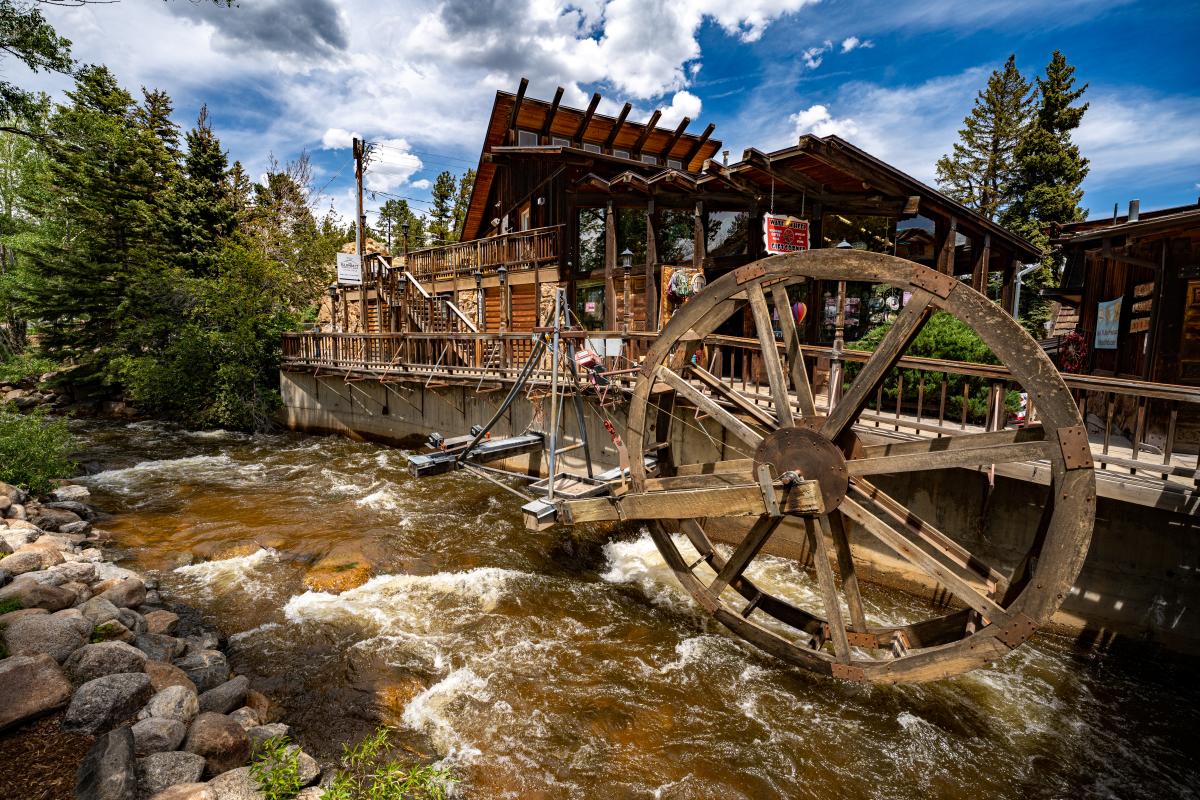 291 W Elkhorn Ave, Estes Park, CO 80517
Performance Park feeds into Tregent Park as you head toward the shops of Elkhorn Avenue along Fall River. Smaller than Performance Park, Tregent has picnic tables, bathrooms, and an area where you can sit and dip your feet into the river.
Along the Big Thompson River
South side of Elkhorn Avenue, behind the shops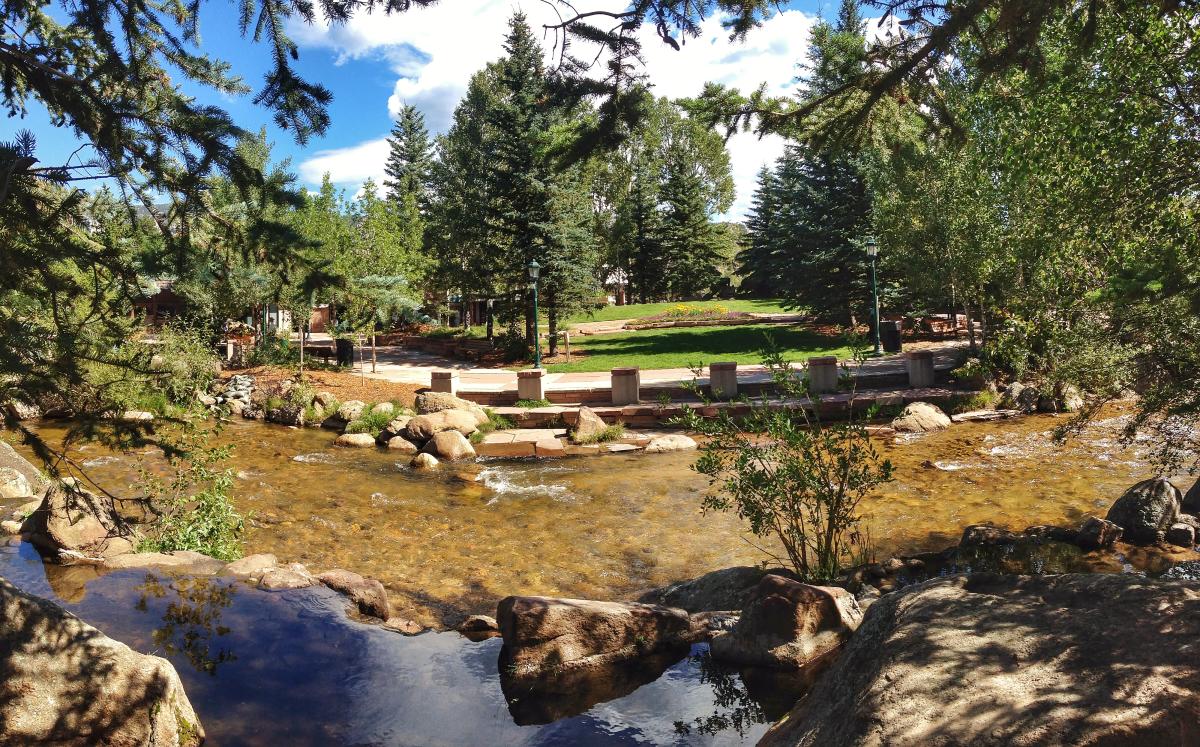 There is a paved path that runs the length of the river, as it goes through town, with park benches set along the way. Known as the Riverwalk, this area is perfect if you want to enjoy a meal then hit the shops. Read more about Estes Park's Riverwalk.
George Hix Riverside Plaza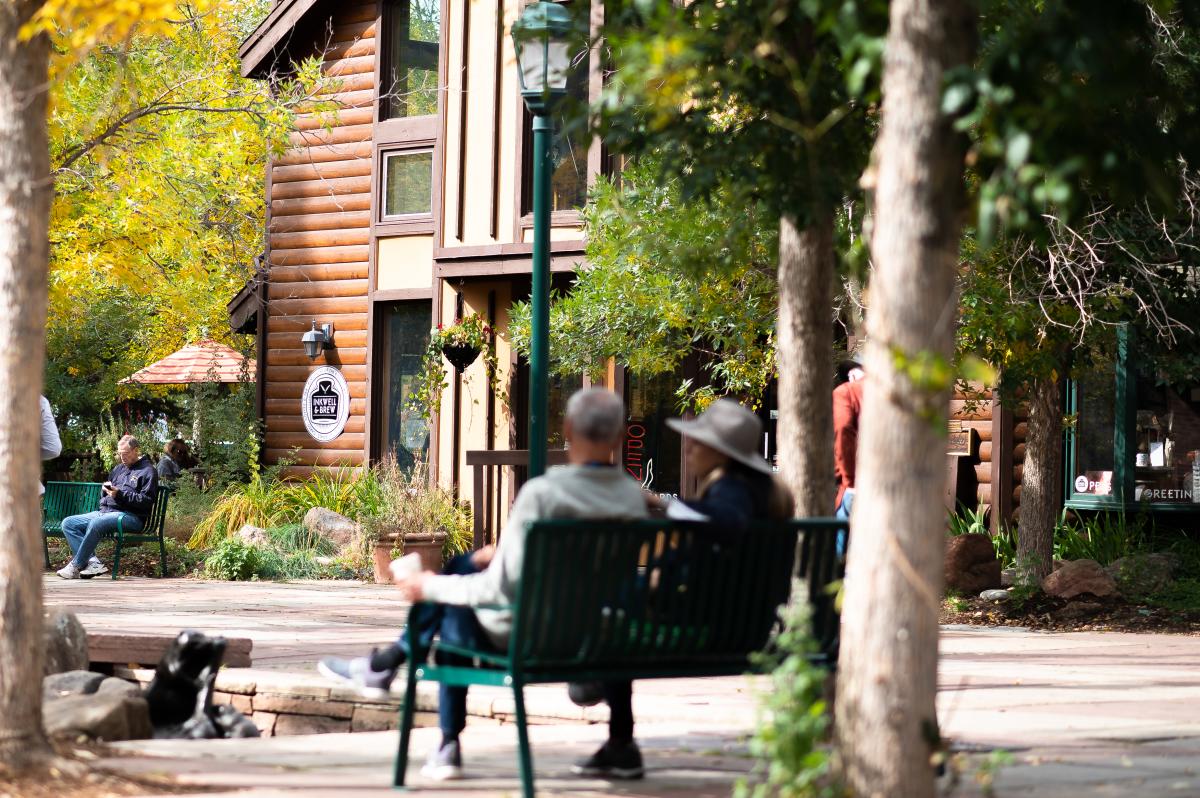 111 E Riverside Dr, Estes Park, CO 80517
This plaza was designed to create a riverside oasis in the downtown area. Trees shade small pools where children play. Bronze sculptures dot the scenery and a sensory garden awaits the curious. In the summer, the Monday Artisans Market fills the plaza, offering handmade wares from local artisans.
Bond Park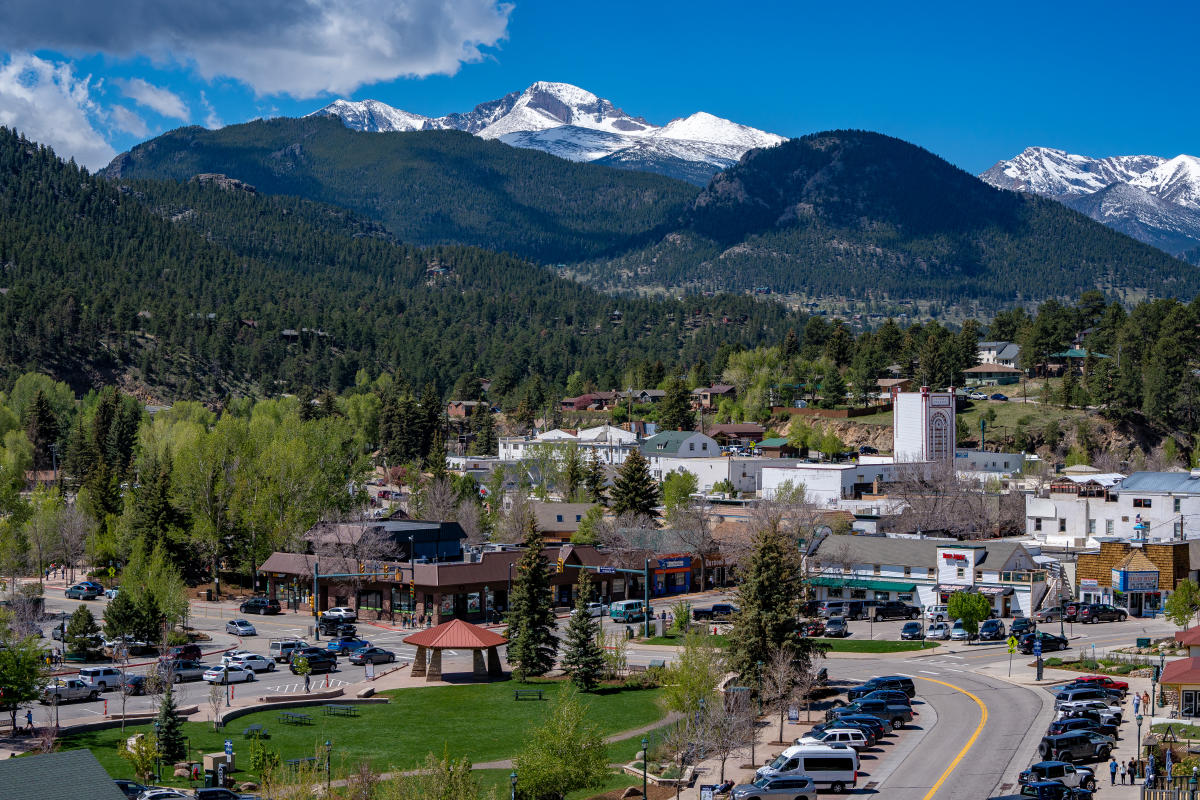 170 MacGregor Ave, Estes Park, CO 80517
This small green space right in the center of town has stunning views of Rocky Mountain National Park, and is a popular place for elk to congregate in the fall. The area has picnic tables, an awning, and nearby public bathrooms at Town Hall.
Just outside of downtown
Lake Estes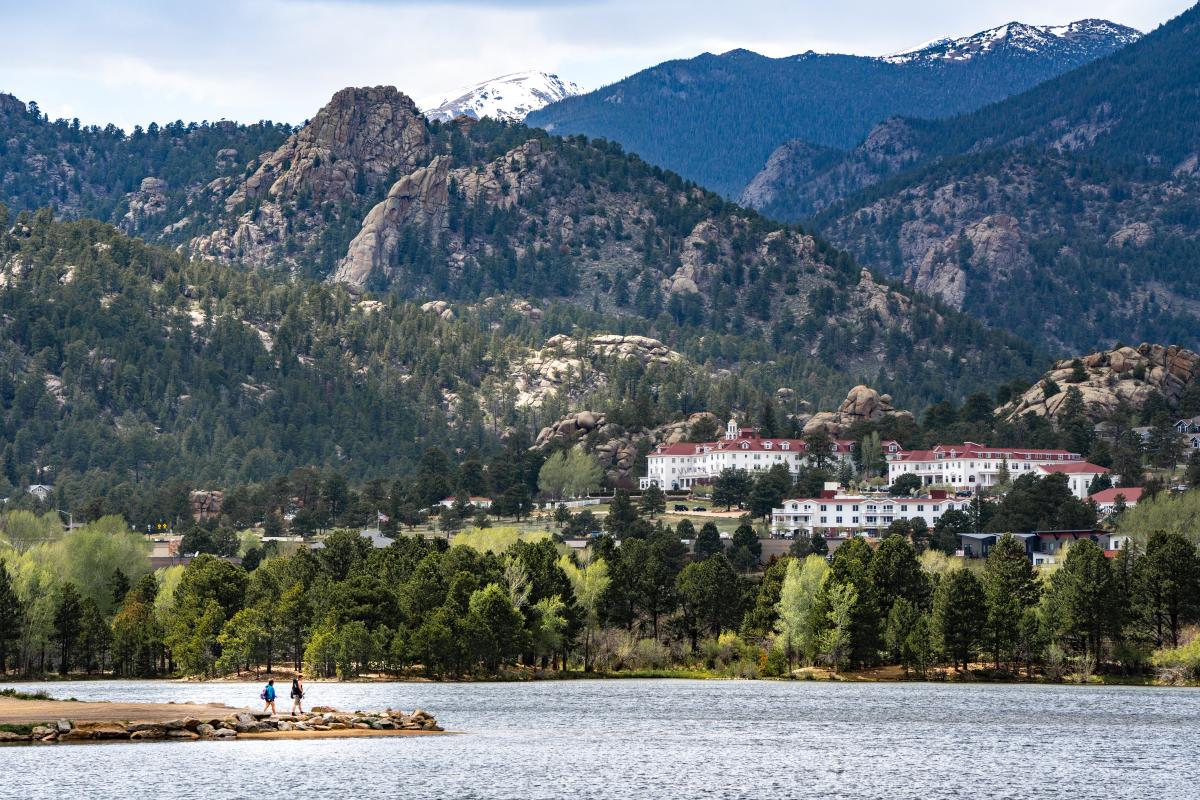 East of the Estes Park Visitors Center, 500 Big Thompson Ave, Estes Park, CO 80517
Enjoy your picnic somewhere on the banks of the lake, with Rocky Mountain National Park as your backdrop, or on the lake itself on a rented pontoon boat from the Lake Estes Marina. A paved 3.75-mile trail encircles the lake, which is dotted with park benches, picnic tables, and incredible views.
Lake Estes Picnic Areas
Stanley Park
N. St. Vrain Avenue and Community Dr.
Stanley Park has a bike park, ball field, paved walking path running through it, a playground, and a fenced-in dog park. The dog park has access to Lake Estes. There's more: 360-degree views of the national park and surrounding forests. Map it.
Just outside of town
17 Hermit Park Rd, Estes Park, CO 80517
Go here for a day of mountain biking, hiking, horseback riding, and if you like: camping. Views from trails look down into the Estes Valley and across it into Rocky Mountain National Park. An entrance permit is required.
Rocky Mountain National Park
Of course, there are stunning, not-to-miss picnic areas in the national park. Check out this list to find one.
Keep in mind, that depending on your dining time and desired location, you may need a Timed Entry Permit to picnic in Rocky Mountain National Park during peak season. 
At your accommodations
After a long day in the great outdoors a hotel-room picnic – tucked in on the bed, a good movie on the TV, takeout in hand – can feel simply luxurious. Cabins or lodge rooms may have a private deck or common area with a picnic table, allowing for a picnic-feel while close to the amenities of your room. Check out lodging options in Estes Park.
Third: Leave no trace
Remember Smokey the Bear? Only you can prevent forest fires – it's a mantra we all grew up with. The idea is to take responsibility for your actions while in the wilderness because they can have real consequences, whether a wildfire catches, litter builds up around trails or trails erode. Only you can leave no trace (of your trip) certainly isn't as catchy, but equally critical to the preservation of our public lands and safety of our wildlife. Want something that is catchy? Watch this video about how to leave no trace in Colorado.
Confused by so many uses of the word park?
Us too – learn about the many meanings of "park" specific to the Estes Park (yep, there it is again) area.