"Park" is a seemingly simple four-letter word, but around here, it takes on a lot of different meanings. Read on to find out how the town, Estes Park, Colorado, is different from Rocky Mountain National Park - and other applications of the "p" word. 
One of the most commonly asked questions at the Estes Park Visitor's Center is: "How much does it cost to get into Estes Park?" And more recently, "do I need a timed-entry permit to access Estes Park?"
The easy, honest answer is: "It's free! Estes Park is a town—you can come and go as you please." Rocky Mountain National Park (a different type of park all on its own) does require a timed-entry permit (plus an entrance pass). For the enterprising visitor center volunteer, however, the common wise reply is: "Ninety-five dollars. You can make the check out to the name on my nametag." 
Joking aside, this inquiry highlights a common point of confusion in these parts. We are a town called Estes Park right next to Rocky Mountain National Park. If you come up here on route 36, you'll drive over Park Hill on your way. And when you stroll through downtown, you'll find Bond Park. And then you might find South Park on TV as you channel surf back in your hotel room.
What's up with all the parks you ask?
One use of "park" is a Colorado-centric idiom meaning upland valley. There are "parks" all over the state—including a county named Park and a town named Parkdale. The name "Estes Park" (or "Este's Park" as it was first known), was bestowed on the valley by William Byers, founding editor of the Rocky Mountain News, in honor of its first permanent Anglo residents, Kentuckian Joel Estes and his wife Patsy. Estes Park was founded in 1859 and incorporated in 1917. Today, this quintessential mountain town sitting at 7,522 feet is a playground for millions of guests who come here seeking adventure both in town and in the surrounding open spaces, like Roosevelt National Forest or Rocky Mountain National Park.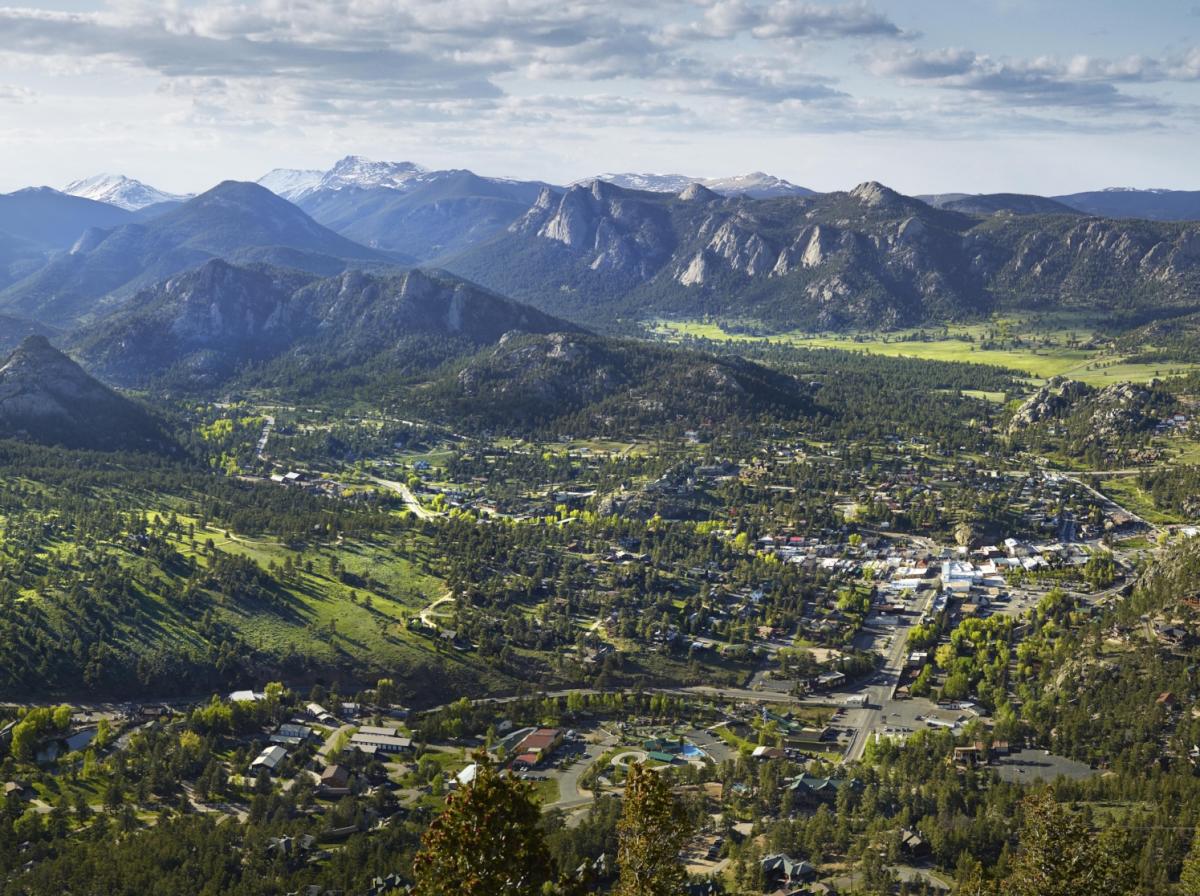 Overhead view of Estes Park.
Rocky Mountain National Park, the 3rd most visited park in the United States, got its name in 1915 when its 415 square miles of alpine awesomeness was dedicated as a National Park. This usage of the word "park" is what most people are commonly familiar with: "a large area of land kept in its natural state for public recreational use" (according to dictionary.com). Though it's important to recognize that the mission of the National Park Service is preservation, so taking care of these majestic acres is paramount to the enjoyment of those alongside us and others who make the journey in the future. It features several lifetimes' worth of trails, gin-clear streams, and empty mountaintops to explore. Note: Access to this park requires an entrance parss, and a timed-entry permit.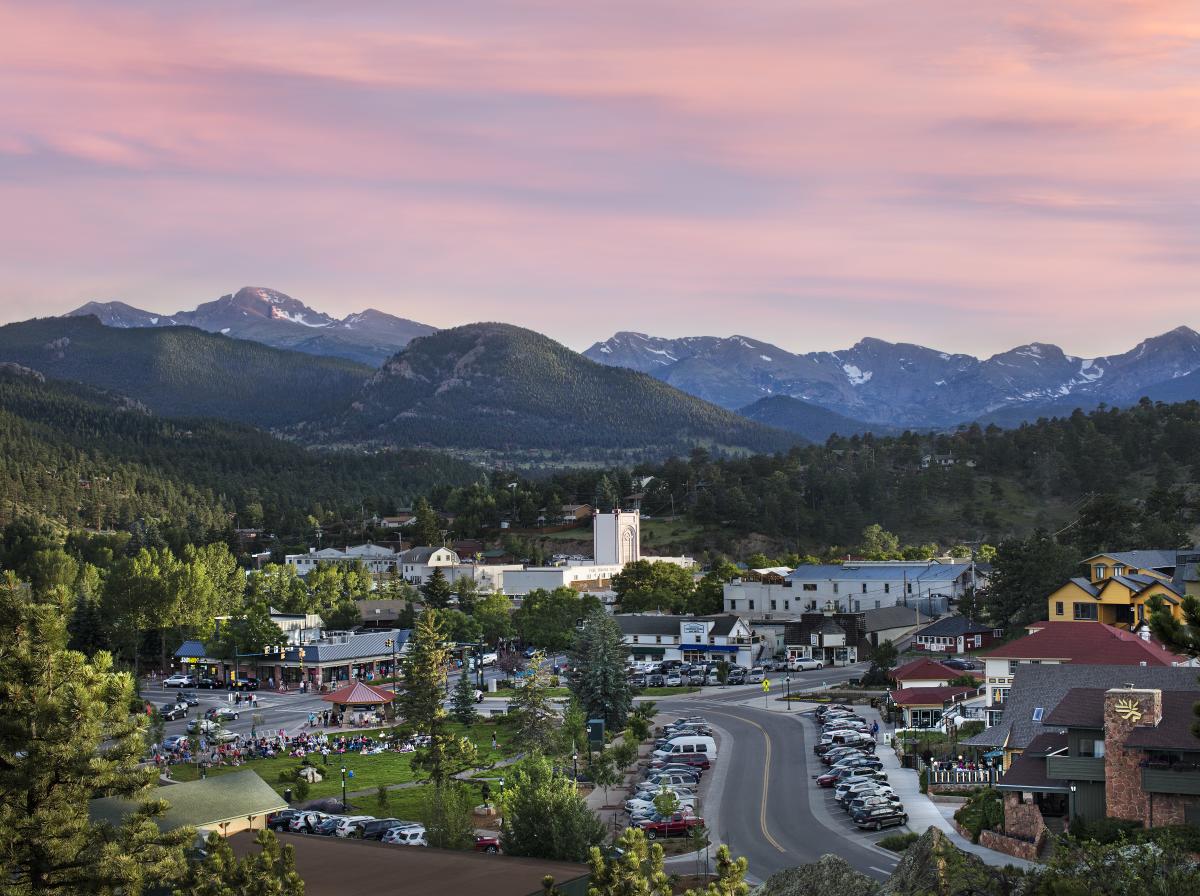 Bond Park, with the mountains of Rocky Mountain National Park in the Background
The town of Estes Park also maintains 22 various town parks. The definition of park in this case is "a large public green area in a town, used for recreation" (thanks, again, dictionary.com).  Among them are Bond Park (where various events are held) as well as several other marquee events through summer and fall, such as the Cowboy Sing-Along, Memorial and Labor Day Art Markets, and Elk Fest. It's downtown location makes it a convenient place to visit. Another notable park is Stanley Park where you'll find ball fields, a skate park, playground, tennis courts, paved bike path, a dog park, and a bike park. In Stanley Park, it's possible to be in three parks at once, perhaps more if you have long legs and are flexible.
This covers most of the noun usages of "park". If you'd like to learn more about the verb "to park" as in where do I "bring a vehicle to a halt and leave it temporarily, typically in a parking lot or by the side of the road," check out our Estes Park parking guide.