Here's everything you need to know about one of season's most quintessentially Colorado experiences.
With downtown Estes Park and the snowcapped peaks beyond serving as an idyllic backdrop, you can wander the white tents surrounding Bond Park, each displaying products from right here in the Rockies. You might find fresh produce from local Colorado farms or an organic mushroom stand, handmade soap and basket makers, honey, spice, pastry and flower peddlers, Colorado-raised beef and eggs and locally roasted coffee, among many other tempting things.
It's a vibrant and inviting scene, one that puts smiles on the faces of those shopping or milling about.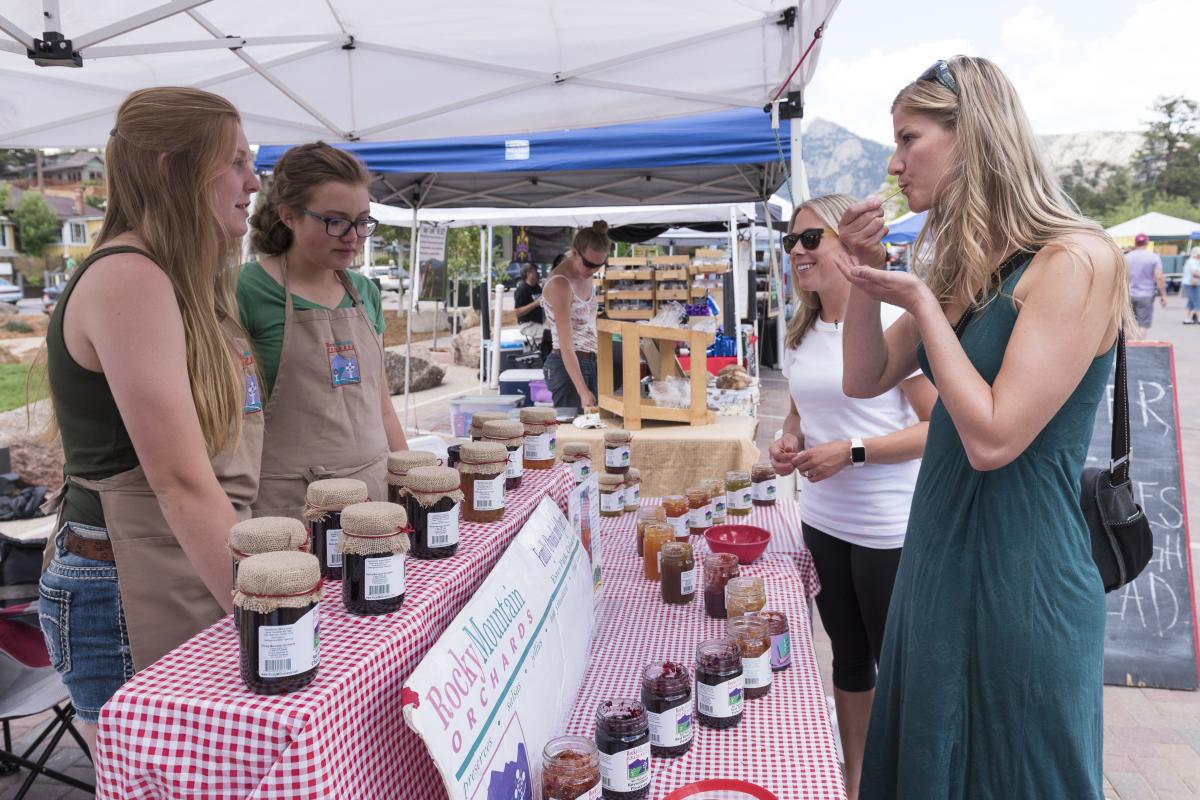 The Details
The Estes Park Farmer's Market is held from 8am to 1pm every Thursday June through September at Bond Park, where visitors can peruse Colorado-grown and Colorado-made products. Some vendors accept credit cards, while others only accept cash—best to arrive with some greenbacks on hand. (Here's a list of ATM's in Estes Park).
The best parking is available at the Town Hall Parking Lot on Elkhorn and MacGregor Avenues, but it fills fast. Another option is the Estes Park Visitor Center's parking structure, located at the intersection of highways 34 and 36. From there, take a short walk to the market or hop on the Gold Route trolley, one of Estes Park's free shuttles, which will drop you directly at Bond Park.
After hitting the market, store those goods in a cool place, and cap off the morning with a stroll along Elkhorn Avenue for breakfast or lunch and check out the galleries and shops along the way –  or take a walk around nearby Lake Estes.
"Strolling the farmers market for fresh vegetables and then walking downtown with a cup of coffee is one my favorite leisure experiences of the summer season," says one staffer at Visit Estes Park, adding, "I love the atmosphere and chatting with the stall owners about what they're selling – they're so passionate!"