Written for Visit Estes Park by photographer Sean Lara:
Rocky Mountain National Park offers many unique photo opportunities for photographers, both hobbyists and professionals alike. Its incredible scenery and easy access from Estes Park make it a very popular tourist destination and many of the most striking spots can be visited in just one day. While there are many sights in and out of RMNP that can be accessed via hikes, private 4x4 tours, and through other adventures, many of the most photogenic features are quite easy to get to with minimal planning or traveling involved. Here are seven easily accessible photo opportunities in Rocky Mountain National Park that anyone can capture stunning images at.
 
Moraine Park
One of the most visually diverse landscapes in the area, Moraine Park features stunning views of mountains, rivers, evergreen forests, and valleys. It's also the shortest drive on this list from Estes Park and has many access points. While it can be enjoyed at any time of the day, sunrise provides the most alluring photo opportunities as the east-facing mountains vividly light up with the rising sun. There are many different angles and perspectives to choose from at this location so bringing both wide and telephoto lenses are recommended for photographers. This is also one of the best spots in the Park to view the Elk rut in the fall.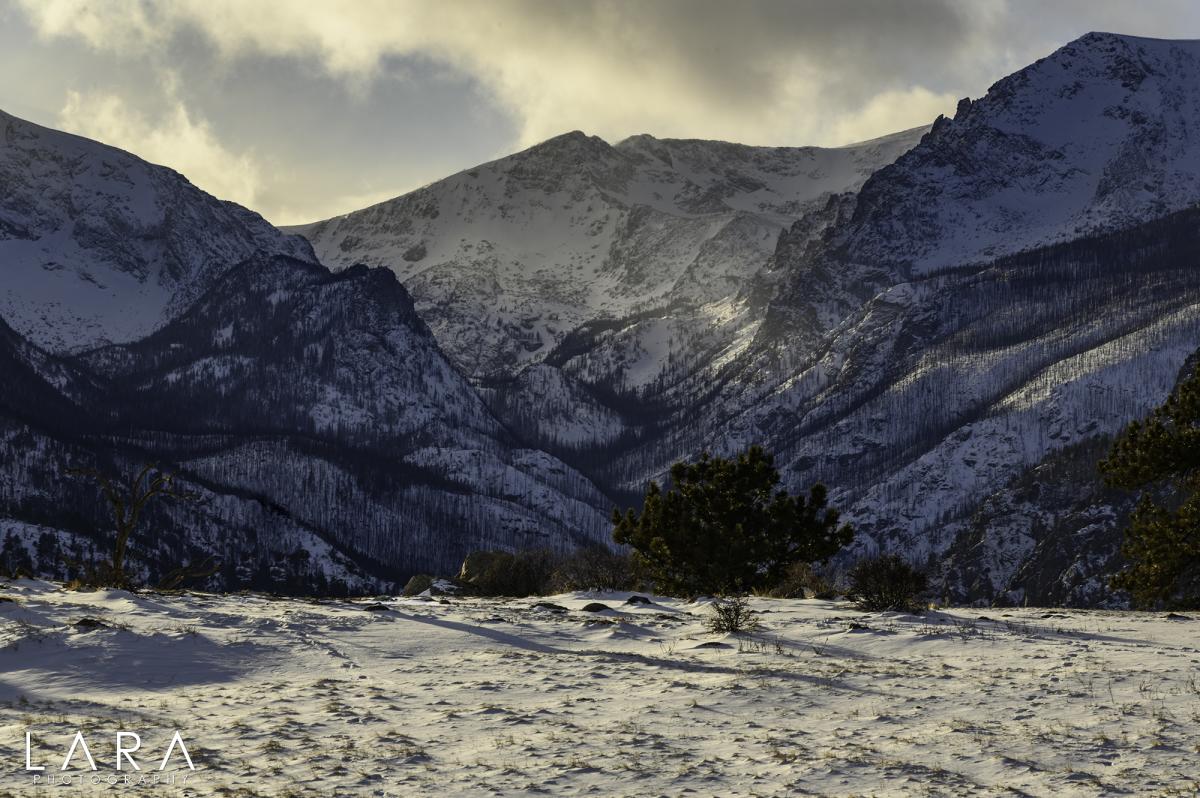 Dream Lake/Emerald Lake
If you're willing to put your hiking boots on and go for a short trek, the Emerald Lake trail offers some very impressive views of Hallett Peak, Flattop Mountain, and Longs Peak. The hike begins at the Bear Lake Trailhead and features three lakes on the trail: Nymph Lake, Dream Lake, and Emerald Lake. It's an "Out and Back Trail" with a total length of 3.3mi if you go to the end, and has an elevation gain of around 700 feet making it great for beginner or intermediate-level hikers. All you'll need to bring on this hike is a wide perspective lens and you're set.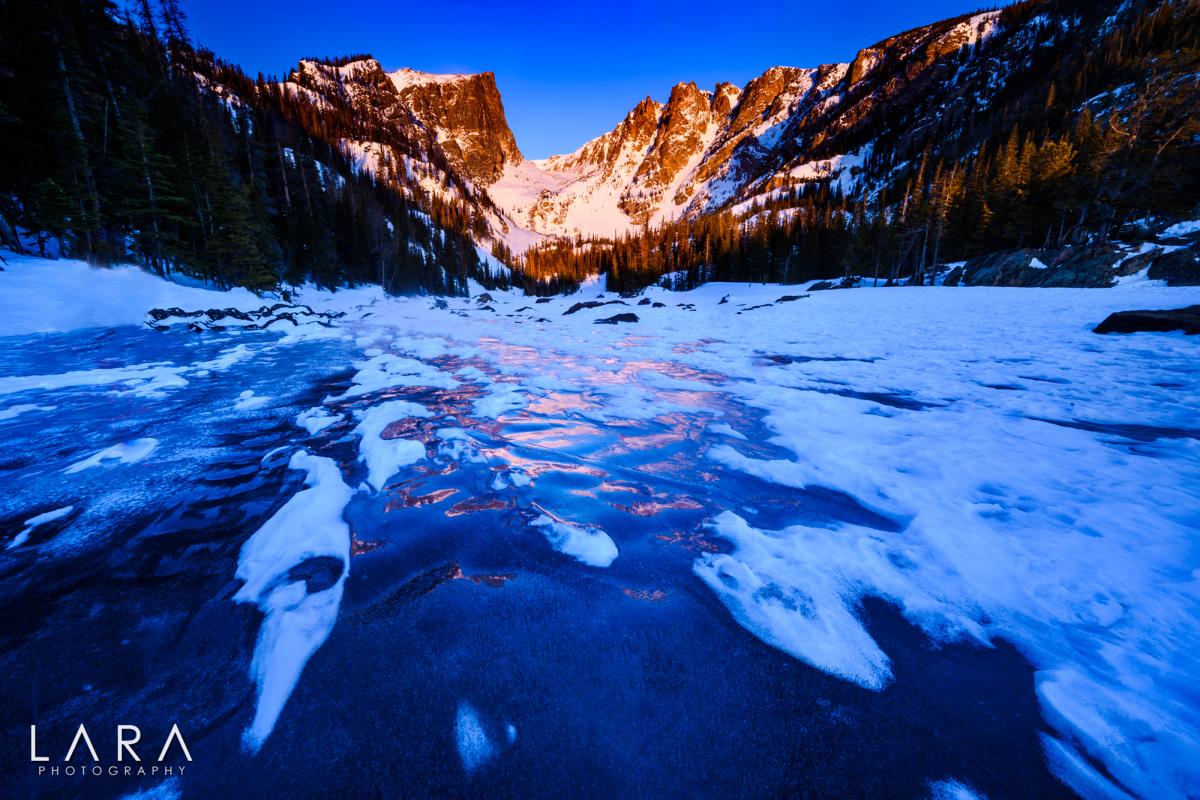 Bear Lake
To get to Bear Lake you'll drive through the Beaver Meadows entrance of Rocky Mountain National Park and follow Bear Lake Road where it dead-ends to the trailhead parking lot. This lake has some of the best views in the Park and is the gateway to a variety of hikes for adventurers of all skill levels. A wide-angle lens is all that's needed to capture stunning images here, but it may not be a bad idea to also pack a telephoto lens in the event you run into a moose or other wildlife.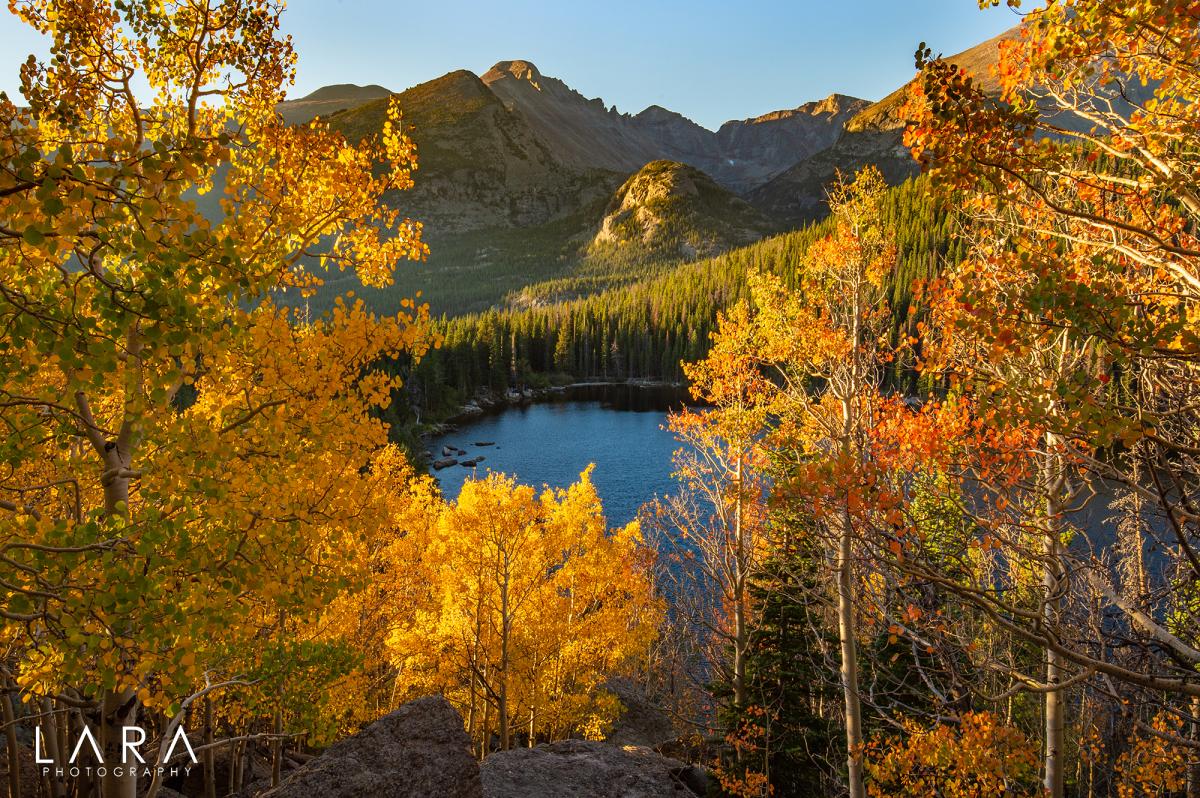 Lily Lake 
Because of its ease of access, Lily Lake can see a lot of tourist traffic in the summer months. If you're willing to overlook the popularity of this attraction, it has some fantastic lakeside views. Take a short walk around the perimeter of the lake, or climb a bit higher on the Lily Ridge trail to get aerial views of the surrounding landscape. To prepare appropriately for this photo adventure, all that's needed is a wide or standard-perspective lens.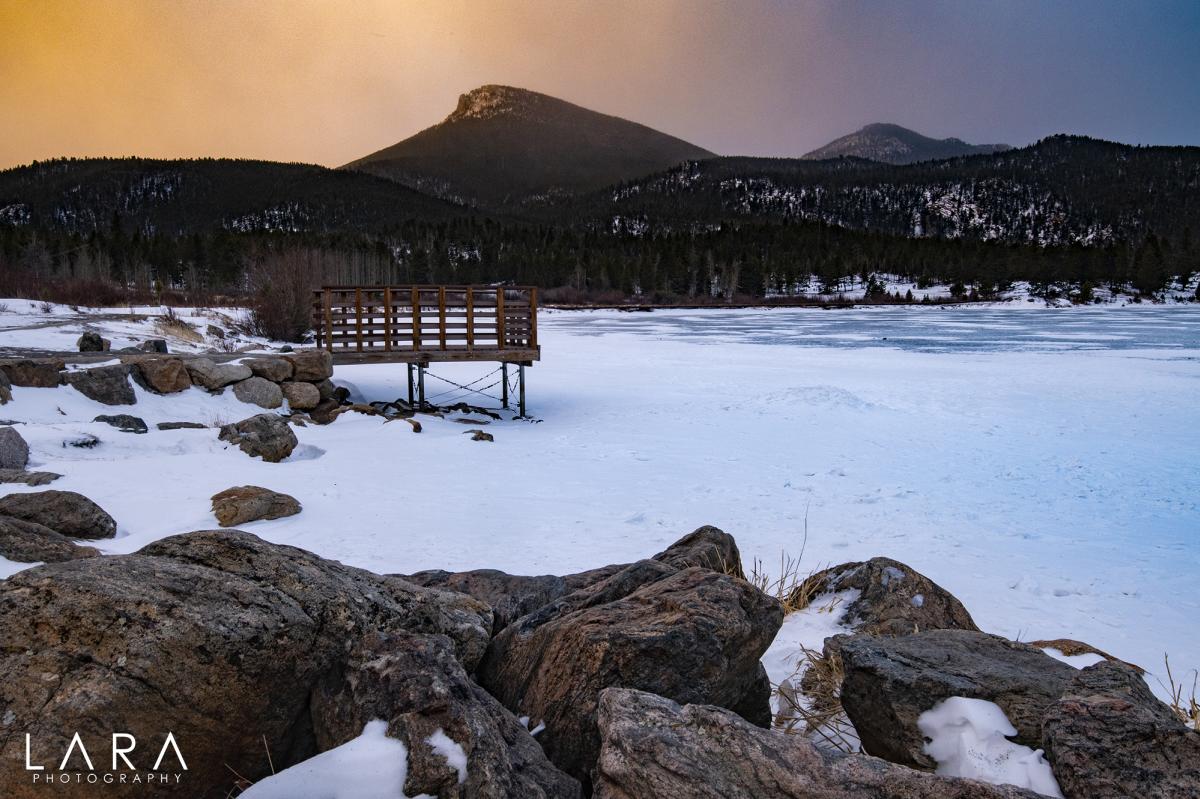 Sprague Lake 
Another easily accessible lake with great views of the mountains is Sprague Lake. This lake is a turn-off from Bear Lake Road and has a well-groomed trail that loops around the lake. If you can make the effort to wake up extra early and visit here at sunrise, you will be well-rewarded with spectacular colors and scenery. Bring either a wide lens to capture the entirety of the scene, or a telephoto lens to create compression and a layering effect with the mountains and forests in the background.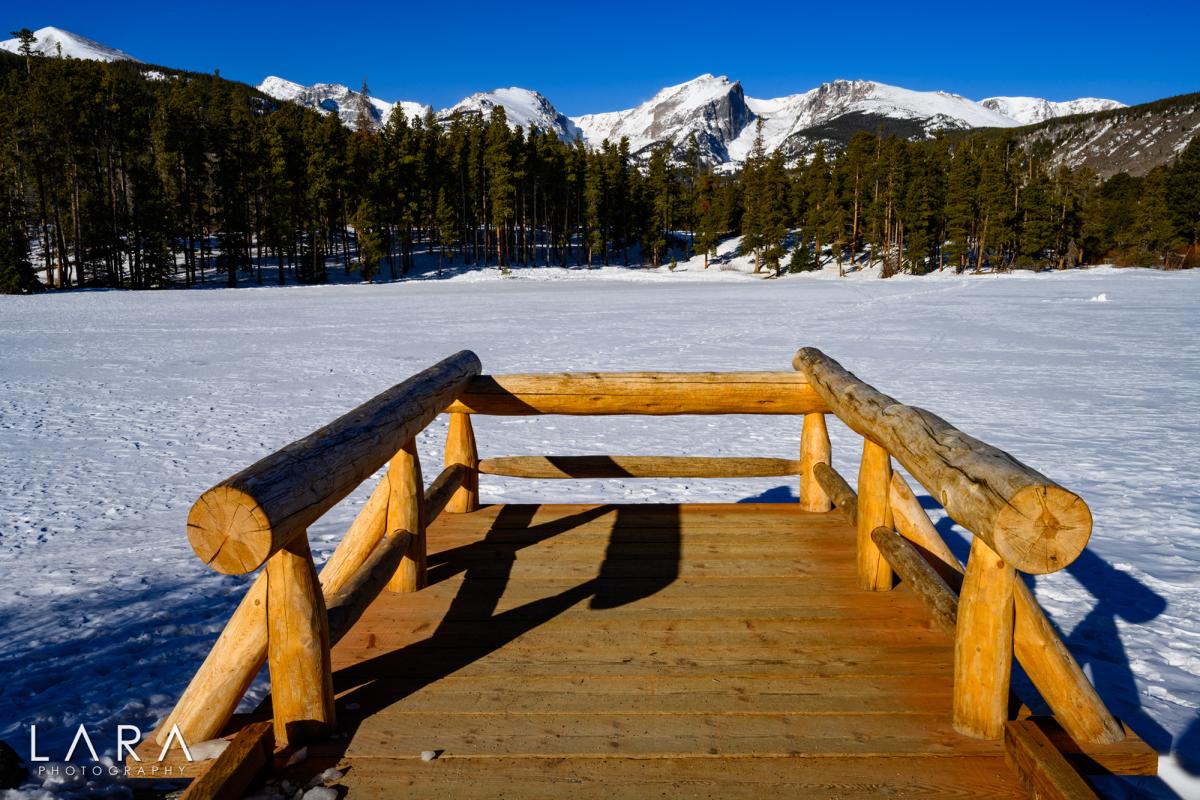 Trail Ridge Road 
At just over 12,000 feet in elevation, Trail Ridge Road is the highest continuous paved road in the country. Because the entire road is paved, it can be easily accessible with any sort of vehicle and there are phenomenal views of tundras, snowy peaks, alpine flora, and wildlife. Sunsets up here are a magical sight to see and provide many photo opportunities. A variety of lenses from standard to telephoto should be in every photographer's bag. Because of the elevation gain, don't forget to take plenty of water to stay hydrated and reduce the risk of altitude sickness. (Note: Trail Ridge Road is only open seasonally. Learn more about Trail Ridge Road here and how it is partially open year-round.)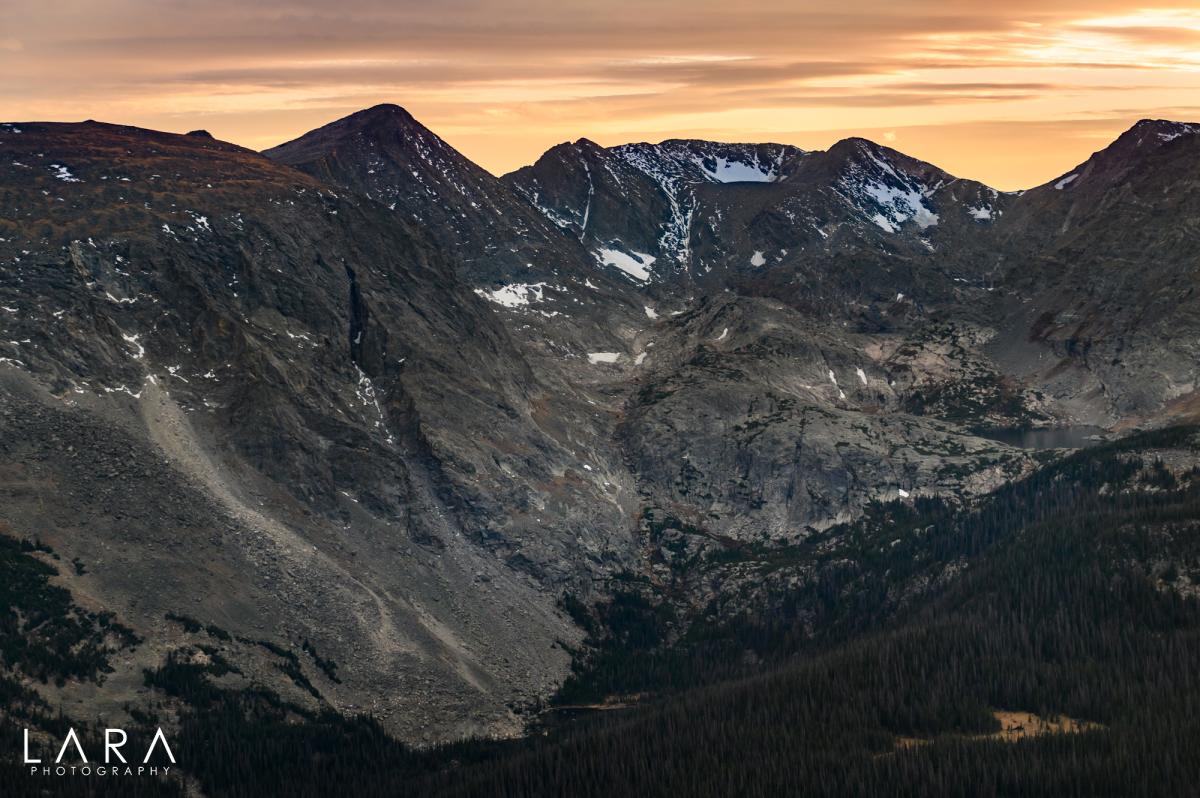 Old Fall River Road
Being the first automobile road to be constructed in the interior of Rocky Mountain National Park, driving on Old Fall River Road will take you through many natural sights. Some of these include the Alluvial Fan, dense aspen trees, and unique cliff formations. Take the road all the way up to the Alpine Visitor Center, or turn around and head back towards the Fall River Road entrance to the Park. The best time to visit this attraction is during the fall when the aspen leaves go through a variety of colorful changes. You may experience an abundance of different photo ops here, so be prepared with a variety of lenses and equipment. (Old Fall River Road closes to cars in the fall but a car isn't the only way to see the sights on Old Fall River Road. Check out the other ways here.)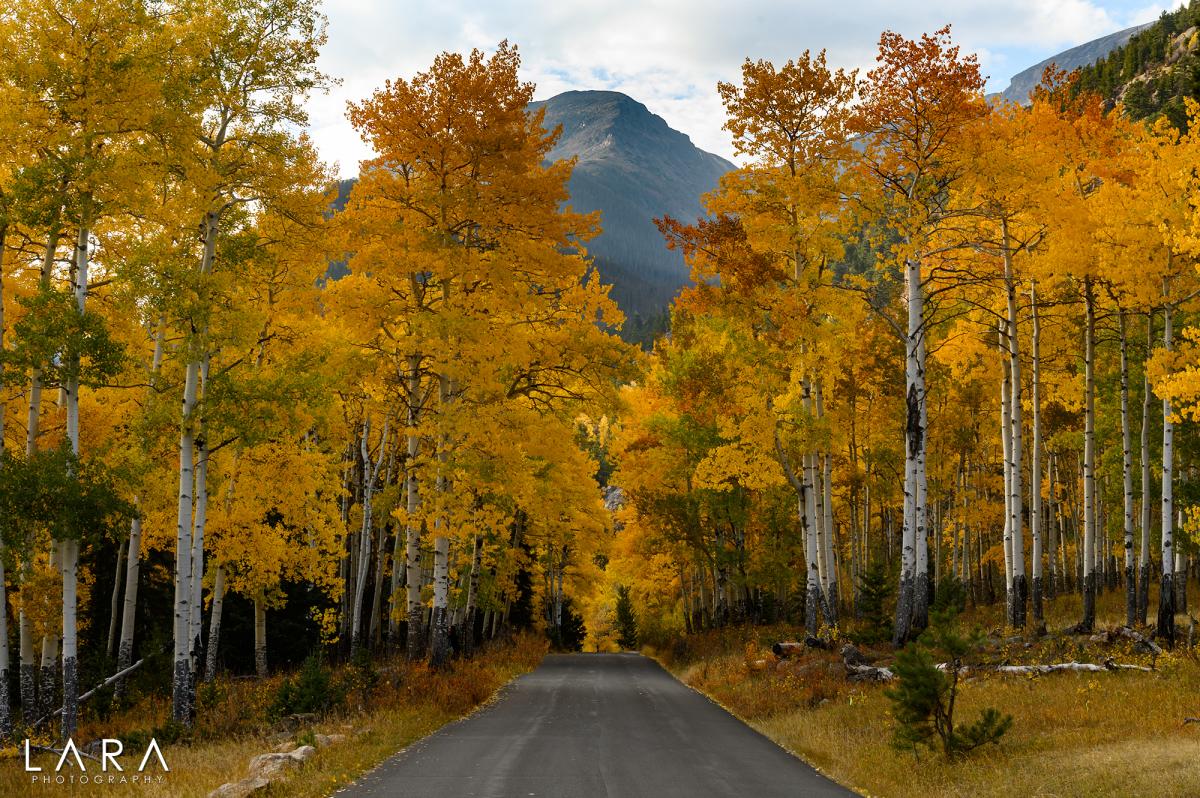 About the Author: Sean Lara is a local Estes Park Wedding Photographer who loves incorporating mountain scenery into his images. When he's not photographing clients, you can find him hiking in Rocky Mountain National Park, fly fishing on Big Thompson or drinking a cold-one at a local brewery. IG: @seanlaraphotography