Trail Ridge Road's older sibling, the un-paved Old Fall River Road offers a more rugged course to the alpine tundra in Rocky Mountain National Park. And it will open to vehicles on Saturday, July 1, 2023! We can't wait!
Early History
The first route for automobiles in Rocky Mountain National Park, Old Fall River Road was constructed in 1920. The gravel road leads one-way uphill, switchbacking from Horseshoe Park to Old Fall River Pass and the Alpine Visitor Center at 11,796 feet. The road follows a route traveled by Native American hunters who visited what is now the National Park because of abundant game. The road reaches grades nearing 16%, meaning early cars had to climb the hill in reverse, due to gravity-fed fuel systems and weaker engines.
Hiking Opportunities
Old Fall River Road offers a few unique places to get out and catch the view—or hit the trail. Chasm Falls cascades at mile 2.5 along the road, just a few steps down to an observation deck. The Alluvial Fan offers another great place to hang out and walk around at the base of the road. Caused by a 1982 flood, this cone-shaped area of rock and flood-debris, is an ideal place to dip your toes in the water and enjoy the sounds of a mountain stream cascading down the mountainside. For a longer hike, the Chapin Creek trailhead offers summits at Mount Chapin, Chiquita and Ypsilon at miles 1.7, 2.7, and 4.1 miles one-way, with the latter two rising to above 13,000 feet.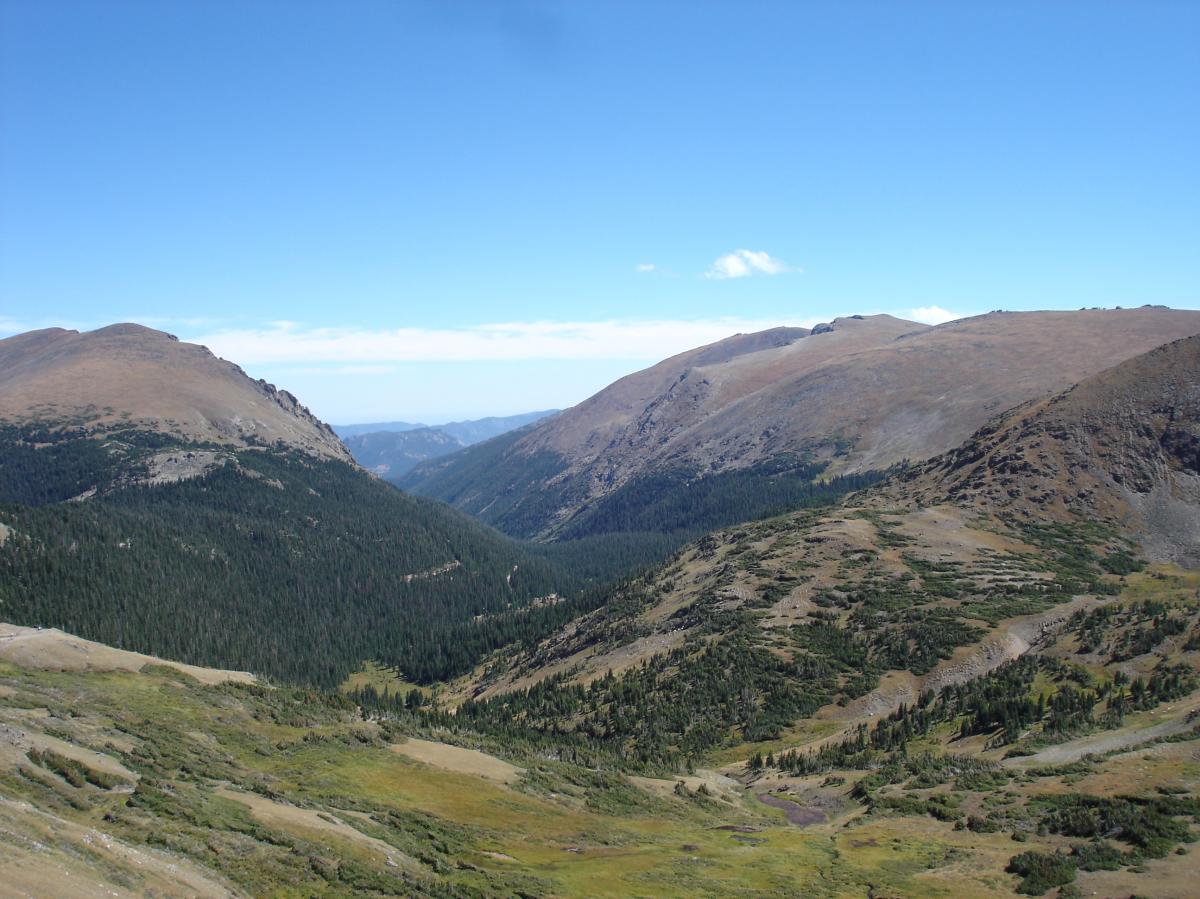 Don't Worry: You Don't Have to Choose
Can't decide between driving Old Fall River or Trail Ridge? Well, you don't have to. Old Fall River Road is a one-way uphill, so you'll meet up with Trail Ridge Road at the Alpine Visitor Center. There you can get out, do a little souvenir shopping and grab a snack. You can also take a short jaunt up the Alpine Ridge Trail topping out over 12,000 feet. Then, head down Trail Ridge Road, stopping at any or all pull-outs with breath-taking vistas and wildlife watching (most of the time).
Grab your Timed Entry Pemit Reservation! 
Travelers should plan ahead for Rocky Mountain National Park's pilot temporary timed entry permit reservation system.  There are two types of reservations. One permit is for the Bear Lake Road Corridor, which includes the entire corridor and access to the rest of the park. This reservation period is from 5 a.m. to 6 p.m. The second permit is for the rest of Rocky Mountain National Park, excluding the Bear Lake Road corridor, and includes Old Fall River Road. This reservation period is from 9 a.m. to 2 p.m. To learn more visit https://www.nps.gov/romo/planyourvisit/timed-entry-permit-system.htm