There is a bit of a learning curve when it comes to fly fishing – those pesky flies don't cast themselves – but don't let that stop you.
Fly fishers always look so peaceful, wading into rivers and methodically casting their lines, patiently waiting to hook their next fish. Have you caught yourself wondering how it all works and wanting to give it a try? You're not alone. Rods, reels, fly lines, flies, waders… tying flies. It's a lot. Our best advice to get started? Keep it simple: hire a guide.
What to expect
A great way to get into fly fishing is to hire a guide to take you out for the day. Fishing guides in Estes Park are passionate and highly knowledgeable about their sport and, more importantly, simplify the process to allow you to pick up the basics.
There is a trick to casting the line to land the fly where fish hang out, for example, and guides will spend time with you to help you master this aspect of the sport, while providing and tying appropriate flies for you. As you pick it up, your guide will continue instruction to match your progress.
Guides will work with you to determine the best fishing location based on your interests (those who prefer to stay close to civilization can fish at select spots in or near town while backcountry adventurers can hit high-elevation locales). If backcountry is what you're looking for, hire a pack llama through Kirk's Flyshop to help lighten the load – and consider an overnight or multi-day trip. Check out some of the fishing hotspots your guide will recommend.
Many include all the gear you'll need for the day, plus lunch, in the experience. All you'll need to do is show up with a daypack of your chosen essentials (a list of recommended items will be supplied) and you'll be ready to cast a line. And the best part? When you go with a guide they guarantee you'll catch a fish!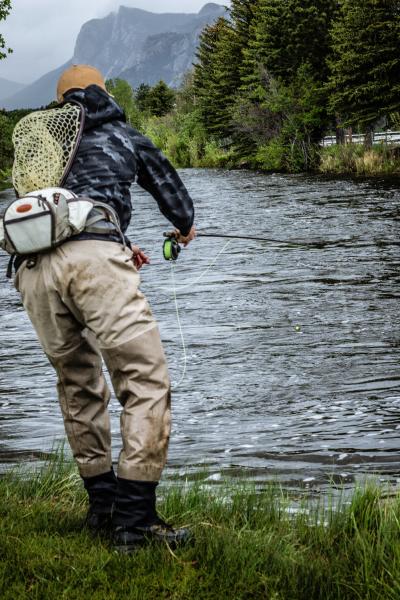 Find a guide or rent gear
Kirk's Flyshop and Estes Angler offer guiding services in Estes Park. Between the two of them they offer a wide range of trip options and are happy to guide all skill levels. If you're not interested in hiring a guide, you can still pop in and ask for advice on where to go and which flies are successful when, or simply rent gear.
Insider tip: make your "close to home" fly fishing day a multi-sport adventure. Pick up a picnic lunch at a local deli then rent your gear and a bicycle from the Estes Park Mountain Shop. Hit the Lake Estes Trail (the 3.75 mile loop that encloses Lake Estes) on two wheels and make your way around the lake, casting your line along the way.