It's the most wonderful time of the year. With the elk jingle belling… or maybe just hanging out around town, strolling the golf course. But just because the elk aren't jingle-belling, and don't have red, light-up noses, doesn't mean Estes isn't the perfect Christmas destination and a great way to get into the Rocky Mountains in winter. Don't forget your Estes Park Pass, which you don't need to ski – but can get you a discount if you do, and help with savings elsewhere.
The best place to start with Christmas in Estes is checking off the names on your list.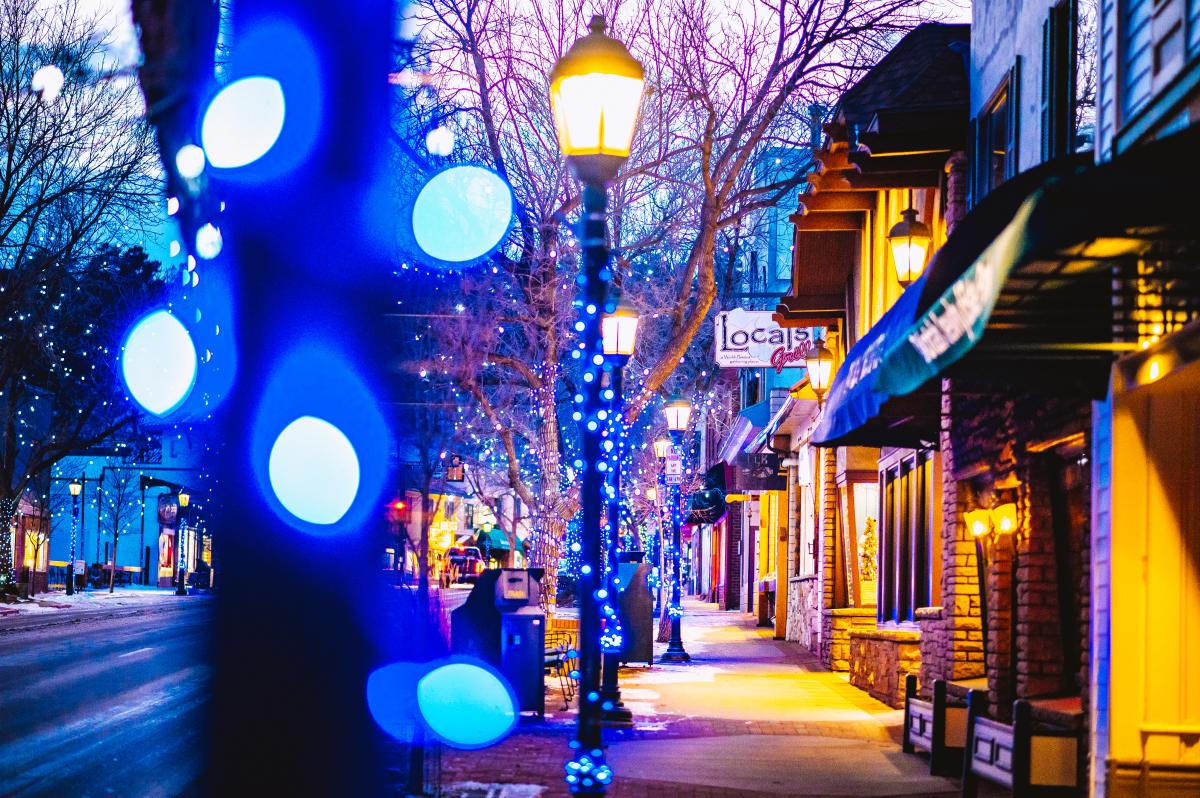 Even if that means getting them their gifts a bit late, they'll understand. Especially if you get them something one-of-a-kind, made in Estes. Plus, if you're a bit selfish, you can enjoy the Hallmark feel of downtown, with the twinkling lights and maybe even a treat for yourself. Ice cream, taffy or a coffee are all great ways to fuel your spree.
One great part of the Christmas season, is those pesky New Year's Resolutions haven't started yet, so it's time to eat what you want.
There are plenty of restaurant options in Estes Park, but many have special holiday hours or closures. Others have special menus, and open up their doors on the holidays so you don't have to do the cooking, or hit the grocery store. The week of Christmas (but not day or eve), Seasoned American Bistro is offering their Feast of Fishes - seafood from American waters. Waterfront Grille at the Estes Park Resort will offer Brunch with Santa on December 21, for kids to get in their final asks. Follow up with their Christmas Day Buffet from 10am-5pm, to get your fill after ripping open presents, or head to Latitude 105 for an elegant plated dinner from 3-9pm, or Cousin Pat's Pub & Grill, which is open until 1:30am on Christmas Day. Bird & Jim is offering 12 Days of Christmas nightly with three-course special menus. If you prefer to drink your cheer, The Barrel is hosting 25 Craft Beers of Christmas tapping rare kegs & cellar cases daily. 
Looking for entertainment, other than the wealth of outdoor adventure surrounding you?
The Stanley Hotel has some things going on! December 14 and 15, the Boulder Ballet will be performing the Nutcracker Suite. Friday, December 20 is the Most Wonderful Crime of the Year, a Holiday Murder Mystery dinner. The Historic Park Theatre is presenting a Nutcracker as well, on December 15. If the lights downtown leave you wanting more, load up the car and check out the Yuletide Holiday Lights Driving Tour. Businesses and homeowners alike create wonderful light displays for your viewing pleasure.
If Christmas isn't a good enough excuse to make it to Estes, or you've got prior obligations, check out more reasons to visit Estes in the winter, no matter the holiday, or plain old day you decide to make the trip!