The scenic drive is a classic and fully enjoyable way to cover a lot of ground for your leaf-peeping efforts around Estes Park. But, venture off-road this autumn, and you'll be rewarded with a different point of view when soaking in the brilliant fall colors--and perhaps a bit of solitude, too. There are so many different ways to take your leaf-peeping beyond the scenic drives. Read on for our local recommendations on our eight favorite ways to get off the road and find hidden stashes of fall foliage in Estes Park, Colorado.
1. Biking the Trails
Mountain biking is a great way to get off the pavement and into the wilderness. From the national forest's backcountry roads and singletrack trails you'll find plenty of views full of fall colors. Whether you're going uphill or down, take time to rest and enjoy the view. Here's our local expert's five favorite areas to ride around Estes. 
2. Pick up a Paddle and SUP
Head on over to the Lake Estes Marina for a chance to see the golden leaves from the water! Stand up paddling or kayaking will both give you a fantastically fun way to check out the amazing views. 
3. On Two Feet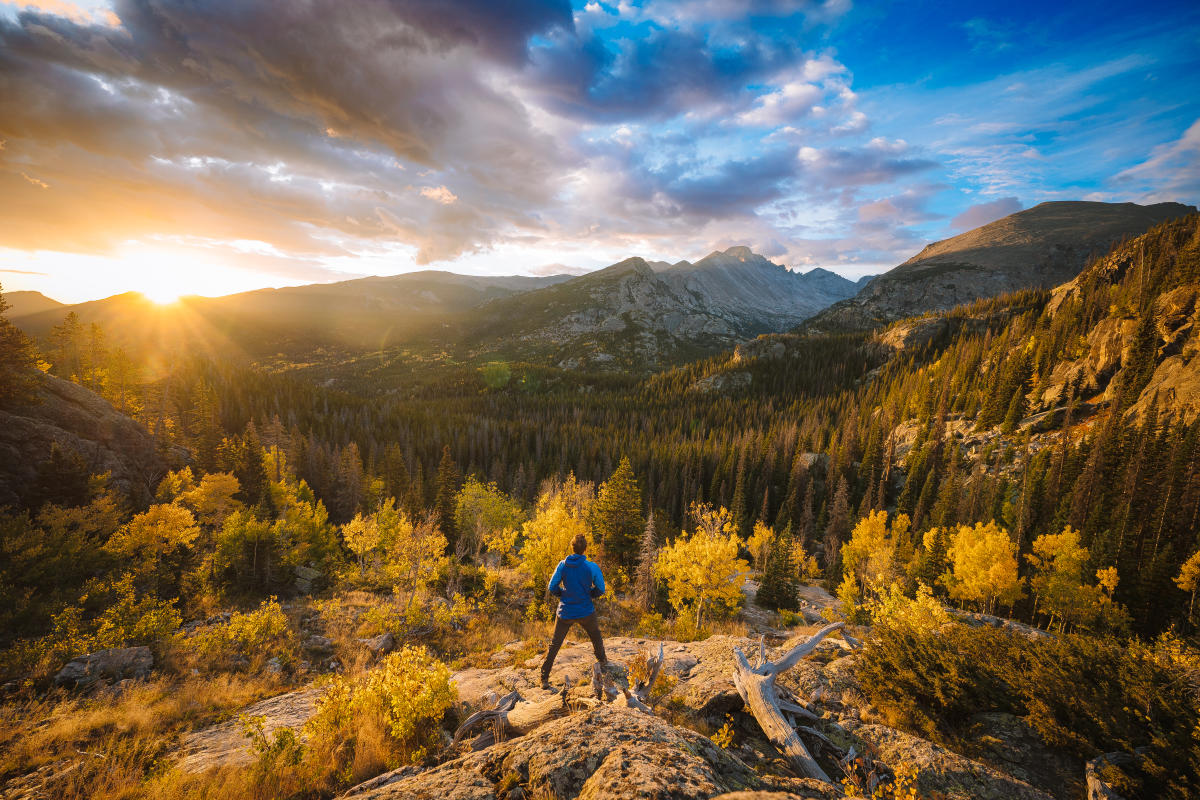 Hiking may be the most popular people-powered way to enjoy the changing colors. Pick your pace and route length to customize your foliage-finding trek! Not sure where to go? We've made it easy with this list:  Top 10 Trails for Leaf Peeping. If you're looking to hike with your furry friend (pets aren't allowed on the trails in RMNP) check out these 5 Trails to Hike with Your Dog.
4. By Horse
Giddy up. Let a new four-legged friend do the hard work for you. Horseback riding in Estes Park allows you the time to enjoy the wonderful sights as you ride the trails in the national forest or the national park. Go for a one-hour stroll or an eight-hour extravaganza, and you're sure to have a great time in the saddle!
5. On a Scenic Run
Get solid workout while admiring the views and being one with nature by trail running.Work up a sweat and pound the trails all while being surrounded by a myriad of autumn beauty (and leave day hikers in your wake).
6. Climb to a World-Class View
Estes Park is a rock climbing heaven for experts and new-comers alike--and fall is the best time of year. Lower temperatures are better for friction, and climbers can enjoy golden aspens from places others simply can't get to. If you know what you're doing, try Jurassic Park or Lumpy Ridge. If not, take a lesson or class with a local guide service.
7. On a Guided Off-road Tour
Buckle up for a wild ride! Off-roading is an exhilarating way to check out the leaves in fall. Whether you let an expert do the driving in modified Jeep, or you take the wheel with a local rental, you'll get the adrenaline pumping and take your fall scenic drive to places in the national forest that you just can't get to in your everyday vehicle.
8. In a River
Get hooked on the beauty of the season while fly-fishing! Check out rivers and lakes both inside and outside the national park. Go with a guide or head out on your own. The trout are hungry and opportunistic this time of yea, and to view the kaleidoscopic hillsides from the river below is a rare pleasure
Planning Tips: The leaves tend to peak in late September at mid-elevations, but coming a little earlier will catch the higher-altitude aspen groves and a bit later means the variety of trees in the village of Estes Park will be in prime color. And don't forget the elk - in September and October, the bulls are rutting around - performing their iconic mating rituals of bugling, sparring and rounding up 'harems' of cows. Learn more about 'Elktober' by exploring further in the blog.