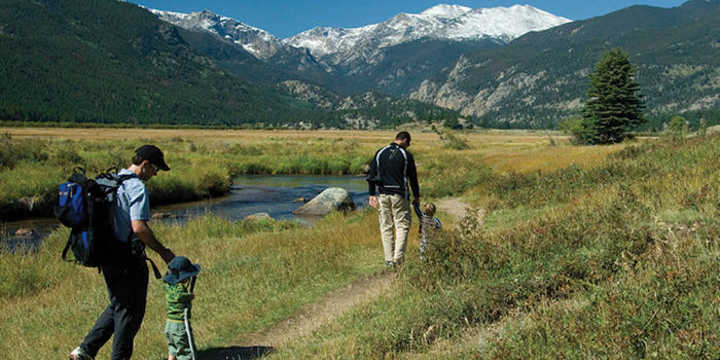 Hiking
Adventures on Foot
Certainly one of the oldest activities in the area has to be hiking in Rocky Mountain National Park and the Estes Valley. What could be simpler than strapping on a pair of good shoes and heading out to see, hear, feel and experience nature? With over 300 miles of trails in the national park and more in the national forest, there is truly a trek for every skill level and interest.
There are plenty of amazing options inside the national park - more than 300 miles of trails, in fact. Be sure to visit Hiking in Rocky Mountain National Park for suggested hikes at every skill level. Remember that hiking in Rocky is mostly people (or horses) only, so try the national forest for hiking with your canine companion.
Pet-Friendly Hiking
Four-legged friends are allowed only along roadsides, in parking areas, picnic areas and campgrounds (full details) inside Rocky Mountain National Park, but there are many places to hike in the Estes Park area that are pet-friendly. For walking around town, there are several miles of trails that spiderweb out from the Lake Estes Trail, reaching downtown, Stanley Park (including the dog park) and beyond.
The national forest allows hiking with your leashed dog and can be accessed in a number of areas around Estes Park. Northeast of Estes Park, Crosier Mountain, near the town of Glen Haven, offers four trailheads with access to the forest: Garden Gate, Rainbow, North Fork and Bulwark. Additional forest access can be found at Hermit Park Open Space (entrance fees apply); and the Lily Mountain Trailhead, 5.8 miles south of town along Highway 7. Additional information on these trails can be found at PoudreWildernessVolunteers.org.
Get Professional Help
As in a hiking guide, not therapy. Guided hikes can offer even the experienced hiker or backpacker some lessons in navigation, endurance and form - making you a better hiker for life. Of course, guides also ensure that you make it home safely and before dinnertime - more added value. Check out the Guided Excursions section to read more about guided hikes, fishing expeditions, snowshoeing, climbing, backcountry exploration and more.
Estes Park Trails
Fortunately, the trail system near Estes Park accommodates hikers of all levels. Choose one that is right for you. If hiking in Rocky Mountain National Park during warm weather months, consider taking the hiker shuttle from the Estes Park Visitor Center to the national park's Park & Ride lot, as trailhead parking often is minimal. Stay safe.
Estes spotlighT
estes SpotlighT