Practice your mountain biking skills, or just hit the track for fun
With a backdrop rivaling any bike park in the country (Hi, Long's Peak!), Estes Park's new bike park is a beauty. A half-mile of skills-loops ranging from beginner to advanced incorporate both man-made and natural riding features. Pump tracks covering about a third of a mile in an interlocking loop and figure-eight patterns consist of dirt and paved sections. Finally, single track dirt spanning 1.25 miles connects these courses and encloses them along with the surrounding athletic fields, courts and picnic areas of Stanley Park.
The course is open to the public – and to non-mountain bikers too. The perimeter track is perfect for running, horseback riding, dog walking, snowshoeing, and cross-country skiing, just to name a few. The paved sections of the pump tracks are welcome to anyone on wheels from skateboards to roller skates—and yes of course bikes.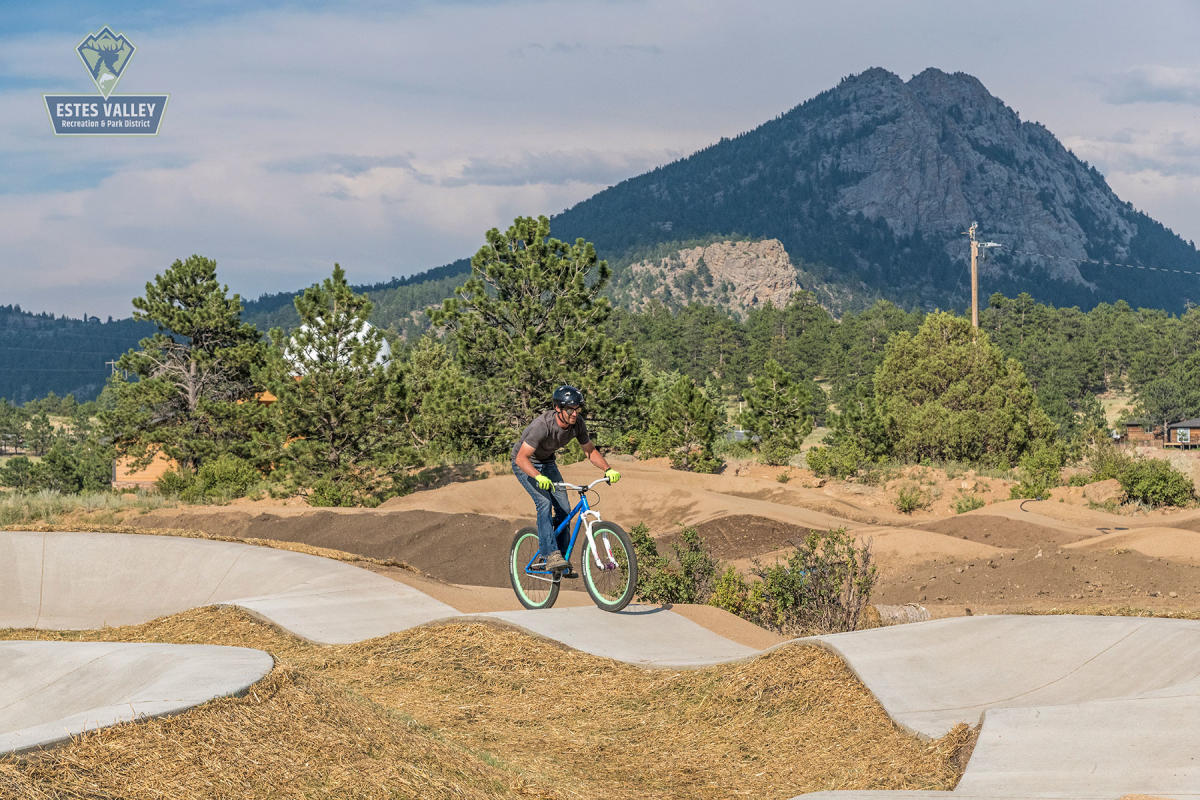 "The park was first envisioned by the Estes Park High School Mountain Bike Team (an official Estes Park High School club officially sanctioned by the Colorado High School Cycling League) as a convenient in-town facility for training and skills development," says Todd Plummer, Estes Park Cycling Coalition (EPCC) treasurer, but evolved into a partnership between the EPCC and the Estes Valley Recreation and Park District (EVRPD).
"The EPCC approached the EVRPD about developing the park. They spearheaded the whole project, designing and coordinating the construction. We are excited to partner with them on this new feature within Stanley Park and hope the park is loved and used by the community," said Dawn Wilson, Marketing & Communications Manager for EVRPD.
Estes Park is becoming better-known for its mountain biking, and having a bike park solidifies the community and helps locals and visitors alike develop their skills. Bike rentals are available for visitors who find themselves hankering to hit the ground rolling. The Estes Park Mountain Shop offers mountain bike and helmet rentals in two and four-hour sessions.
Make a Day of It
A pump-track session at the bike park could easily turn into a full day at Stanley Park—there are baseball and soccer fields, basketball and tennis courts and even a grassy area where you could play Frisbee or have a picnic and chill with amazing views of Longs Peak. There are a pavilion and playground, too. The Estes Valley Dog Park is adjacent to Stanley Park and includes a doggy-obstacle course and lake access. Lake Estes is within walking distance as well—walk or bike over on the paved bike path.
What You Need to Know
Free admission
Operating hours: sunrise to sunset.
Open year-round, weather permitting – icy conditions may exist in winter.
Open to all ages and skill levels
Located at Stanley Park: 690 Big Thompson Ave, Estes Park Colorado