For a lot of us, hiking and being in nature is the best therapy, and here in Estes Park we have many trails perfect for reconnecting with ourselves. Shopping is also good therapy for some folks, and our beautiful town certainly has a lot of that, too. It's easy to spend the entire day just walking around downtown, popping into the different stores and sampling all the yummy homemade sweets. Check out our rundown of the best places to get your retail therapy below. 
Boutiques and Souvenir Shops 
Estes Park has several fascinating shops where you can get that unique gift for someone special or a little token from your memorable trip to the mountains. Here are a few you can't miss on your next visit.
Trendz at the Park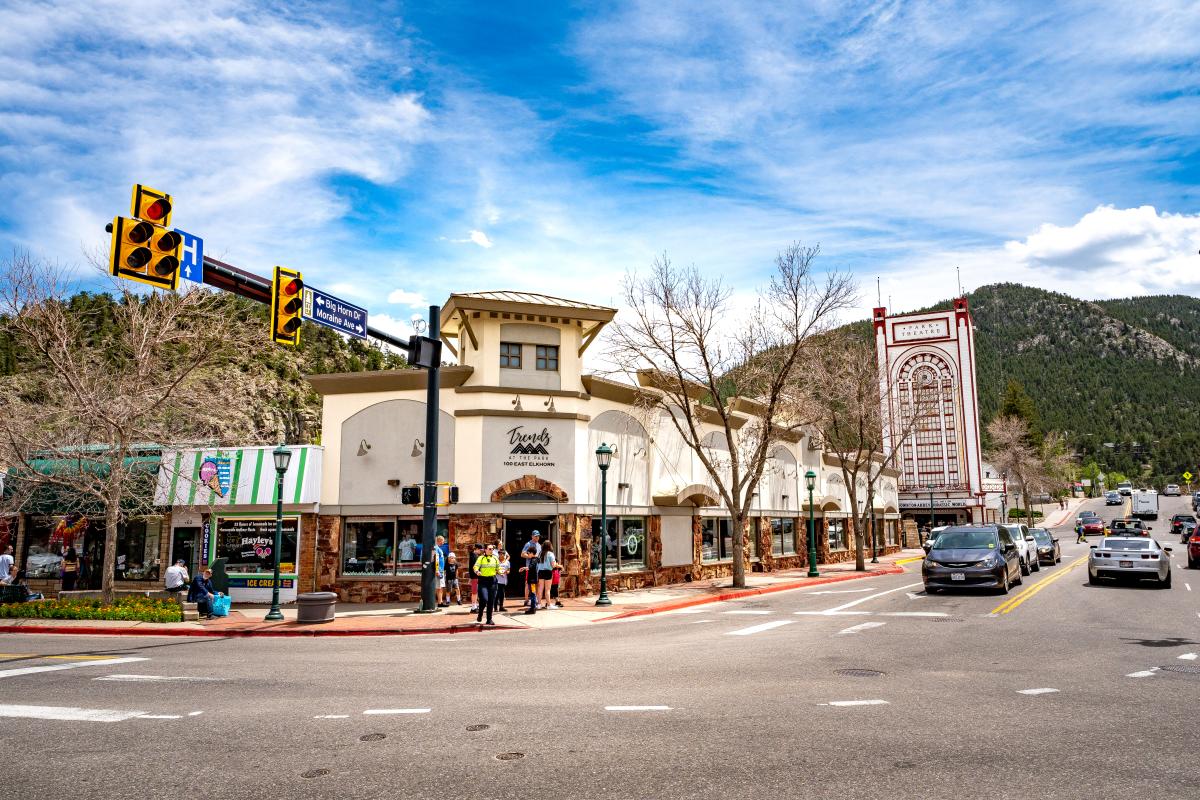 Trendz at the Park was one of the first boutique shops to open in Estes Park. They carry a wide variety of contemporary home decor, jewelry, decorative accessories & gifts for the Colorado lifestyle. Their inventory is always changing, the perfect reason to visit Trendz time and again. 
The Grey House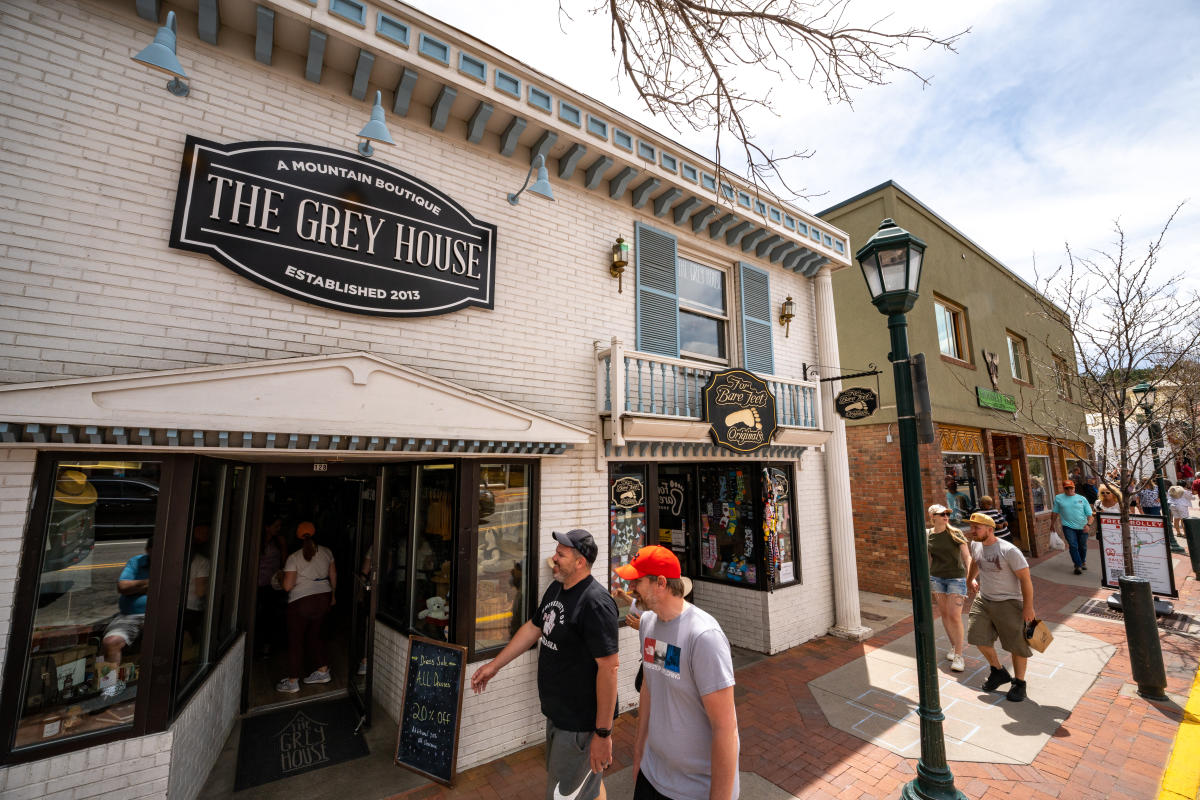 The Grey House boutique offers a special selection of women's and men's apparel and accessories, as well as a fine baby section. Think minimal, chic and comfy outdoor leisurewear. The owners are very friendly and welcoming and they even have a play area for your kids while you shop till you drop! You must check it out!
Hyk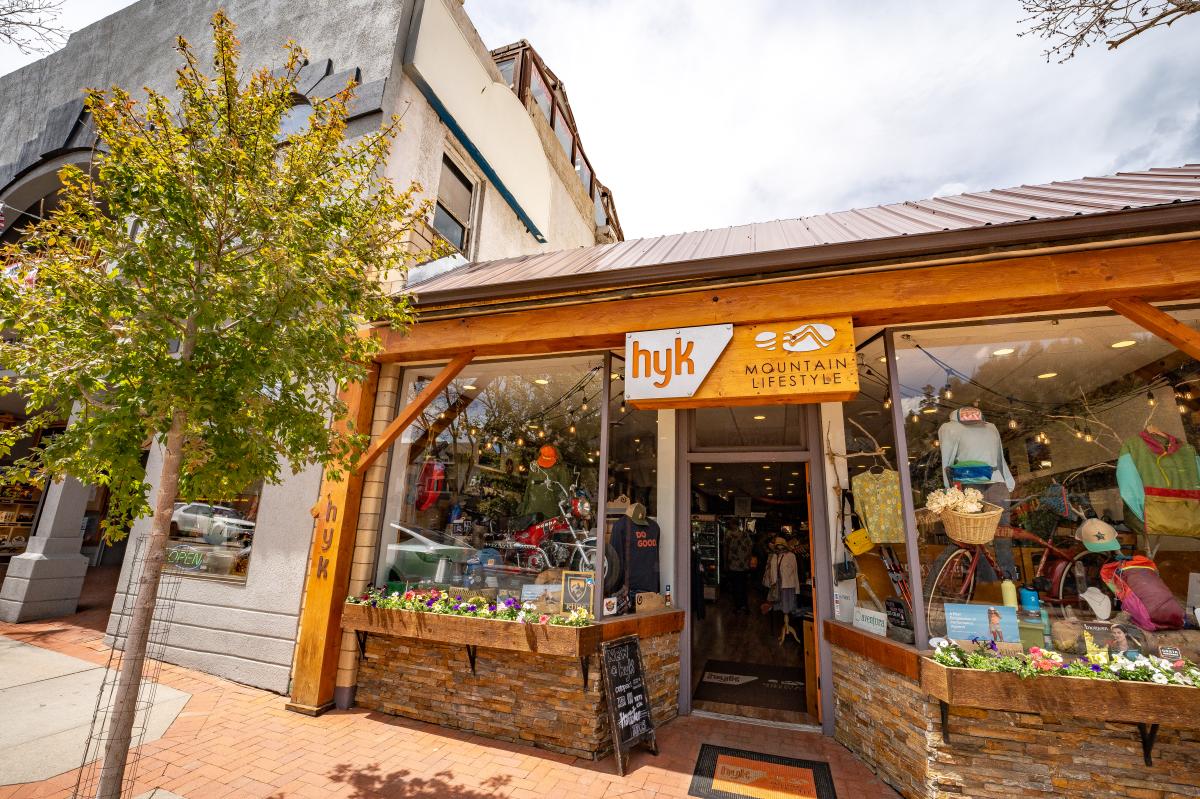 Hyk Mountain Lifestyle offers high-quality outdoor apparel, equipment, accessories and footwear. You will find everything you need, or maybe forgot, for your explorations in the mountains. Another perk: Hyk is owned and operated by an adventurous, outdoorsy family that will give you their expert advice on hiking and the products you might need for your next adventure.
The Mountain Vault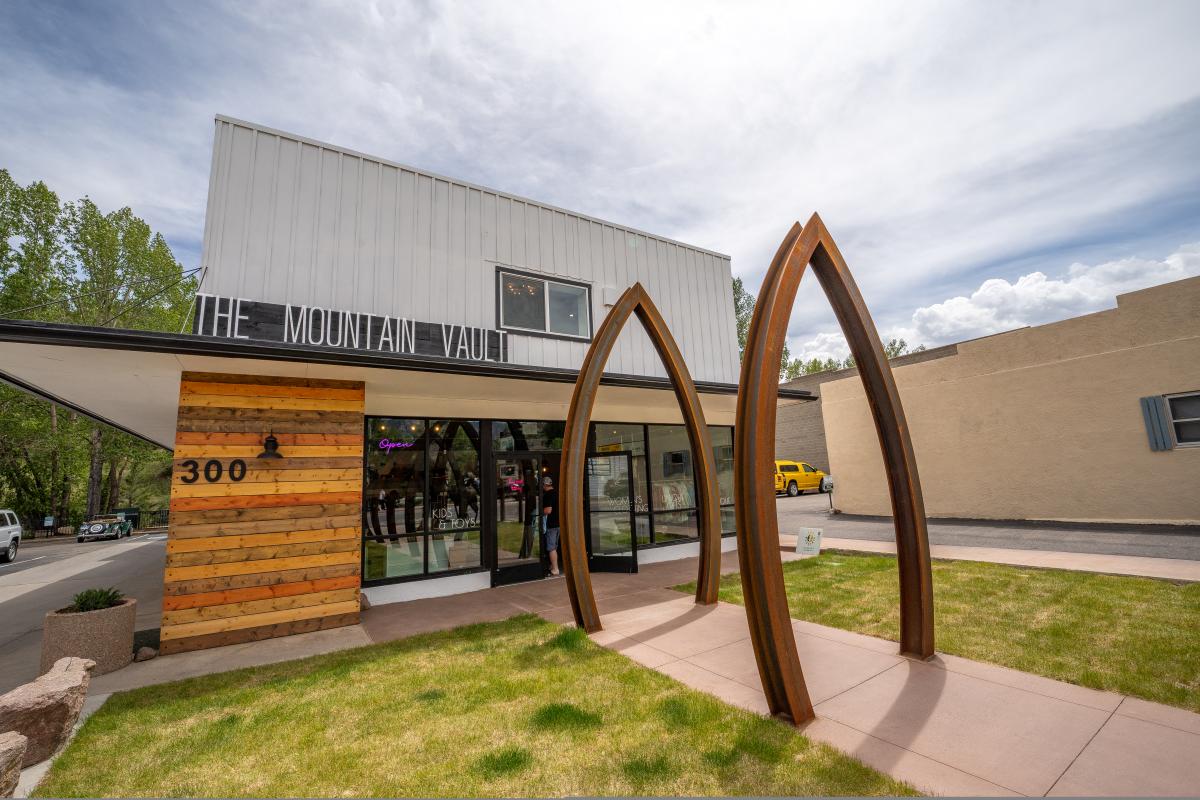 The Mountain Vault is Estes Park's newest boutique on the block. You can't miss it when driving through town, with its signature metal arches out front. This unique boutique for women and children has a great selection of high-quality clothing, keepsakes, handmade items and gifts. They also have a section featuring items for pets, like dog bowls and leashes. And when you need a break from a day full of shopping, the store also has some chairs to kick back and relax.

Sweets Treats
Downtown Estes Park has some pretty amazing homemade ice cream and candy shops to treat your sweet tooth. Stop into one or all of these shops to fuel your shopping trip. Don't miss The Taffy Shop and Laura's Fine Candies.
Rocky Mountain Majesty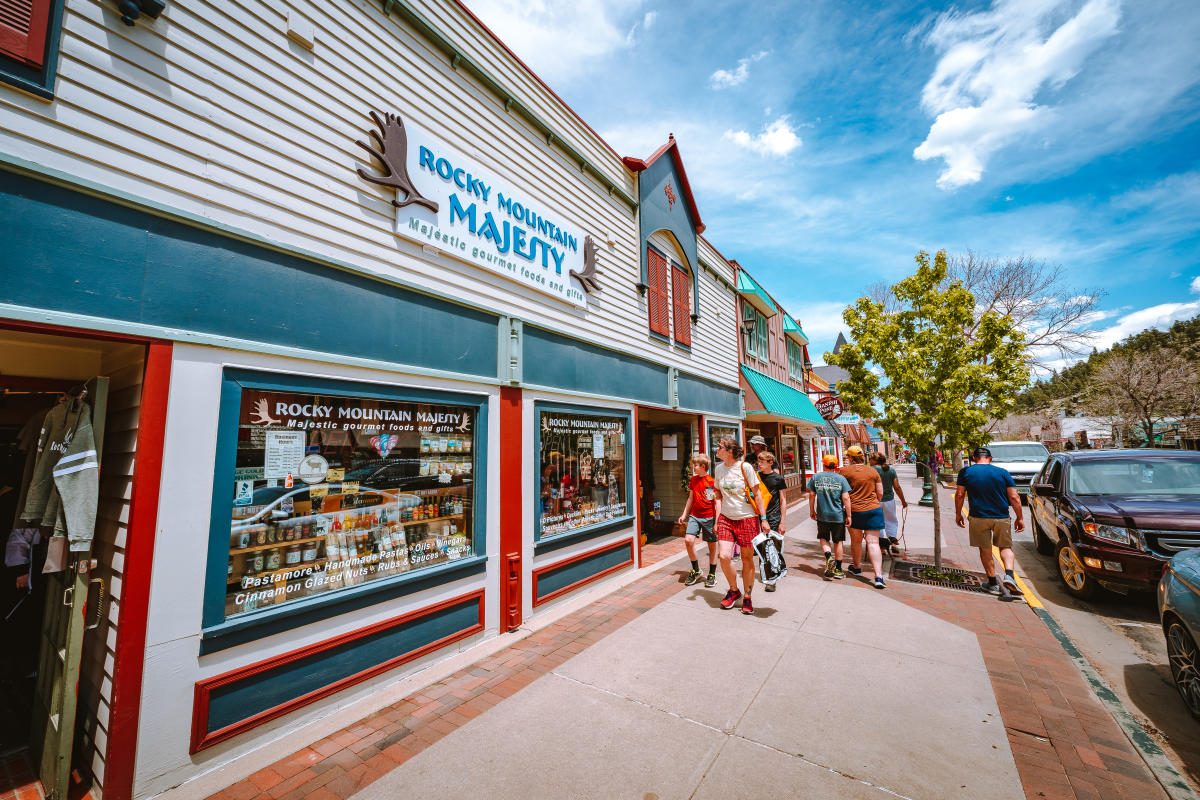 If you are a foodie, you definitely need to check out Rocky Mountain Majesty. It has a wide variety of specialty foods like gourmet dips, jams, oils, vinegars, fine jerky, hot sauces and lots of other tasty bites. Local tip: get the caramel crackle corn. It is so good and addicting, you'll probably end up eating the whole bag in one sitting. Not that we've done that or will judge you. 
Inkwell & Brew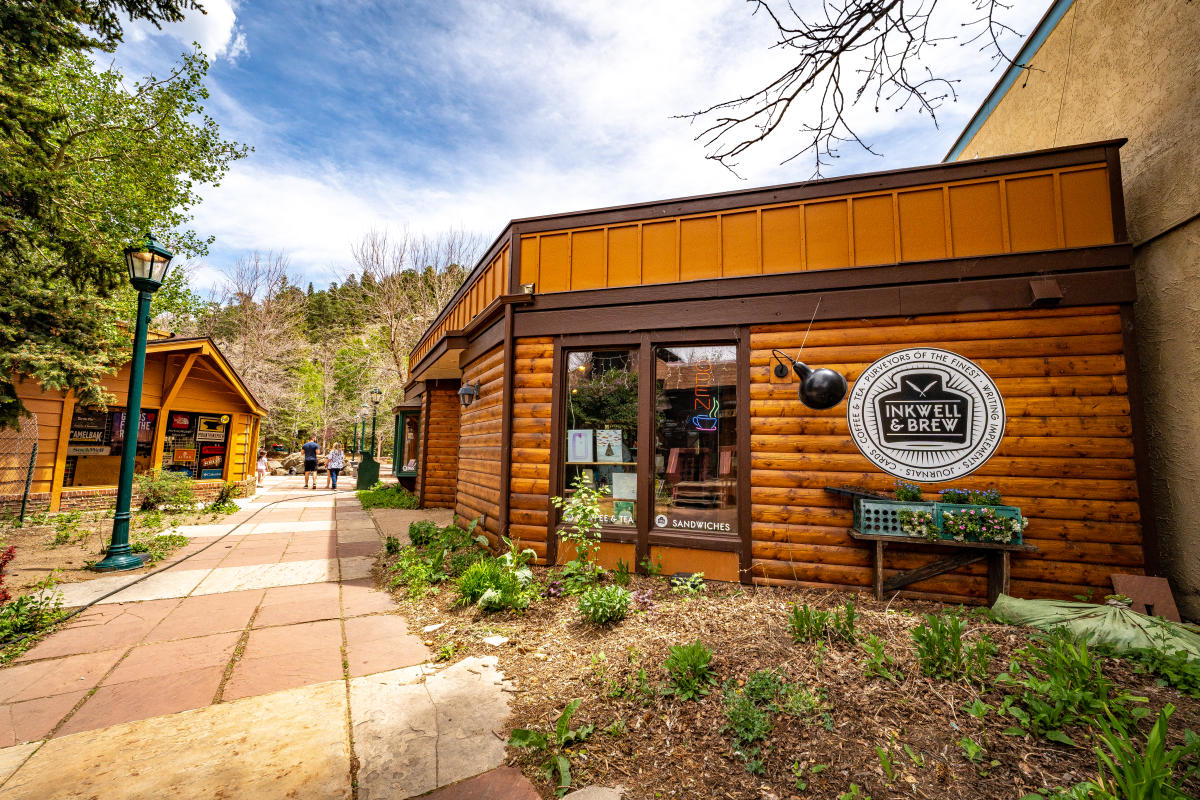 Inkwell & Brew is so much more than a coffee shop. You might just find the perfect gift or token from your visit to Estes Park. There's finely crafted goods including letterpress greeting cards, hand-painted cards, fountain pens, hand-hewn wooden pens, fine paper and other specialty writing materials. It's also the perfect stop for a little shopping break while you enjoy a great cup of coffee in their outdoor patio or cozy lounging area upstairs.
No vacation trip is complete without doing a little shopping, even if it's just a bag of taffy, a sticker or a bottle of whiskey from your favorite distillery. Don't forget to tag us @VisitEstesPark when you're shopping in downtown Estes Park to show us what you're bringing home with you!