Colorado's Rocky Mountains are known for their high elevation and rugged terrain, and there's plenty of both near Estes Park. But don't be intimidated—despite being 7,500 feet above sea level, the Estes Park area is home to plenty of approachable hiking trails that don't necessarily require a full day of exertion.
If you're heading out for a hike in the Rockies, you'll want to get an early start to miss the thunderstorms that roll in like clockwork most summer afternoons. Or, if you're not an early riser, consider waiting until the day's thunderstorms have already passed before setting out for a stroll. Hikes that start at the Lumpy Ridge trailhead are good afternoon options, as they're near town and the parking areas are generally less crowded than Bear Lake or Glacier Gorge.
An early start will also help with traffic. Parking is limited at just about all the trailheads in Rocky Mountain National Park—don't expect to find a spot like you're driving to the supermarket. If you're not among the first folks to enter the park, you may have trouble finding a spot. Not to worry: You can still get to many of the best hikes via one of the national park's three shuttle bus routes. First, you'll catch a shuttle from the Estes Park Visitor Center to the Park and Ride, and from there you can take a bus on either the Moraine or Bear Lake Route, depending on your intended hike. Here are a few of our favorites.
Ouzel Falls, 5.5 Miles
The hike to this spectacular 40-foot waterfall is just under 5.5 miles round-trip and covers about 950 feet of elevation (not to mention three other waterfalls) each way. The falls are named for the ouzel, a songbird that spends most of its life in and on the water. Ouzel Falls is one of more than a half-dozen hikes that leave from the Wild Basin Trailhead, so if you're looking for something shorter (or longer), ask a ranger or consult the kiosk for other options.
Bierstadt Lake, 3.2 miles
To reach Bierstadt Lake, your best bet is to take the shuttle to the Bierstadt Lake Trailhead. The first mile of this trail packs a punch, but you'll get a break with a relatively flat one-mile loop around the lake. With a total distance of 3.2 miles, this hike is plenty to keep you occupied for the morning without taking up a full day. (There are also several options to extend your hike, if you're ready to take on more.) The views are phenomenal, especially early in the season, when the higher peaks of the Continental Divide are still covered in snow. If you take the shuttle, you can also do a cool point-to-point hike from the Bear Lake Trailhead to the Bierstadt Trailhead that's almost downhill the entire way.
Deer Mountain, 6 miles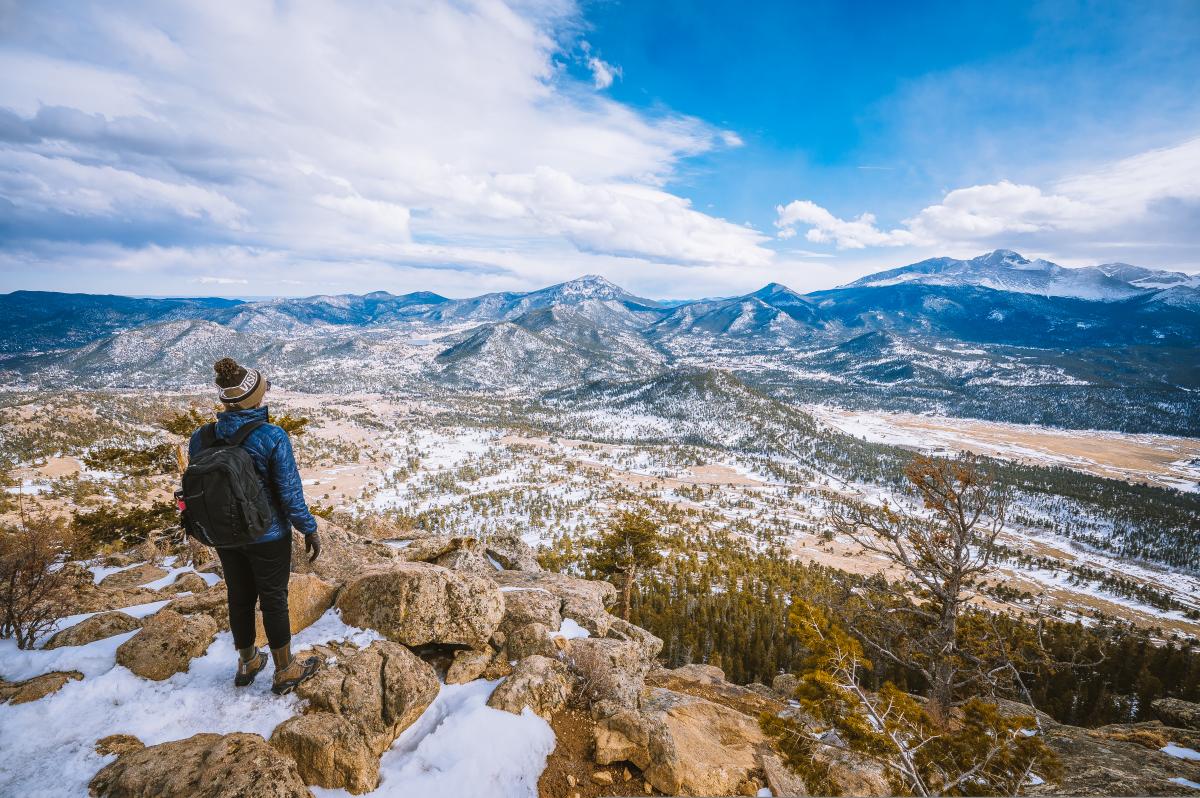 You'll gain just over 1,000 feet of elevation on the hike up Deer Mountain, but it's spread over three miles, so the trail is rarely super-steep—the last push to the summit is presents the biggest challenge, for which you'll be rewarded with incredible views of the park. At six miles round-trip, this is a great way to bag your first Rocky Mountain National Park summit. Have your camera ready to capture views of the Mummy Range, not to mention Hallett Peak, Longs Peak, Moraine Park, and the Continental Divide. Pack a picnic and celebrate with an early lunch at the top.
Lake Haiyaha, 3.9 miles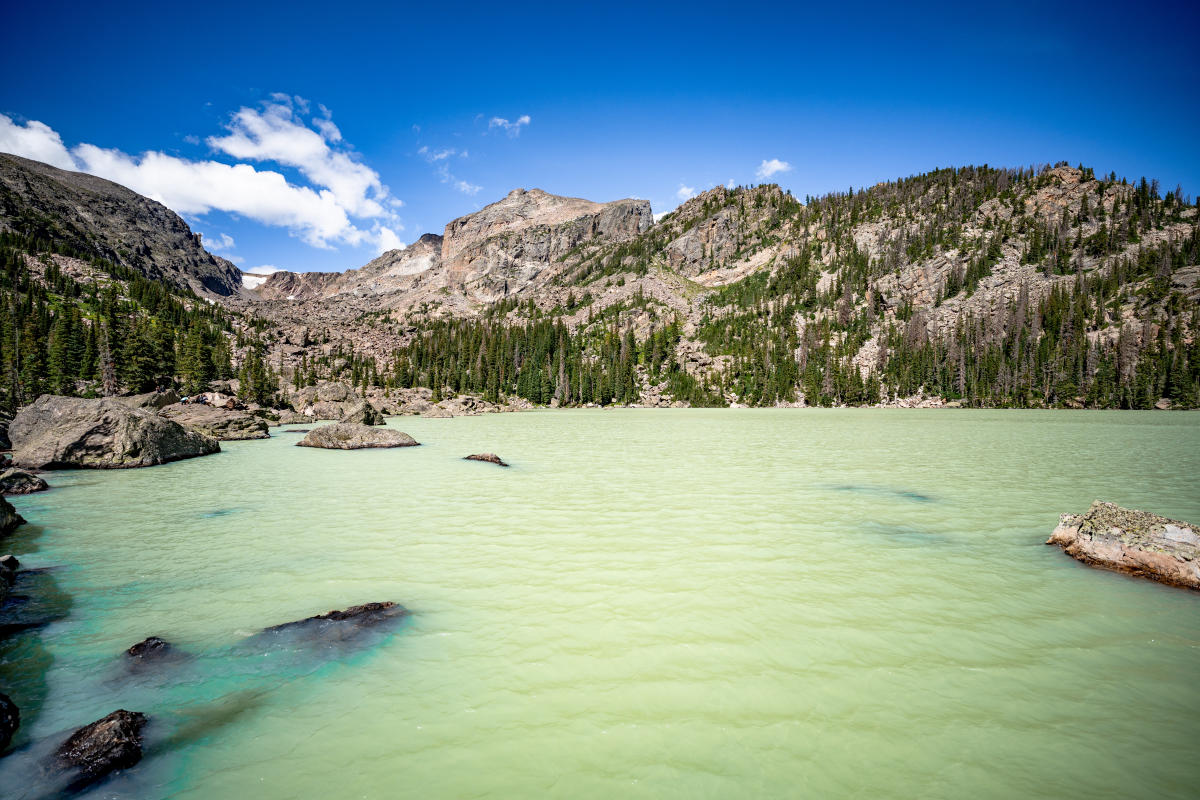 You'll want to take the shuttle to the Bear Lake Trailhead to start this moderately difficult hike, which features some spectacular views of Chaos Canyon along the way, as well as the sight of 12,484-foot Otis Peak and 12,713-foot Hallett Peak. The 3.9-mile, out-and-back hike will take you to Lake Haiyaha, which was named for the Ute word for "big rock." You'll immediately see how it got its name as the shoreline is cluttered with boulders. Both Dream Lake and Emerald Lake are also short walks away if you want to extend your trip, although both of those routes tend to be a bit more crowded.
Lily Mountain, 4 miles
Lily Mountain is a great introduction to Colorado peak scrambling—at four miles round-trip and with just over 1,000 feet of elevation gain, it's an approachable way to see what summit hikes are all about. Because Lily Mountain is in Roosevelt National Forest rather than in Rocky Mountain National Park, it's also a dog-friendly option. Parking for Lily Mountain is along Highway 7, so you'll want to use extra caution when you arrive: Make sure you're not taking up any more space than necessary, and be sure you haven't parked your vehicle on the fragile vegetation that lines the road.
Hermit Park Open Space Trails, 3.4 miles
Head to Hermit Park Open Space to experience much of the charm Larimer County has to offer, but with sparser crowds than in the nearby national park. Leashed dogs are allowed here, and the entrance fee ($9) isn't too steep. The Kruger Rock Trail is a 3.4-mile out-and-back hike that has the added fun of putting you on a small summit, and the new Limber Pine Trail is a peaceful stroll that gives you a lovely tour of the western side of the open space area with minimal elevation gain.
Ute Trail, 4 miles
Even the drive to get to the trailhead for this hike is absolutely gorgeous. Drive up Trail Ridge Road to access the Ute Trail to Timberline Pass. This four-mile round-trip hike gains little elevation either way and provides sweeping views of the park's alpine zone without the effort of having to hoof your way up the trail to get above treeline—which is great, since even the trailhead is above 11,400 feet. Don't leave without making a stop at the Alpine Visitor Center, where you can learn all about the fragile alpine ecosystem you've just seen first-hand.
Written by Emma Walker for Matcha in partnership with Visit Estes Park.