Estes Park is a very family friendly destination. Families have come here year after year to create memories and experiences they'll treasure forever. We hear it all the time, grandparents bringing their grandchildren to experience what they experienced when they were little. And why wouldn't it be attractive to families? We have endless activities to choose from, indoors and outdoors. Aside from visiting Rocky Mountain National Park, you can find so many unique experiences in Estes Park. We have amusement parks, old school candy and soda shops, picnic tables all over town, arts and crafts centers, wildlife sightings, unique toy stores and the opportunity to bond with your loved ones in the beautiful mountains. Check out these places you must visit when vacationing with your family. 
YMCA of the Rockies - Estes Park Center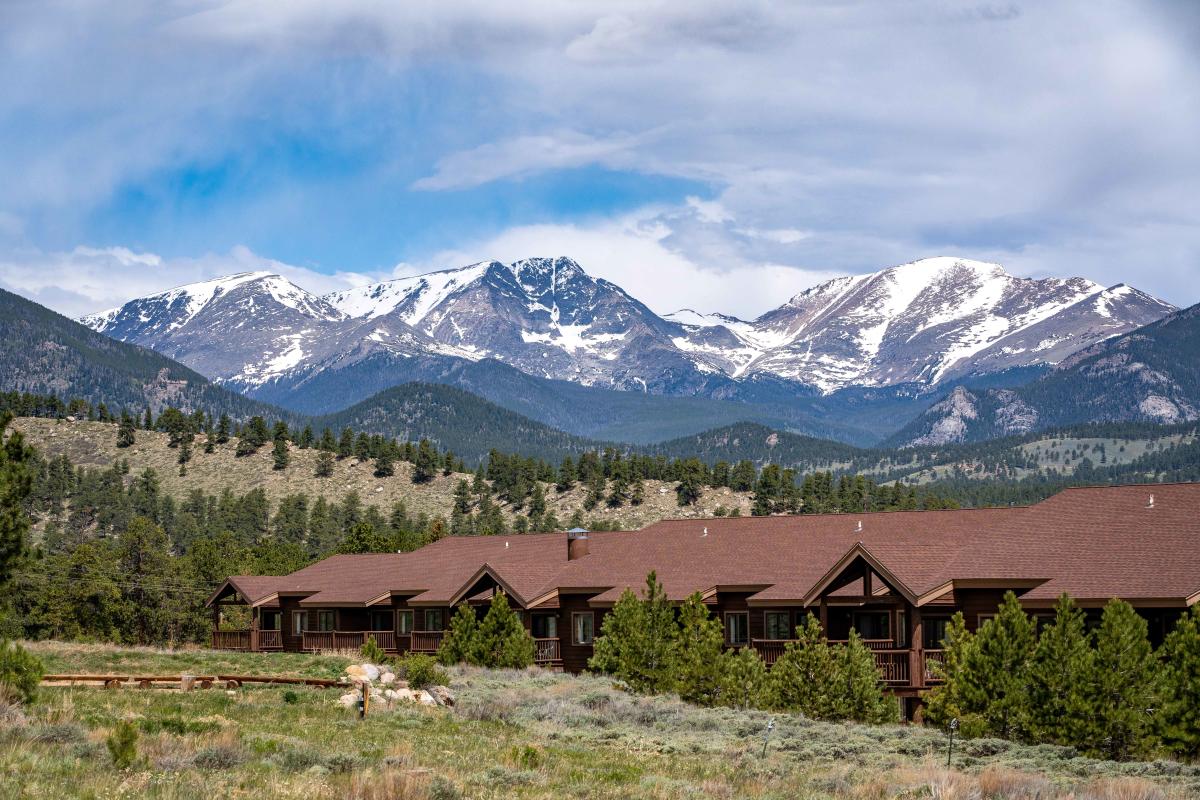 The YMCA of the Rockies is not your typical gym and rec center, in fact, they don't even have a gym on their property. They often say "if you want a gym, just look outside." Visitors are often surprised to learn that the YMCA's property is over 800 acres and has over 220 individual cabins plus their lodge buildings. They can house over 4000 people at a time! It operates like a mini village (even has its own post office and zip code!), and it is one of the best places for families because it offers almost every activity you can imagine. Your family can choose from outdoor activities like hiking, biking, climbing, running, swimming, and fishing. You'll also find playgrounds, mini golf, tennis, volleyball, and disc golf.
And if you didn't get enough fun outside, the Y also offers a lot of other family friendly indoor activities, like their arts and crafts building where you can put your creative brain to work, or go to the Sweet Memorial building for educational, hands-on family programming and activities. It's definitely a place you must check out if you're not already staying there. They offer $25 day passes for visitors so you can experience a whole day of family fun! 2515 Tunnel Rd, Estes Park, CO 80511; (970) 586-3341; ymcarockies.org
Fun City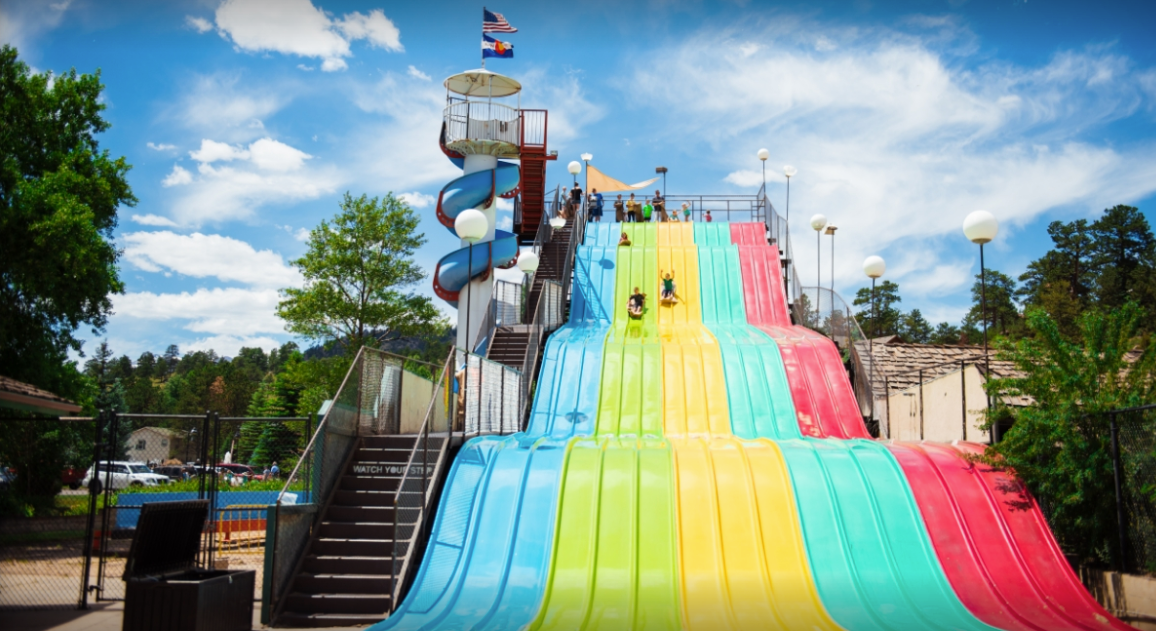 The name says it all! A mini amusement park with amazing mountain views. You can't miss the giant rainbow slide on your way up or down from Rocky Mountain National Park. This family tradition has been operating since 1969. Enjoy a day of mini golf with the family, or imagine you can reach the height of the mountains with the bungee trampoline. You'll find bumper cars, bumper boats, a go kart track, and even water walking balls to cool off from the hot Colorado sun.  Fun City is open everyday at 10 a.m. during the summer season. Come September they are only open on the weekends depending on weather conditions. 455 Prospect Village Drive, Estes Park, CO 80517; 970-586-2828; https://www.funcityofestes.com/
Mustang Mountain Coaster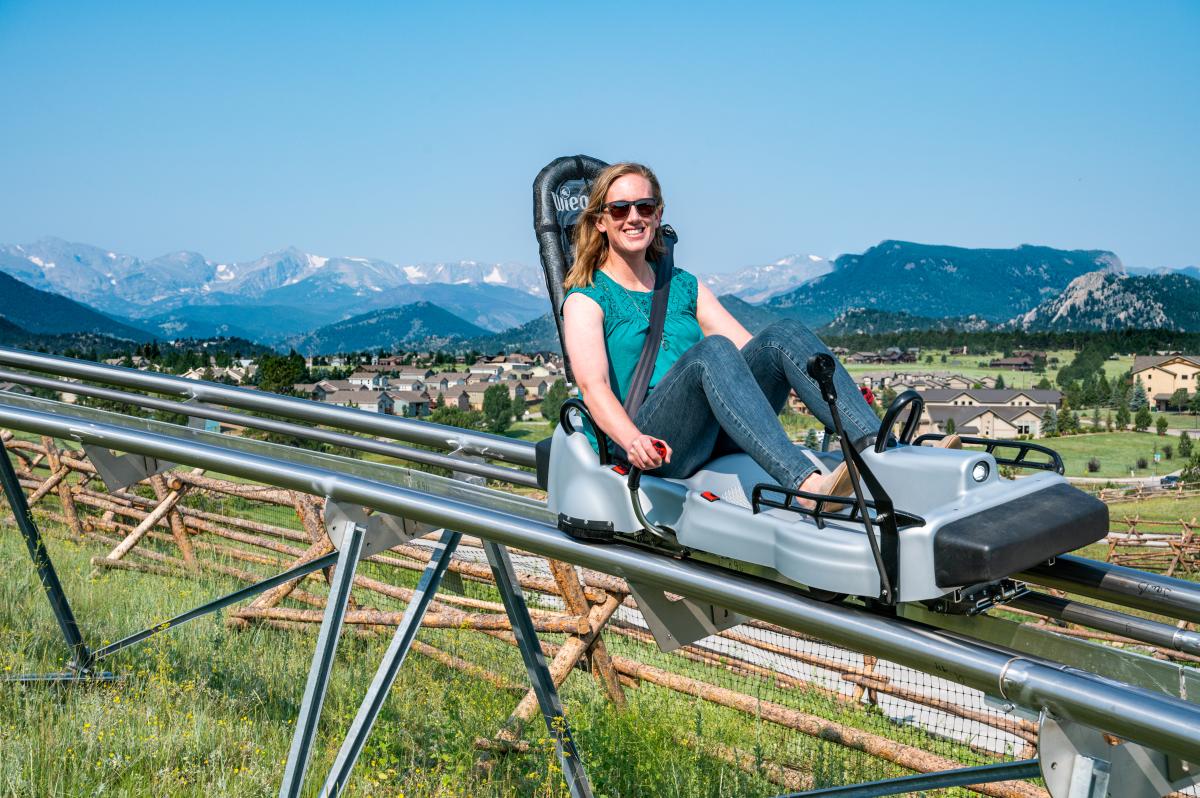 A mountain coaster is very similar to a roller coaster, the difference is that it runs on a fixed track and the two person cars run independently as opposed to being part of a long train. It also allows you to take some control over the brakes and set the speed you are comfortable with. Perfect for kids and senior folks who might be afraid of typical roller coasters. Another advantage of the mountain coaster (also called a summer toboggan) is that it provides a unique ride on the natural slopes and curves while enjoying the breathtaking views of the majestic mountains around us. We recommend getting the 3 ride pass, you'll want to go again right after you're done with the first round. 1180 Dry Gulch Rd, Estes Park, CO 80517; (970) 672 1829;  mustangmountaincoaster.com
Creativity Cabin 

Creativity Cabin is a painting studio where you can create your own art and memories with your loved ones. A perfect place to unwind and relax after a day of hiking and exploring or to keep your family busy on a rainy or snowy day. You get to pick your own ready-to-paint ceramic items, and they'll provide you with all the tools you'll need, including the paint, stencils, sponges, writer bottles and more! Once you've created your work of art, you leave it for glazing and to fire  in their kiln, then you pick it up a few days later once it's ready! (No worries, if you are leaving town before it's ready, they will ship it to you!). You can paint in the studio or take the party to go! You are allowed to bring your own snacks and drinks while you paint! If you prefer to do the painting on your own, grab one of their Party Pails which includes glazes, brushes, sponges, paint palettes, color charts and even some painting tips! 342 W Riverside Dr, Estes Park, CO 80517; (970) 591-2559; createinestes.com
Ride a Kart 
Family owned and operated since 1959, Ride a Kart has been helping create memorable experiences for families through their fun rides and entertainment. You can ride a grand prix go-kart, challenge your family members to the Krazy Bumper Kars or splash away in a bumper boat, they even have Casey's Train where you can ride on a miniature railroad with your kiddos, The ride goes through a tunnel and passes through an old mine town. You can also play mini golf, water wars, bungee trampoline and they have an arcade with classic and modern game machines. Located right on highway 34 when you first come into Estes from Loveland. Did we mention you get to enjoy the amazing views of the Rockies and the relaxing sounds of the Big Thompson River flowing while having all that fun? 2250 Big Thompson Ave, Estes Park, CO 80517; (970) 586 6495; rideakart.com