The snowy season in Estes Park offers a winter wonderland just waiting to be explored! Not only does the scenery take on a whole new look, but traffic is lighter and lodging can be found for a bargain, allowing you to tack on another night to your stay! Trail Ridge Road may be closed at high elevations, but Estes is still easily accessible via two well-maintained highways. Highway 36 is a breathtakingly scenic canyon, or take the road less traveled and venture out on Highway 7 and stop at the historic St. Malo on the way. Only 90 minutes from Denver, Estes is your ideal Colorado mountain getaway.
Rocky Mountain National Park
Wildlife Watching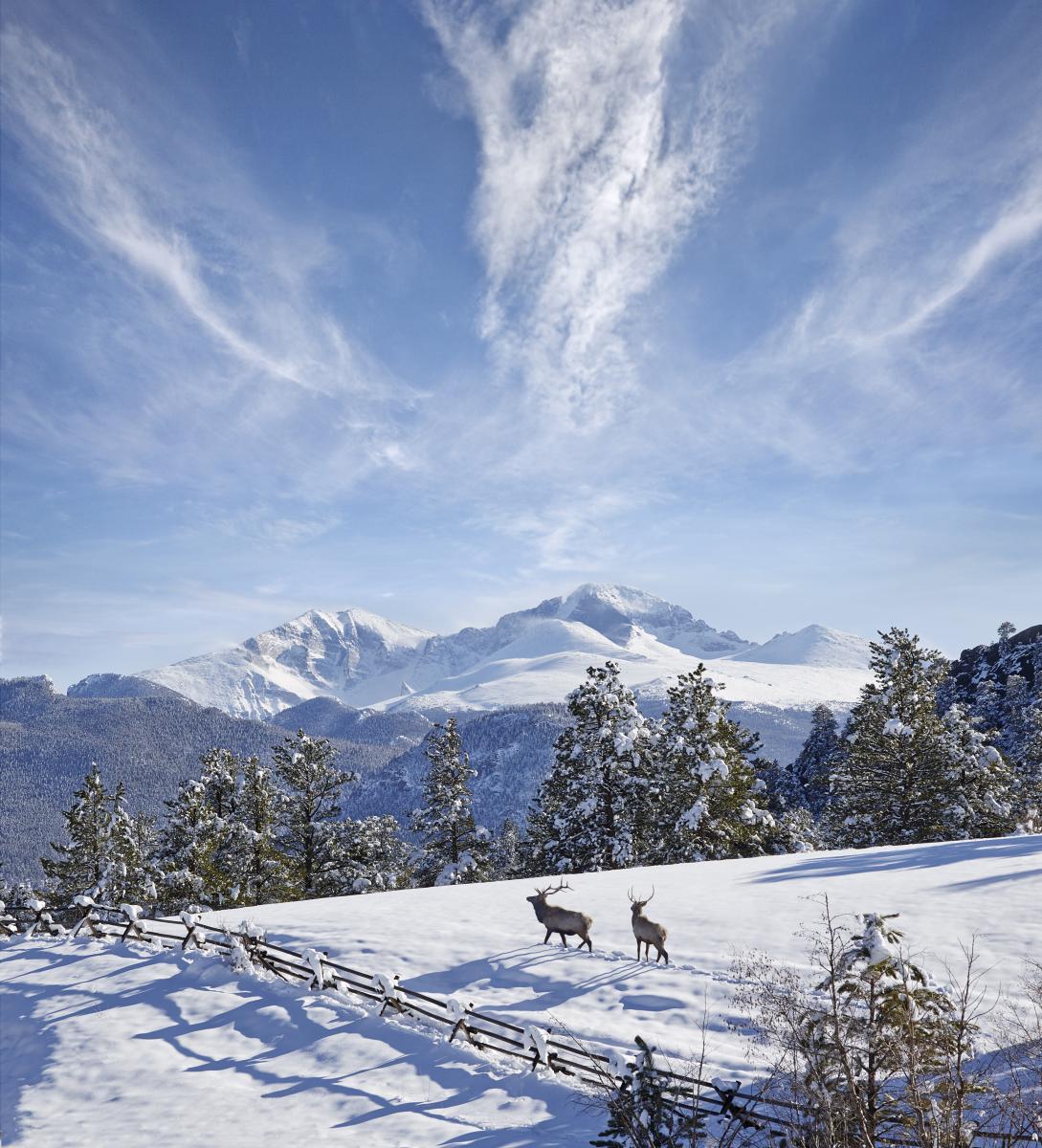 The bears may be cozied up in their dens hibernating, but there are plenty of opportunities to experience the magic of wildlife watching in winter! The elk are hanging out at lower elevations in large herds this time of year! Keep an eye out at both golf courses in town, as well as large meadows in Rocky Mountain National Park, like Moraine Park. Coyotes can be heard howling away in the park long after dark, but you've got a good chance of seeing one stealthily patrolling the valley during the day! Bust out your binoculars and do some birding! There is a multitude of bird species that are still active in the winter, including the Bald Eagle often seen soaring over Lake Estes. You might also see an American Coot and rough-legged hawk. You'll find it is incredibly rewarding, as they can be easier to spot with the leafless trees, and the quiet serenity that transcends the valley this time of year.
Hiking, Snowshoeing & Cross-country Skiing
Don't let the snow covering the trail stop you, take a hike! Many trails are accessible with nothing more than your trusty pair of hiking boots and a traction device! If you're looking to get off the beaten path you may want some snowshoes to keep you afloat! But don't be intimidated, if you can hike, you can snowshoe. Plus, there are plenty of gear outfitters in Estes to get you set up for your trek. Glide through the forest with ease on a pair of cross-country skis! This most graceful option gives you a greater opportunity to see wildlife, without the noise of snowshoes! There are plenty of winter trails to explore beyond Bear Lake, but if you're looking to get off the beaten path, check out the Wild Basin or Fern Lake areas.
Back country Skiing
Earn your turns with back country skiing in Rocky Mountain National Park! It's certainly accessible at Hidden Valley, which used to be a lift-accessed ski area in the national park. The lifts may be gone, but the runs largely remain (though, of course, go un-groomed). Get the best of both worlds with a rewarding hike up to the top as the snow-capped peaks keep you inspired and motivated and then ski down to get your dose of adrenaline for the day! There's a reason that back country skiing continues to rise in popularity, it's a great workout and an insanely fun activity. And of course, no costly ski pass or lift lines to deal with!
Ice Climbing
Estes Park, the basecamp for RMNP, is known for providing adventures for all, ranging from mild to wild. Ice climbing is a great way to get wild and push yourself out of your comfort zone! Find a friend who knows what they are doing, or look to a local guiding operation to get help from an expert! You'll be atop the ice in no time, and you'll have some serious bragging rights to share with friends!
Estes Park
Events
Estes Park is home to many fun annual events. Celebrate the season Jan. 13-14 with Winter Festival. Featuring chili, beer and wine tastings, as well as kid's activities, live music from Colorado bands and historic exhibits to teach you about the storied past of Estes Park. Winter Trails Day, Jan. 13, allows you to demo snowshoes in Rocky Mountain National Park as well as checking out displays from vendors, talking to experts and viewing an igloo making demonstration - be sure to check out the inside! Enjoy the finer things in life at the Estes Park Wine and Chocolate Festival on Feb. 10. Rails in the Rockies, Feb. 17-18, is a great way to get kids learning while having fun! Check out all of the working exhibits of model trains, and even let your child be the conductor. Warm up on Mar. 10 at the Whiskey Warm Up! Taste whiskey and other pairings from distilleries all over Colorado, enjoy live music and learn with an educational session!
Activities
Home to a variety of relaxing spas, Estes is the perfect place to get pampered! Couples massages, prettying up your nails or the foot rub you often think about, it's time to treat yourself! If you need a break from the elements, Estes has you covered. From the free museum to indoor rock climbing and everything in between, there is something to please everyone in your crew.
Shopping
Looking to find something unique, that's made locally and can't be found anywhere else? Estes retail therapy is for you. The shops are close together offering maximum shopping time with minimum traveling in between! Plus, you'll likely come across that perfect gift for yourself or someone special - the best kind of therapy money can buy!
Restaurants
A day of activities with Old Man Winter is a sure-fire way to stoke up an appetite. Warm the belly with truly authentic mountain cuisine. Take a bite of local heat at one of the Mexican restaurants, or handle that hankering with a hearty steak at one of the many steakhouses. Whether you want to relax and dine with your friends and family or take a quick bite from a bakery or deli into the Park for more adventuring, Estes Park has the right restaurant to fill your tank.
Lodging
Estes offers some of the most affordable winter respites of any Colorado mountain town! Plus the village boasts a wide variety of options: condos, cabins, suites, vacation home and the traditional hotel or motel. From rustic cabins to high-end luxury, Estes has a variety of accommodations, hosted by friendly locals willing to assist you with your mountain getaway.