Whether it's on the trail or on the road, running is a great way to experience the most of Estes Park. Our soft trails take you through varied terrain to keep you focused and in flow and they all have breathtaking views. 
The town of Estes Park sits at 7,500 feet in elevation. And a lot of trails in and around Estes Park climb even higher than that so it's important to come prepared for a drastic change in altitude. The best way is to arrive already hydrated and maintain that status throughout your time in Estes. Another productive way to prepare is to increase your caloric intake. When at a higher altitude, your base metabolic rate increases, which means you burn more calories for the same amount of exercise. This is a GREAT excuse to eat more on vacation to refuel, specifically any protein you can get your hands on! For more tips on preparing for altitude, we have the blog for you!
If you're planning on running in Rocky Mountain National Park, you'll need a timed entry permit reservation at certain times. To access Bear Lake Road between the hours of 5am and 6pm you'll need a timed entry permit. Outside of Bear Lake Road, you need a timed entry permit from 9am to 2pm. And let's be safe out there, weather can change on a dime in the mountains so it's best to come prepared for anything. If you can, grab a running buddy, misery loves company! Running alone at dusk or dawn is not advised. 
Our favorite routes:
Paved Run  
Lake Estes 
This 4-mile path is a relatively flat route that wraps around, you guessed it, Lake Estes. This is perfect for those who want to sneak in a run between activities without straying too far.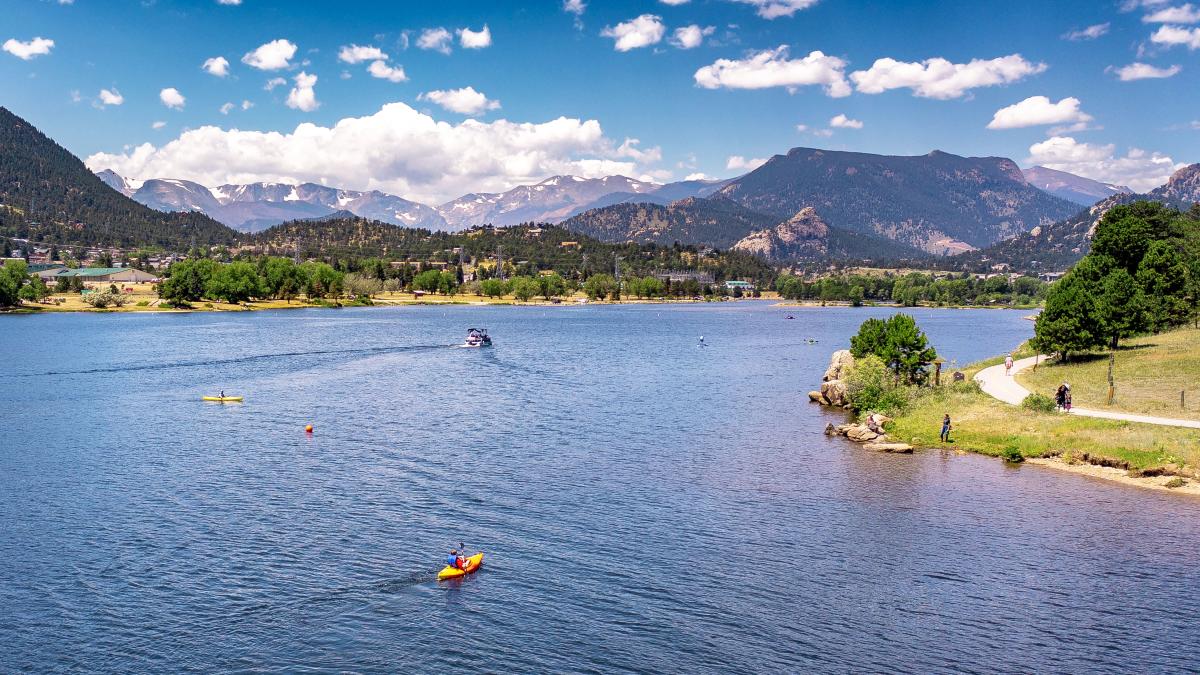 Ease In 
Lily Lake & Ridge Loop 
We call Lily Lake your orientation to elevation. This is a great way to experience stunning views of Longs Peak and often wildlife on a short, friendly trail with sections of boardwalks. Do as many laps as you want! Parking is limited here so we recommend avoiding those peak 10 am times!
*RMNP Timed Entry Permit Reservation required*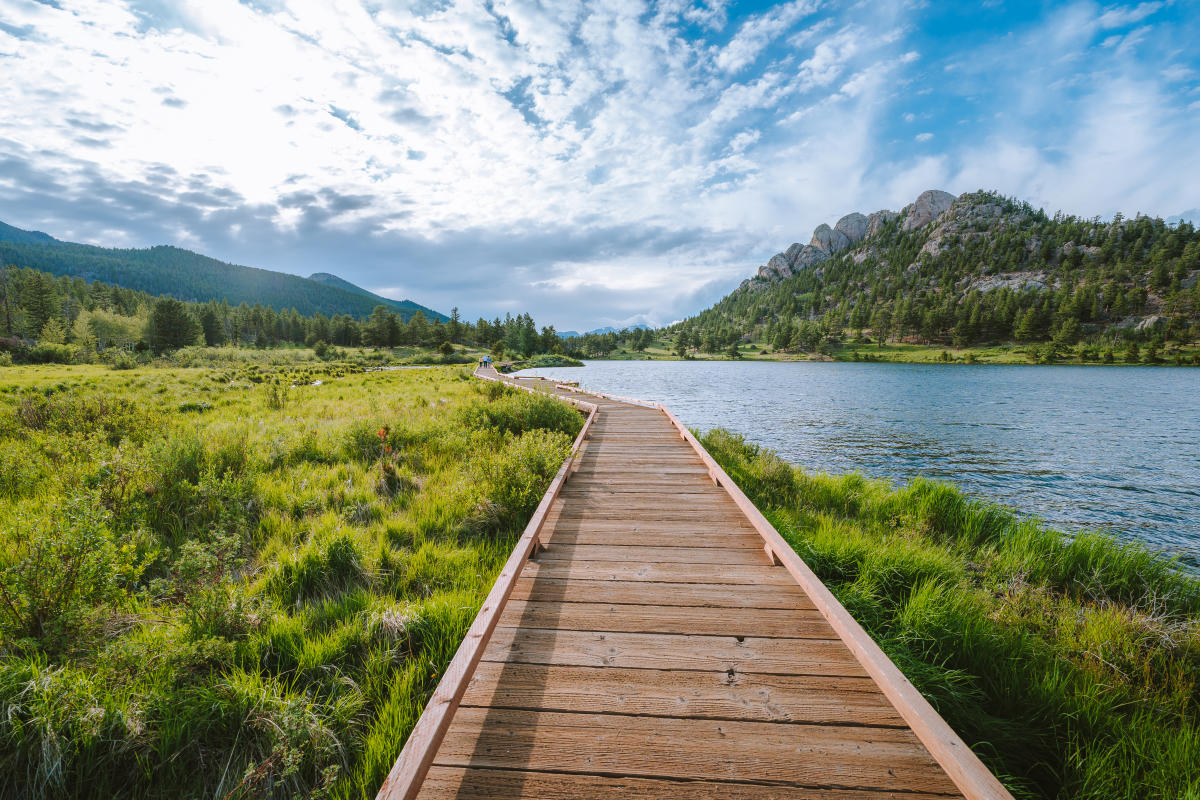 Best Loop
Lumpy Ridge Loop
This 10.7 mile route is one of the most classic loops in Estes, with 2,300 feet of gain on rolling trails and an elevation between 9,200 and 7,800 feet. On your run, you'll pass through open meadows, wooded areas and large vistas, it'll even take you right by the popular Gem Lake! 
 *RMNP Timed Entry Permit Reservation required*
Most Refreshing
Ouzel Falls
Starting from the Wild Basin Trailhead, this 5.3 mile out and back route hugs a rushing creek and waterfalls the entire way, which means you might be able to catch some mist to cool off. This route is also mostly shaded, making it the perfect route for a hot summer day. 
 *RMNP Timed Entry Permit Reservation required*
Dog Friendly
Limber Pine 
This is an out-and-back trail featuring some really fun switchbacks through aspen and pine groves. Head back on the same trail or opt for the gravel road. This trail is located in the nearby Hermit Park, which is dog friendly and unlike Rocky Mountain National Park, you do not need a reservation to enter! 

Upcoming running events:
Estes Park Marathon & Half Marathon, Longs Peak 5 Miler & Kids Fun Run
June 17 & 18, 2023
The Estes Park Marathon and Half Marathon are Colorado's favorite races! Recognized by Forbes Magazine as one of the top 7 scenic courses in the USA. Bring the entire family to Estes Park for a full weekend of running and play in the spectacular mountains! Experience the cool mountain air, bold views of surrounding snow packed peaks as you descend to the Estes Park valley, pass through open meadows, and run along the lakeshore to the finish line at the track and field. Register at EPMarathon.org.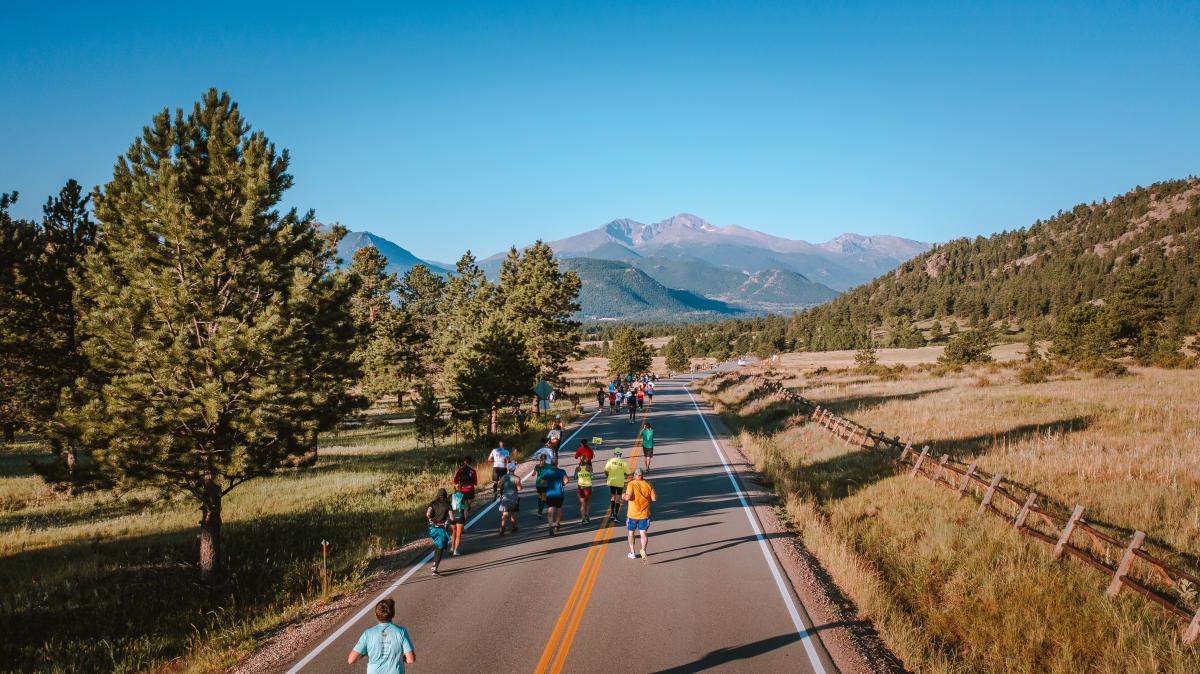 Rocky Mountain Half Marathon & 5K
July 28 & 29, 2023
Get some fresh air. Escape to the mountains! With the Rocky Mountain Half Marathon, 5K, and Elk Double (Half Marathon + 5K) you can choose your own adventure!
Rocky's Backyard Ultra
October 14, 2023
Rocky's Backyard Ultra is a 4.167 mile trail loop consisting of a small section of gravel road and single-track trails. This race runs on the YMCA of the Rockies campus bordering Rocky Mountain National Park. The Backyard Ultra is a form of Ultra Trail race where runners must complete 4.167 miles in less than one hour, every hour, until only one runner remains to complete a lap.
Every Week:
Estes Valley Trail Runners are a community of people who just simply love to trail run! They host different runs throughout the week, mostly on Tuesdays and Wednesdays. Join their Facebook group to learn more.