At 7,522 feet above sea level, Estes Park is the perfect launch pad for an adventure at altitude. From conquering your fear of heights on a portaledge to overlooking downtown from behind a margarita glass, Estes Park has a high altitude adventure for every comfort level. 
Go Camping—On A Cliff
Have dinner on a portaledge—then spend the night.
This isn't your average campout. Kent Mountain Adventure Center's cliff camping experiences offer the chance to spend the night on a sheer rock face, hundreds of feet above the ground. No experience is necessary: Your adventure guide will teach you the climbing/rappelling basics you'll need and set up your "porta-ledge" (AKA your cliffside home away from home). From up there, you'll enjoy dinner and an unforgettable slumber party, followed by breakfast and a rappel down the cliff. For those who'd rather sleep on solid ground, there's also a "Just Lunch or Dinner" option. But who knows? You might find that you've never had a better night's rest while up on that cliff.
Take The Tramway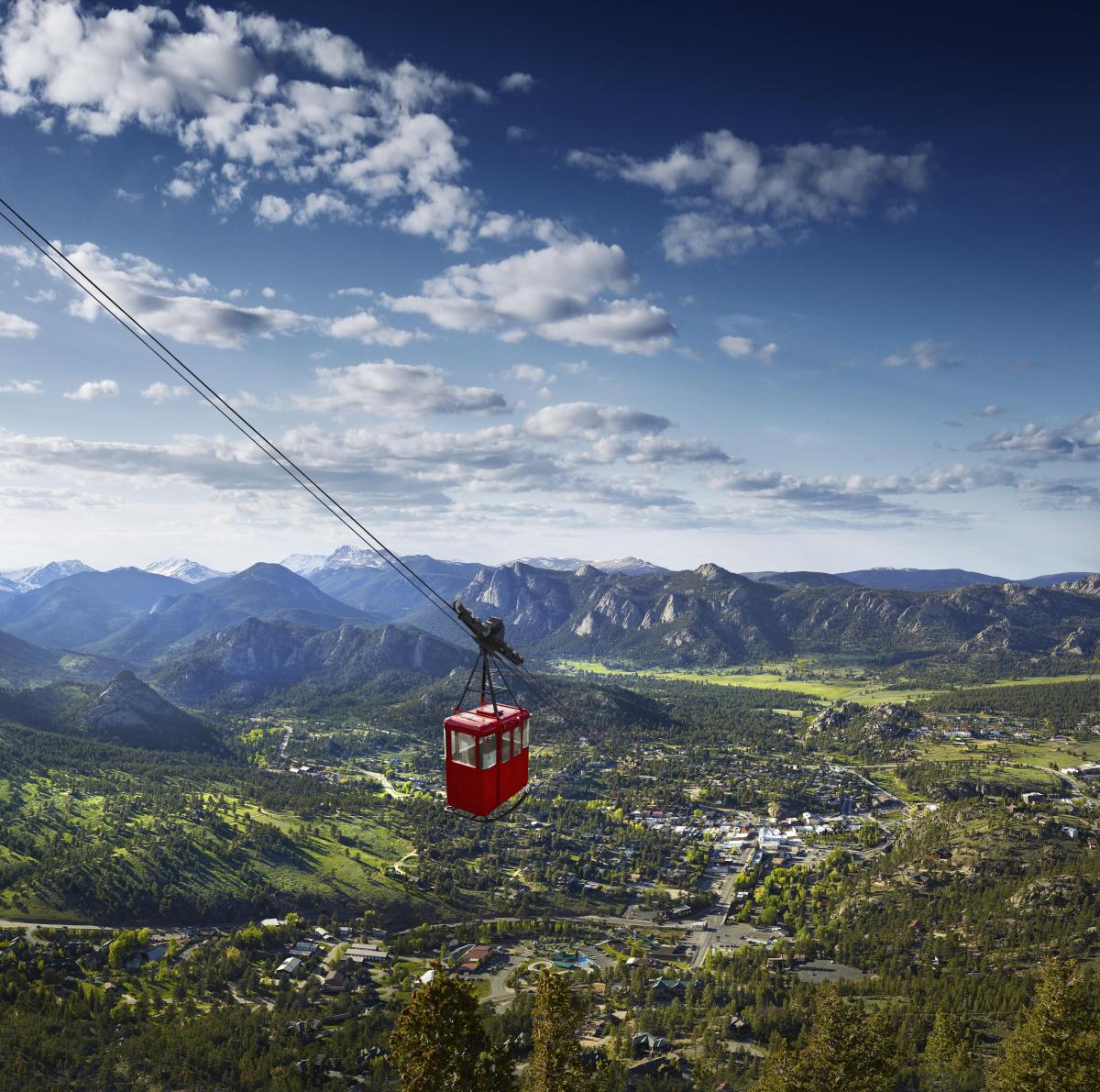 Get a bird's-eye view of the Estes Valley and beyond
The Estes Park Aerial Tramway operates from Memorial Day Weekend to Labor Day each year. The charming European-style cable cars take you to the top of 9,000-ft. Prospect Mountain. Designed and built by Robert Heron, the Tramway opened to the public in July, 1955, and since then it has safely carried more than three million people to the summit. From the observation platform, soak in panoramic views of Longs Peak, the Continental Divide, Rocky Mountain National Park and Estes Park. There are plenty of stunning vistas in Estes Park, but this is one of the best.
Drive to The Top of the Rockies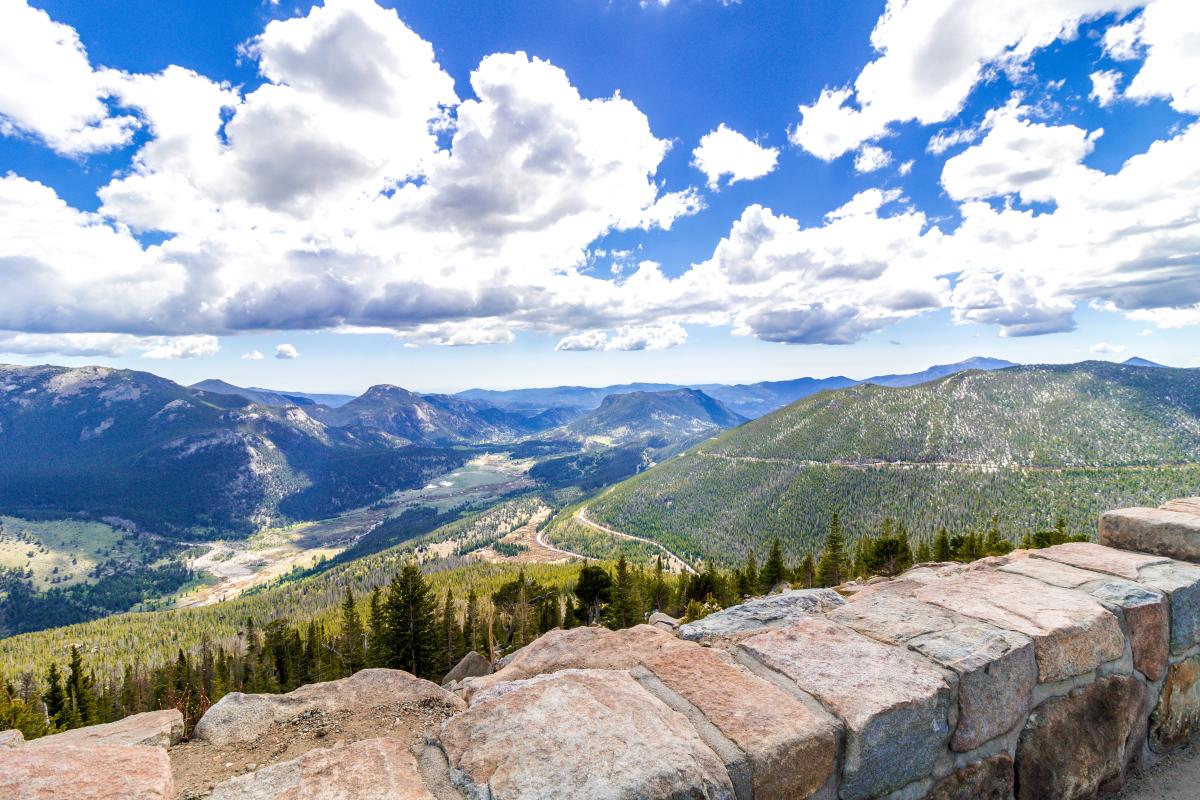 America's highest continuously-paved road awaits
There are scenic drives—and then there's Trail Ridge Road. The highest continuously-paved road in the U.S. takes motorists 12,183 feet above sea level, offering spectacular Rocky Mountain vistas from virtually every angle and an array of ruggedly beautiful alpine landscapes. Generally open from the end of May through mid-October, Trail Ridge Road stretches 48 miles across the Continental Divide, connecting Estes Park with Grand Lake. Near the top, make sure to stop in at the Alpine Visitor Center for lunch above the clouds. And if you don't want to be behind the wheel for this (occasionally twisting and turning) journey, don't worry – the Rocky Mountain Conservancy, Estes Park Trolleys, Green Jeep Tours and Wildside 4x4 Tours all offer Trail Ridge Road adventures. However you experience this drive, it's guaranteed to be one you'll never forget. Make sure to plan ahead and snag a reservation if you're planning on going up Trail Ridge Road before 3 pm. 
Catch Air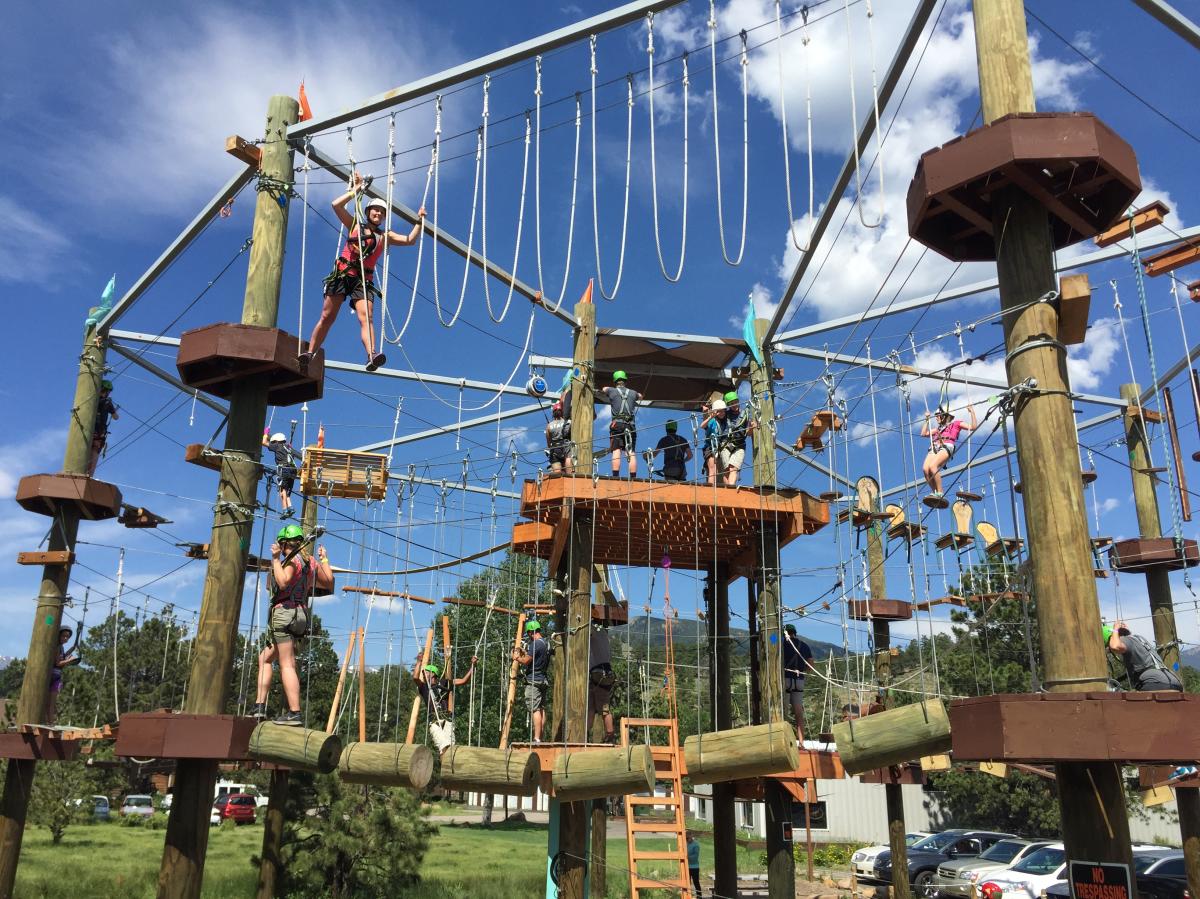 You don't have to be a kid to play like one
Find high altitude thrills in abundance at Open Air Adventure Park – 32 of them to be exact. Cross over rope bridges, balance your way across tightropes and dare the swinging log steps, all in a fun and safe environment. Throughout all of your aerial adventures, you'll be using a smart belay to connect to a cable with a 1,100-lb. breaking point. So even if you lose your balance, you're not going anywhere. The Open Air Adventure Park is open from May through October and there are activities for ages 5 and up (40-lb. minimum weight requirement).
Rooftop Margaritas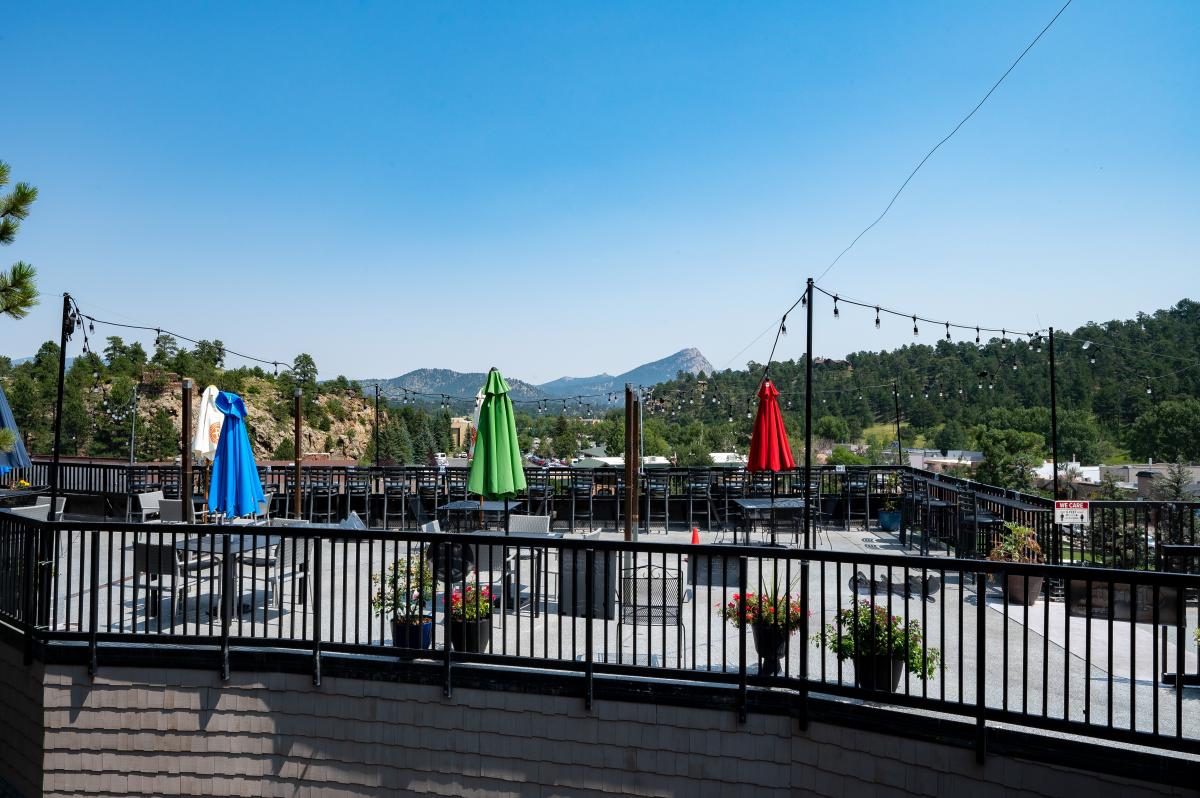 Toast to high times with views of downtown
The perfect way to come down after a day filled high altitude adventures? A margarita on the rooftop of La Cabaña Mexican Bar & Grill, while you enjoy some above-it-all views of downtown Estes Park and the surrounding mountains. With nearly 20 margs on the menu, there are offerings to quench any thirst! The original is a long-time fave, but if you're in the mood to shake things up, try the Bartender Special with a cranberry kick or the Cabaña-Rita, a margarita garnished with an upside-down beer.
Be Prepared: 5 Tips to Stay Happy at Altitude
Hydrate Keep a water bottle or hydration reservoir in your pack. Target consuming around a ¼ liter per hour if not more.
Moderate your vices Go easy on caffeine and alcohol consumption before and during your trip.  
Snack often Your body takes longer to digest food at higher altitudes. Snack on sweet or salty foods. Trail mix works great. Granola or protein bars, PB & J's and some fruit also make for munchies on the trail, too.
Seek shade Use sunglasses, sunscreen, and lip balm in all seasons. And wear a hat.
Layer up Dress in layers. Temperatures can vary wildly throughout the day. And don't forget extra insulation and a rain shell.
Learn more about preparing for a trip altitude here.