Colorado Mountain School
Estes Park, Colorado, is the perfect basecamp for outdoor adventures, and the fun doesn't stop when the mercury drops. Thanks to its high elevation, prolonged cold spells, and proximity to the high-quality ice in Rocky Mountain National Park, the Estes Park area is perfect for anyone looking to ice climb.
How to Learn
Colorado Mountain School offers courses to bring you up to speed. Colorado Mountain School
If you're ready to try your hand at ice climbing, take a lesson or hire a guide who can show you the ropes for your first few outings. The folks at Colorado Mountain School, the largest mountain guiding outfit in Colorado, know all the best spots to check out. This also means you won't need to invest in tons of expensive gear like ropes, ice axes, crampons, and ice screws, but you might want to bring a few personal items, like high-quality gloves, soft- or hard-shell pants, and a warm belay jacket. (A helmet for ice climbing is also an absolute must.)
The Kent Mountain Adventure Center in Estes Park also offers an intro to ice climbing class that's perfect for beginners. You'll spend the one-day outing learning about equipment and technique. By the end of the instruction, you'll be climbing on some vertical ice.
Where to Go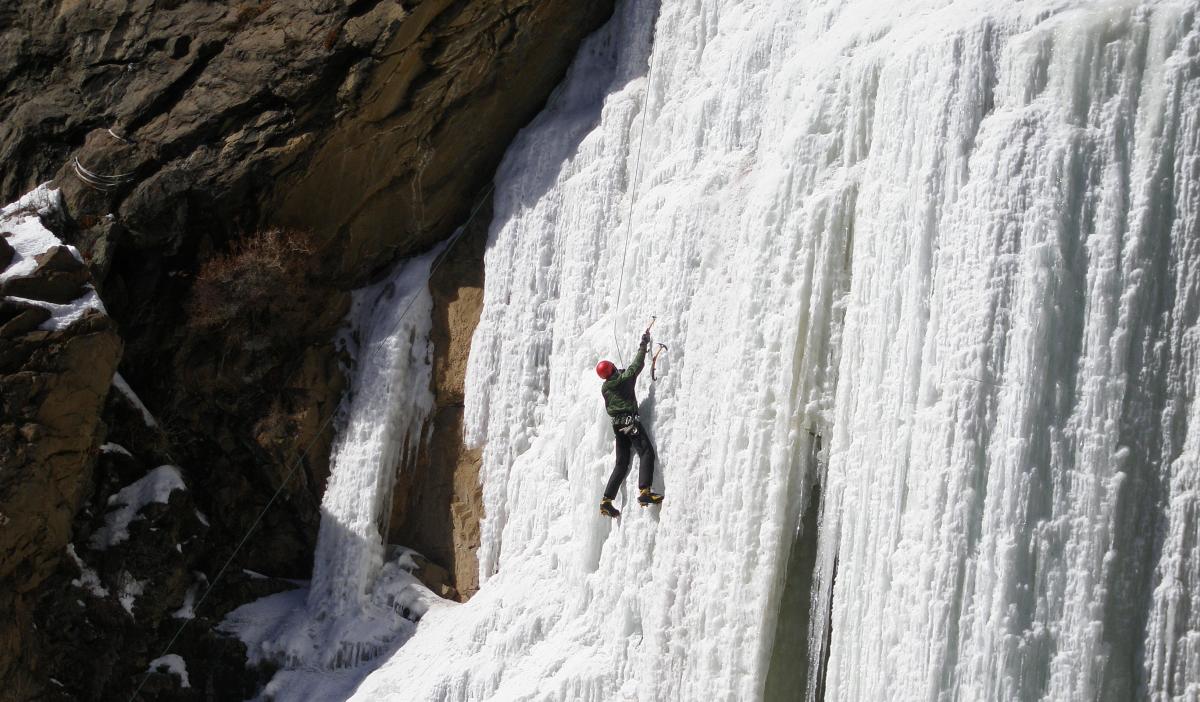 Fortunately, you'll find a wide variety of climbing in the Estes Park area. Many areas have a high concentration of moderate ice routes, which means you can get plenty of practice. If you have experience, gear, and are ready to explore on your own, check out the park's climbing regulations, then check out some of these popular spots.
Jewel Lake
Ice climbing has an entirely different feel than rock climbing, and many first-timers feel less secure on the tips of their ice tools and crampons than they do on the rock. With that in mind, the overflow ice at Jewel Lake makes for a great intro to ice climbing, since the routes are moderate (WI2 and WI3) and a bit shorter—closer to 50 feet than the much-longer routes you'll often find on outdoor climbs. The 90-minute approach begins at the Glacier Gorge Trailhead; you can see the slightly yellow-tinted climbs from Jewel Lake.
Hidden Falls
Hidden Falls is a real highlight of Rocky Mountain National Park. The approach is only about 45 minutes from the Wild Basin Trailhead, and it's easy to get to on skis or snowshoes (put on some crampons or microspikes to get up to the base). The consistently good quality means you're in for a day of super-fun climbing, and it's possible to lead or set up a toprope. It's a little more challenging than some of the intro. climbs at Jewel Lake—the 90-foot climb is graded as WI3-4—so you'll feel accomplished by the time you reach the top of the falls. Its popularity means there's often a weekend crowd, so go on a weekday if you can swing it; the route is also wide enough to accommodate a few parties at the same time. You'll also find a handful of harder routes at Hidden Falls.
Loch Vale
Ready to graduate from single-pitch ice to multi-pitch or mixed climbing? Loch Vale, also accessible from Glacier Gorge, is home to several more intermediate routes with the potential for climbing hundreds of feet of ice (and, occasionally, some rock and snow). With names like Crypt, Cold Storage, and Freezer Burn, be prepared for cold temperatures at the belay, but the grades (some in the challenging WI5 and WI6 range) mean you'll have some serious blood flow going by the time you reach the top of a given pitch.
Remember to bundle up and bring along a thermos of your favorite hot drink to help keep you warm.
While the sport may be intimidating at first, you'll soon discover that it's a fun way to enjoy the winter in Colorado—and the incredibly scenic surroundings of Rocky Mountain National Park.