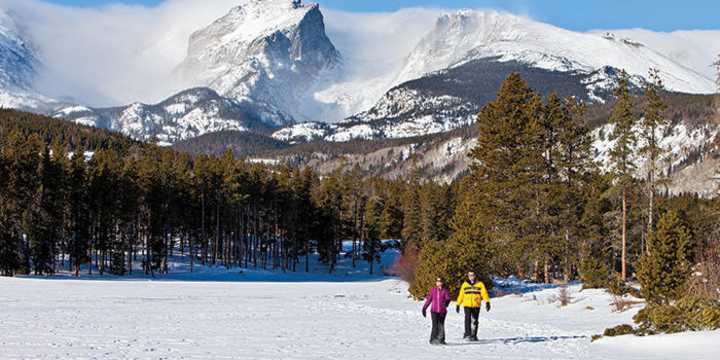 Scenic Estes Park Trails
A Walk in the Woods - or Just Around Town
What better way to take in all the spirit of Estes Park than to stroll through the enchanted village, taking in the high-peak views and deep breaths of pine-infused air? Try some of the favored ventures below to roam the Estes Valley without strenuous effort, but with great reward
Downtown Riverwalk
Enjoy beautiful flowers, romantic waterfalls and relaxing parks as you travel the downtown Riverwalk. Constructed in the years following the Lawn Lake Flood, the Estes Park Riverwalk spans the downtown area from the Estes Park Visitor Center to Performance Park on the west end of Elkhorn Avenue, and beyond. Along the way, guests can stop at various businesses to shop, grab a bite in an open-air café and even sample some local wine. Live music, festivals and events dot the Riverwalk plazas throughout the year. Continue west along the Fall River to reach many lodging properties or simply to enjoy a longer stroll.To the east the Riverwalk trail meets up with the Lake Estes Loop.  
Lake Estes Loop Trail
This premium paved trail takes you on a grand exploration of the lake and a 365-degree visual tour of the Estes Valley landscape. You can enjoy this venture on foot by parking at the Estes Park Visitor Center, or rent a bike at the Estes Park Marina to bike the route. The trail also connects to the downtown Riverwalk and the Estes Valley trails system that takes you through Stanley Park, near the fairgrounds, and farther south along Fish Creek Road. Elk, waterfowl and even beaver often can be spotted along this popular trail. 
The Knoll 
Park along Wonderview Avenue, across from the Stanley Hotel to access this trail. Head south to view what is known as "The Knoll," a lookout to downtown and site of ruins from a stone cabin built in 1907. Once a beautiful spectacle with a wraparound porch and massive fireplace, the cabin was built by Albert Birch, former city editor of the Denver Post, but burned down on December 21, 1907. Follow the trail back north and downhill to the west to find the cabin Birch built in 1908 to replace the original. The Birch family enjoyed the later cabin until the 1980s; today, it is on the State Register of Historic Places. 
For scenic walks or hiking in the national park, please visit our Rocky Mountain National Park section. Information on hiking around Estes Park, including outfitters and guided hikes, can be found in the Hiking section. 
Estes spotlighT
estes SpotlighT