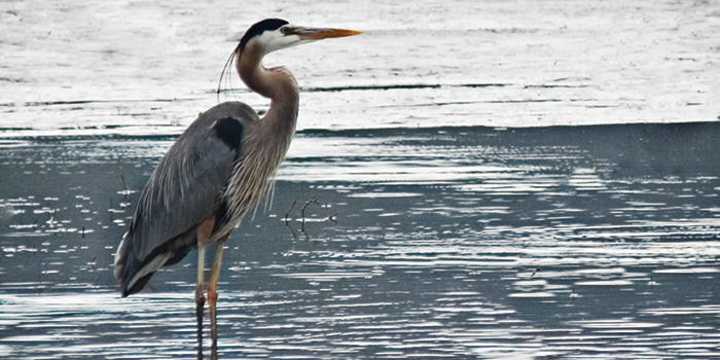 Birding
Throughout the Estes Valley, birders find easy access to environments that support large numbers of native and migratory bird species. In fact, the combined landscapes of Estes Park and the preserved wilderness inside Rocky Mountain National Park offer an unsurpassed opportunity to view more than 315 species of birds, including waterfowl, raptors, game birds, passerines, owls and many others.
Although the variety of habitat-mountain, tundra, woodlands and grasslands-makes birding in Rocky Mountain National Park  extra special to birdwatchers with a checklist, the Estes Valley birding season runs all year long. In spring and summer, the shores of Lake Estes promise all kinds of birds-waterfowl, of course, but also sandpipers and gulls. Elsewhere in the valley during these seasons, thrushes, finches, swallows, warblers, bluebirds, and hummingbirds-often rufous and broad-tailed varieties-migrate. Bald eagles also use this time to establish nests, often on the lake's north side. Area woodlands fill with bird songs, tweets and twitters-clear indicators that the lands are alive with birds.
The national park usually closes its Lumpy Ridge area from early March through mid-summer, but that doesn't stop birders with high-power binoculars from spying nesting raptors and their hatchlings. Prairie falcons, red-tailed hawks, American kestrels and peregrine falcons nest among the cliffs here and on Sheep Mountain.
Come fall, migratory waterfowl descend into the Lake Estes area again. The Matthews-Reeser Bird Sanctuary located along the lake's south side bustles with comings and goings, making it a good spot to see mallards, teal, coot, mergansers, redheads, widgeon, swans, gulls, Canadian geese and the occasional pelican.
In October through November, bird watchers are most likely to see year-round feathered residents, such as rosy-finch, Northern shrike, waxwings and the occasional roughlegged hawk. In December, bird watching begins in earnest when the National Audubon Society organizes its annual Estes Park Christmas Bird Count. Anyone with basic bird identification skills is welcome to participate as a field counter or feeder watcher.
Even if you've never been much of a birder, try it in Estes Park. It's a free, fun activity with almost guaranteed rewards every time you turn your eyes toward a tree, a bush or a meadow. All you need are binoculars and a decent bird guide, both available from village shops.