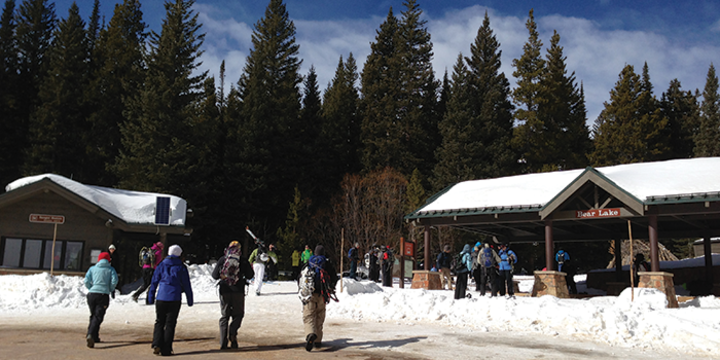 Snow Play
With over 350 miles of trails, Rocky Mountain National Park offers a vast selection of choices for winter fun, particularly in the areas of winter hiking, snowshoeing and cross-country skiing.  Admittedly, it's hard to ignore the park's unique winter beauty, especially when you could be the first to break fresh snow. With additional athletic pursuits, such as ice climbing and backcountry skiing, it is a paradise for snowsports enthusiasts. Guests find a peaceful, pristine wonderland where ice-filled waterfalls and massive peaks sparkle against dark rock.
Guided tours and excursions help beginners learn how to do a particular sport while also showing them where to go. For others, including backcountry skiers, the park presents a do-it-yourself environment. A ski lift used to operate at Hidden Valley, but not anymore. The runs remain but are not maintained, thus skiers generally use cross-country equipment or "skins" to get around.
Below the former runs, sledding and downhill sliding reign at Hidden Valley Snow Play Area. Sledders and tubers take to the hills with sleds, inner tubes, saucers and other kinds of sliding devices to enjoy the snow. Want to know the conditions at Hidden Valley before you head up with the kids? Call the national park's information line at 970-586-1206 or the Estes Park Visitors Center at 800-443-7837 for the latest snow reports.
These hotlines are helpful for snowshoeing, too, which is one of the more popular sports on the park's east side. If you don't have your own "shoes" or sleds, several stores in Estes Park offer equipment rentals. Keep in mind that even for a short day in the park, you should pack gear for all types of weather (sun, snow, wind) and be prepared for exercise at high elevation - drink plenty of water and travel at a pace in which you can still talk and breathe easily.