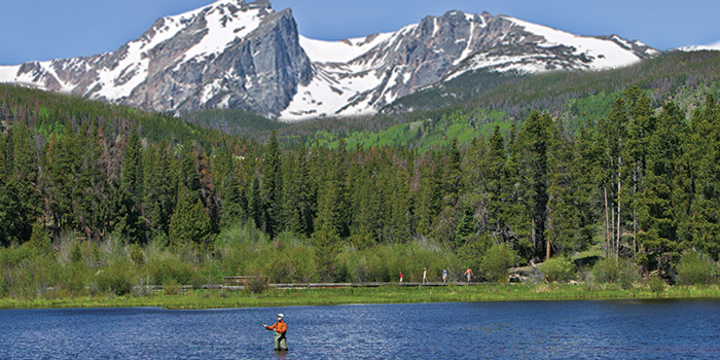 Fishing
The Frigid Fish
When the temperatures drop, so does the interest in fishing inside Rocky Mountain National Park. Wise anglers trade their waders and rods for snowshoes or maybe a good book by a fire, activities better suited to the chilly weather. It's not that fishing isn't allowed inside the park during that time, but essentially the elevation is too high and too cold to yield enough results to make a fishing trip worth it. Winter anglers will have more luck fishing in warmer Estes Park.
As the snows melt and winter gives way to spring, the fish in the national park waters still have slow metabolisms, which means they're still not keen to feed. The snowmelt remains too cold for big results. Nevertheless, die-hard fly fishermen just can't help themselves, so they head for the free-flowing waters, midges, early caddis fly, and small droppers (bead-headed flies that hang underwater beneath a dry fly resting on the surface) in their boxes. No matter the time of year, fishermen ages 16 years of age or older must have a Colorado fishing license to fish in the state and inside the national park.
While the cold water temperatures are against anglers, the runoff can be too, depending on how quickly it warms up. Fish don't like the murky water and are less apt to bite. As one local guide put it, "Spring fishing in the park isn't terribly productive. It's just not a high priority for most fishermen." But Estes Park and Rocky Mountain National Park didn't gain a reputation for world-class fishing because the trout don't bite. They do. They just prefer to do so from summer through fall when the waters warm, the bugs hatch and their appetites increase.
For more on fishing in Rocky Mountain National Park, please see our summer park Fishing section or visit NPS.gov/ROMO.
For additional information on fishing in Estes Park, including outfitters, rentals and tours, please visit our Estes Park Fishing page.