Do you like to car camp? Prefer the comforts of a RV? Get back to the basics in the backcountry? Do you dare sleep on a portaledge on the side of a cliff? Between Estes Park and Rocky Mountain National Park you have access to it all. Use this guide to plan the ultimate rocky mountain camping trip.
Types of campsites
Frontcountry sites are in or closer to town and run the gamut from amenity-filled campground lots filled with car camping sites, RV hookups and yurts to camping loops that afford more privacy, more nature and fewer amenities. Backcountry sites are clustered throughout Rocky Mountain National Park and Roosevelt National Forest and yes, one even allows you to sleep hanging off the side of a cliff.
Find the perfect site for you:
Roosevelt National Forest does not have any designated campgrounds in the Estes Park area, but allows dispersed camping in certain areas. You have to work harder and be a bit more prepared to earn these dispersed camping sites – from getting there (hiking in or driving in on 4-wheel drive roads) to no amenities… you get the picture) and there are some rules and restrictions, of course, so educate yourself before you go.
Reserve early
Now that you know where to camp, heed this most important piece of advice: reserve your site early. Camping in this neck of the woods is very popular and campgrounds and sites fill up fast. Sites in Rocky Mountain National Park are often reserved months in advance (reserve yours up to six months in advance). Camping sites in Estes Park fill quickly too, so in both cases the earlier you reserve one the better. Find more information or reserve your spot using the links above.
While most campsites require a reservation, the Longs Peak Campground in Rocky Mountain National Park is first-come, first-served. These sites fill up quickly as well, so plan ahead and get to the site early for the best chance of securing one of these coveted spots.
When to camp
Tied up in the detail of reserving your campsite early is deciding when to reserve your spot. The best time of year to camp in Estes Park is mid-June through mid-September. This time period affords warm to hot days and cool to cold nights. The nights will always be on the cooler side, this is the mountains after all, but they'll be coldest in June and September.
Winter camping is available in Rocky Mountain National Park and while cold and potentially windy, it is quite peaceful. Permits and reservations are required, just like in summer, but reservations do not go nearly as quickly. Local's tip: be prepared for abrupt changes in the weather as winter storms can hit suddenly… don't scrimp on your winter layers or camping gear.
How to camp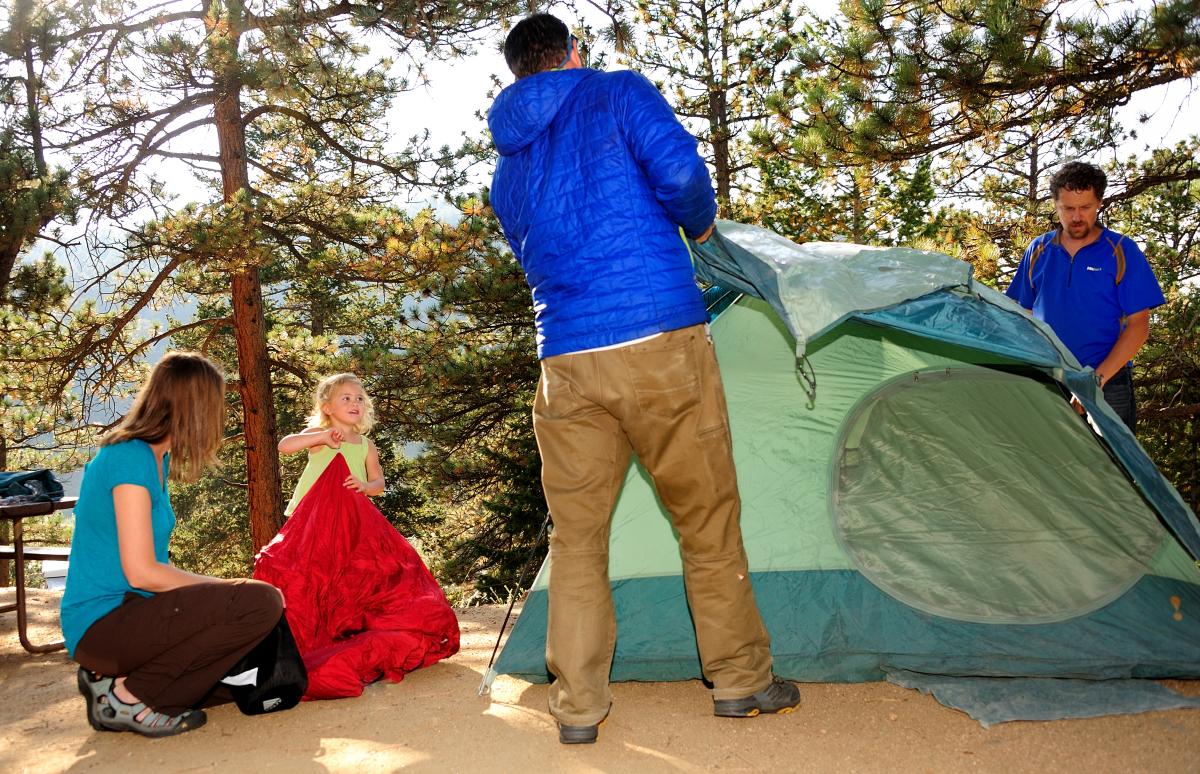 With the range of camping opportunities available, this answer varies greatly. Check out our staff's camping how-to and Rocky Mountain National Park's guide to camping within the national park and what to expect in the backcountry.
Where to stock up and rent equipment
Pick up food at the town's grocery store or The Country Market & Deli. Purchase any forgotten warm layers or camping supplies at The Estes Park Mountain Shop – they rent camping gear as well.
What to do
If you're in the backcountry you'll certainly spend your time becoming one with nature. Check out these tips on how to get the perfect wildlife photograph and just in case, how to be bear aware.
Car camping in or close to town has its advantages: if you crave a little civilization during your camping trip check out the town's event line up.
There is an app for that
From incredible hikes to the best climbs, an offline mountain peak identifier and an interactive guide to help you recognize 50 plants and animals found in the Rocky Mountains, these apps will help you make the most out of your camping trip, while planning and while in the field.