Don't drive Old Fall River Road.
Old Fall River Road, Trail Ridge Road's unpaved sister, is closed to vehicle traffic early October through late June. With no cars to limit your view or slow you down, the twists, turns and arguably, the views, are better from good ol' OFRR. 
The road itself is dirt, well graded and about the width of one traffic lane. Compared to TRR the switch backs are tight, the grade is steep and the views are compact. It's perfect for outdoor adventure.
A run up OFRR is easy on the knees but a burner on the lungs and the same can be said for a walk or hike. Cyclists love it for the quick elevation gain and thrilling descent. And for a short time it is dog-friendly; one of the few places you can take your four-legged friend for a walk, sans traffic, in Rocky Mountain National Park.
The Chapin Pass Trailhead is accessible from OFRR (for those on two feet who want to take it to the next level) as well as a number of shorter trails, including the Alpine Ridge Trail accessed from the Alpine Visitor Center, where OFRR ends.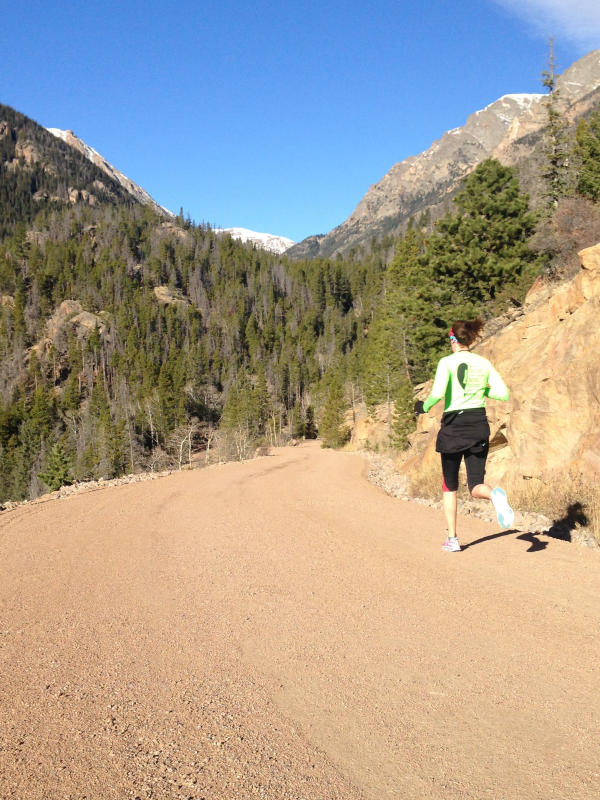 What you need to know
The road is 11 glorious miles of views and worth every step or pedal, particularly once you reach the top.
The official open and close dates vary each year and depend on the weather. Check out Rocky Mountain National Park's road status report for up-to-date information on OFRR. This year, 2023, the road is open to bicyclists, leashed pets and walkers the following days: October 7 - 9, 2023 and October 14 - November 30, 2023. On December 1, 2023, OFRR will assume winter trail status meaning the road is open to winter activities. Bicycles and leashed pets are not allowed on the road at this time.
Dogs are allowed on OFRR for a limited time during the closure. For specifics, call Rocky Mountain National Park's information office: 970-586-1206. If you bring your fury friend, he is not allowed on any trails that break off from the road. 
OFRR is the original road visitors took to reach the Alpine Visitor Center, before Trail Ridge Road was built, and follows a route Native Americans used to take when hunting wild game. 
Elk are partial to the area – it is highly likely enthusiasts will pass them munching on grass. Keep these safe wildlife-viewing tips in mind when you do. 
You will need a timed entry permit to access OFRR through the end of October. Details here.