Patricia Henriksen Greenberg has been drawing since the age of seven and since then has had her artwork featured in galleries as well as children's books. Learn more about Patricia and see some of her amazing artwork below.
Artist Q & A:
Age: 66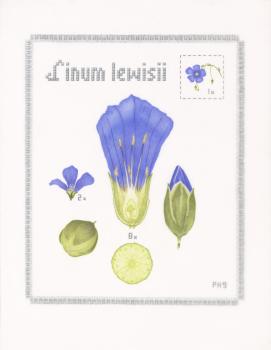 Art form? Most often I work in pencil on coquille paper. "Coquille" is the French word for scallop. The paper has a scalloped-shaped texture pressed into its surface. Graphite from the pencil tends to stay on top of this surface design. If I want to achieve a very dark value, I use more pressure with a softer-leaded pencil so that I can fill in the indentations of the paper.
How long have you lived in Estes Park? My husband Paul and I moved to Estes Park in 2004.
Where is your hometown? I grew up on Long Island in Seaford, NY.
How long have you been drawing? It seems to me that I've always liked making things. Drawing was one of my favorite pastimes. I enjoy the creative process and working with my hands. It's very gratifying to behold the product of your endeavors.
Why did you start drawing? If I had to name a single event which really piqued my interest in art, it would be the day that my parents gave me my very own "Jon Gnagy's Learn to Draw" set. The supplies were very basic and the step-by- step instruction booklet was so informative. With years of practice, I began to have meaningful insights into composition and technique. I continued to study art throughout high school and college. I attended four different schools and learned many invaluable lessons which still influence my work today. I graduated from SUNY StonyBrook with a Bachelor of Fine Arts degree. More recently, I've received my Certificate in Botanical Art and Illustration from the Denver Botanic Gardens.
Who are some of your influences? For drawing and draftsmanship, one has to look at and appreciate the Great Masters; specifically Michelangelo, Da Vinci, Durer, Rembrandt and Rubens. Their work is so very dynamic and inspiring. I also admire the paintings of Jacques-Louis David for his incredible realism and attention to detail. Van Gogh, of course, exemplifies the great passions and emotions artists seek to embody in their work.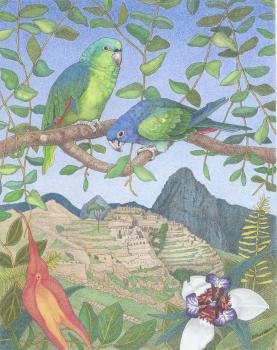 What has the process been like making a name for yourself in Estes Park? I've found Estes Park to be very welcoming and open to all artists. There are many talented and supportive individuals and groups in town. It's a gradual process to have your work become recognizable within the community. Patience is a plus. I've been very fortunate. I've been able to exhibit my work at two fine galleries in town; The Cultural Arts Council of Estes Park and the Art Center of Estes Park. Because of these affiliations I've not only been able to sell my work, but also have had the opportunity to teach and to collaborate with local authors to illustrate children's books. These have included "The Mutt & the Mustang," "Tracks in Time" and "Exploring the Park Together."
What do you hope to do with art in the future? I'm currently working on a series of ten large drawings which relate to my weekly yoga classes. They will be multimedia pieces which incorporate drawing, calligraphy (Sanskrit), beads and ribbons and the philosophy of The Golden Rule. I'm hoping to complete this project early in 2017. After that, I have some ideas for a series of sunflower drawings based on my gardening experience this summer at the Estes Valley Community Garden … the sunflowers were a great and surprising success. Beyond that, I'm contemplating another children's book; this one created for my granddaughter, Lucy.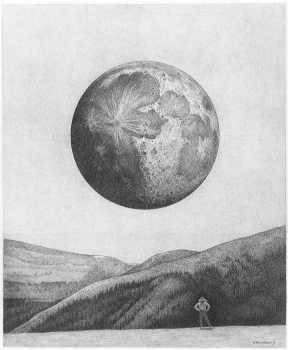 What's your favorite spot in Estes Park? Why? It's hard to choose just one. You have to admit, even the views from the Safeway parking lot are pretty spectacular. I do like to hike up Lily Mountain. It's not too long, keeps your interest, has that little scramble at the end and the rewards for your efforts are great. There you have a 360 degree vantage of the Continental Divide, Long's Peak, Lake Estes and all the way down to Fort Collins. Though I can't view my house from the top, I enjoy identifying my friends' houses on Fish Creek and Tunnel Roads. Lily Mountain trail is also dog-friendly; our miniature Aussie, Gracie, has a terrific time there.
What is the best part of being an artist in Estes Park? Estes Park is a wonderful source of inspiration. We are surrounded by beauty in every season. The flora and fauna are our constant companions gently persuading one to get out and draw. This, coupled with the energy and enthusiasm of our local art community, makes Estes Park a marvelous place to live and grow.
What do you do around Estes in your free time? I like to walk and hike in town and in RMNP. I study tai chi and yoga. I volunteer at the Estes Park Museum which has been a great experience. I enjoy hosting dinners for friends & family. Mostly I try to stay active and engaged, in a quiet, creative way.
Patricia's drawings can often be found exhibited at The Cultural Arts Council of Estes Park and the Art Center of Estes Park. Check out more of our Estes Park Artist Profiles.