For a small mountain village, Estes Park's craft beverage scene is enormous – and it seems to be growing with each passing year. Now is the right time to discover what's brewing (and distilling, and fermenting) up here.
SPIRITS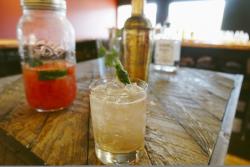 Elkins Distilling Co.
1825 North Lake Ave., (419) 575-1704
The people behind Elkins Distilling Co. aren't the first to make whiskey in Estes Park – we're pretty sure a few moonshiners plied their crafts here back in the day. But Elkins, located across the street from Lake Estes, is responsible for the very first legal spirits made in Estes Park thanks to a recent change in the town's laws. One sip of Elkins' Colorado whiskey, made with 80 percent Colorado corn (from the town of Nunn) and 20 percent fossil-free malted barley, will convince you that change was the right thing to do. Add in the panoramic view of Longs and Meeker Peaks from the distillery's sun-soaked patio, and you've got a perfect Estes Park experience. And make sure you say hello to Ollie, Elkins' friendly canine mascot.
Good to Know: The distillery's drink menu features an expanding array of innovative infusions, alongside creative craft cocktails – try the White Whisky Russian.
Dancing Pines Distillery Tasting Room
207 Park Lane, (970) 586-2227
Creating small batch spirits from grains sourced from local organic farmers, water from Colorado Rocky Mountain snow melt and whole ingredients sweetened with cane sugar, Dancing Pines has been a much-loved fixture on Colorado's craft beverage scene since 2010. At the distillery's downtown Estes Park tasting room, you can sip and sample Colorado crafted bourbon liqueur, vodka, gin and rum in a friendly environment. Pair your sampler with a cheese plate and enjoy.
Good to Know: Like what you tried? Dancing Pine's tasting room sells bottles of its fine spirits for you to take home with you.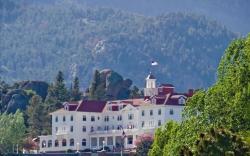 Cascades Whiskey Bar at the Stanley Hotel
333 Wonderview Ave., (970) 577-4000
The historic/majestic Stanley Hotel is great for plenty of reasons – but for whiskey lovers, the Cascades Whiskey Bar is at the top of the list. Featuring Colorado's largest collection of whiskeys, bourbons, and scotch – more than 1,000 expressions and counting – the Cascades is a stylish escape that takes you back in time to a simpler era. It's not just for aficionados, however. The bartenders here can guide newcomers towards a new appreciation for the fine art of whiskey, via delectable handcrafted cocktails. Choose from one of the bar's Whiskey University Flights to get your bearings.  
Good to Know: Whiskey not your thing? No worries – the Cascades boasts a carefully curated selection of wine, from Colorado-made favorites to Wine Spectator award-winning varieties.
EVENT: Whiskey Warm Up Weekend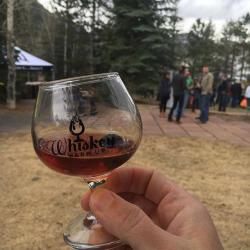 March
An afternoon well spent! Every March at the Whiskey Warm Up, layer up to sip on selections of Colorado whiskeys from some of the best Colorado distilleries while cozying up near of one of the fire pits outside in the Estes Park's George Hix Riverside Plaza.
BEER
Estes Park Brewery
470 Prospect Village Dr. (970) 586-5421
Founded in 1994, Estes Park Brewery is one of the original Colorado craft beer pioneers – and that deep experience is readily apparent in its handcrafted tap offerings. The "go-to" signature brew here is the Estes Park Amber, with a perfect balance of malt and hops. A total Colorado classic. But if you're feeling a little adventurous, order the (seasonally available) Blueberry Wheat, a crisp and refreshing sip if ever there was one.
Good to Know: The food at Estes Park Brewery is as good as the beer. Try the delicious homemade chili, made with the Red Rum Ale.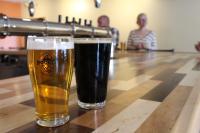 Rock Cut Brewing Company
390 W Riverside Dr., (970) 586-7300
Located just steps from downtown Estes Park, Rock Cut Brewing Company is a local favorite that's been steadily earning a (well-deserved) reputation among Colorado craft beer aficionados, thanks to an evolving array of creative offerings, not to mention a pleasingly laid-back ambiance. The collaborative spirit is strong here – one of the Rock Cut's must-try beers is the Elkins Whisky Porter, which uses Elkins Distilling Co.'s wood chips to add a strong whisky flavor to the mix.
Good to Know: Rock Cut's beers go great with food. And luckily there's almost always a food truck parked right outside – usually the Two Chicks food truck. We recommend the wings.
Lumpy Ridge Brewing Co.
531 S. Saint Vrain Ave., (812) 201-3836
Named for a popular Rocky Mountain National Park trail, Lumpy Ridge Brewing Co. boasts a unique location – a former gas station. But all it's pumping these days are handcrafted beers that range from the tried-and-true (the extremely satisfying Lumpy Ridge Pale Ale) to the adventurous (the deliciously spicy Biscuit Saison). The brews are great, and so is the custom-made artwork by Wade Johnston that adorns the brewery's walls.
Good to Know: Music is a big part of the Lumpy Ridge experience, and on Wednesdays, you can be the DJ. Bring a favorite record – on vinyl of course – and you'll get a free 12 oz. pour.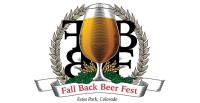 EVENT: Fall Back Beer Festival
November
Every fall, the Fall Back Beer Festival is a day filled with live music, fantastic food, and friendly folks. And beer, of course! The festival brings brewers behind the beers from dozens of Colorado's best craft breweries to Estes Park – you're guaranteed to find a few new favorites.
WINE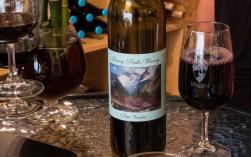 Snowy Peaks Winery
292 Moraine Ave., (970) 586-2099
Colorado's beer scene grabs a lot of the headlines, but the state's wine world is equally worth exploring. Case in point, Estes Park's long-running Snowy Peak Winery, which ferments Colorado-grown grapes from the Western Slope into award-winning varieties that will please every palette. The winery's tasting room is a perfect place to relax with a flight of Snowy Peaks wines, ranging from sweet to dry and red to white. The classic Pinot Noir is not to be missed.
Good to Know: The tasting room also offers a handpicked selection of Colorado-made gourmet foods, sweet, savory and in-between.
DON'T MISS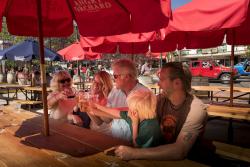 The Barrel
116 E. Elkhorn Ave., (970) 616-2090
No craft beverage tour of Estes Park is complete without a visit to The Barrel, located in the heart of downtown. This open-air craft beer, wine and spirits garden (open from May through October) features more than 60 rotating taps, focusing on craft beer, mead and cider, alongside high-end distilled spirits and wines. The ideal spot to spend an sunny Estes Park afternoon.
Tyler Wilcox is a Longmont, CO-based writer and editor whose byline has appeared in such publications as The Onion AV Club, Pitchfork, 5280 and The Boulder Weekly, among many others. Tyler loves exploring all that the great state of Colorado has to offer, from hiking trails to hot springs to craft breweries.