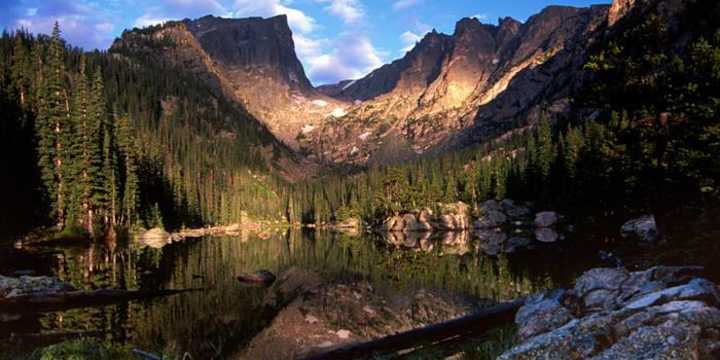 Contact & FAQs
Visit Estes Park is here to help with any media questions you have, assist with press trips or tours, and connect you with local experts. For personalized assistance, please contact Rachel Oppermann at ROppermann@VisitEstesPark.com or by completing the Media Request Form.
Frequently Asked Questions:
1) How far is Denver International Airport from Estes Park?
Estes Park is about 90 minutes from Denver and DIA. The route is well-maintained and does not include any high-altitude mountain passes. The trip up Highway 36 to Estes Park is an easy drive with breathtaking scenery.
2) How do I get to Estes Park from the airport?
To drive to Estes Park from DIA, head south, taking the ramp onto Pena Blvd. Take Exit 6B toward Boulder/Ft. Collins, merging onto E-470 North. After about 17 miles, take exit 47 to merge onto I-25 North toward Ft. Collins. Drive about 15 miles and take exit 243 to Estes Park/Rocky Mountain National Park, turning left onto CO-66 West. Continue for about 16 miles to the town of Lyons, following the highway through downtown, taking a right onto Highway 36. This highway winds along the Little Thompson River, through the small town of Pinewood Springs and into Estes Park, about 20 miles from Lyons.  
3) Is there a public transportation system?
There is no public transit to take you from DIA to Estes Park. For travelers without a vehicle, some local businesses offer airport shuttle service. Once in Estes Park, the seasonal free shuttle system offers an easy way to get around town and to Rocky Mountain National Park.
4) Are the elk/wildlife dangerous?
All wildlife in and around Estes Park are wild, and may display the natural instinct to protect themselves, their young or their mates. However, wildlife viewing is usually safe when spectators maintain a responsible distance between themselves and the animals. Additional details and viewing tips are available on the Wildlife Watching page. 
5) Where is the Estes Park Visitor Center?
The Estes Park Visitor Center is located at the intersection of Highways 34 and 36, just east of downtown, at 500 Big Thompson Ave. 
6) What is the weather like? What is the average monthly temperature?
The weather in Estes Park is typically pretty mild with lots of sunshine. Additional weather information, including average monthly temperatures, can be found in the Maps and Information section. 
7) What is the entrance fee for Rocky Mountain National Park?
Entrance fees vary by type of vehicle, number of occupants, age of pass holder, etc. The standard private vehicle fee is $20 for a 7-day pass. Additional information can be found in the Rocky Mountain National Park section. 
8) How long will it take me to get to Rocky Mountain National Park from downtown?
Traveling from downtown Estes Park to Rocky Mountain National Park takes between five and 10 minutes, depending on traffic.
9) What kind of accommodations can I expect to find in Estes Park?
Estes Park presents a variety of lodging properties, from bed and breakfasts, to historic inns and lodges, to upscale, boutique hotels. Find out more about the variety of accommodations in the Lodging pages.
10) How do I find accommodations?
Visit the Lodging section to browse accommodations by type of lodging. You also can search by amenity, price or keyword. Once you select a property, click the 'Book Now' button to check availability and make reservations. 
To find additional answers to your questions, visit our social media channels or complete the Media Request Form.