People from all over the world travel to our mountainous paradise year-round to enjoy time outside. Each season in Estes Park requires certain pieces of gear/clothing that will only help your performance on the trail, in town, or at those higher elevations. A great place to get started with finding the right gear is the Estes Park Mountain Shop. They'll have everything you need to get started on your next adventure. Before you embark on your visit into the mountains, it's important to check the weather and trail conditions. It's also important to leave no trace: Pack it in, pack it out! 
Here's a general breakdown by season on what to wear and pack on your adventures in Estes Park.
Summer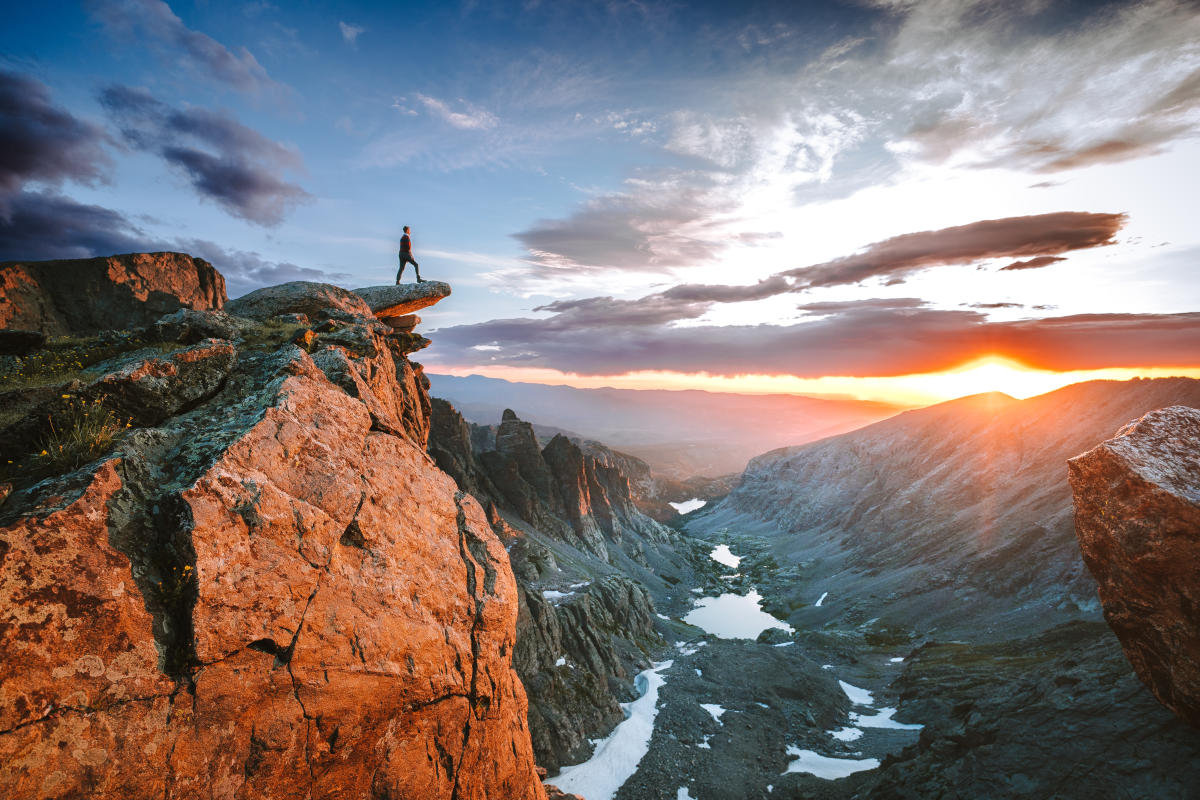 Ah, summer. It's what many consider to be the best season of them all, and for good reason: Sunny days, warmer temperatures, and beautiful sunsets. While Estes Park certainly has all of that, summers here can surprise you, so it's best to be prepared. Here's what to pack on your next hike this summer: 
Rain Jacket
Hiking boots
Water (Hydration is key!)
Snacks 
Sunscreen
Breathable hiking pants or shorts. 
Breathable T-shirt
Long-sleeve shirt (It can still get quite chilly in the mountains)
Most importantly, a sense of adventure! 
Fall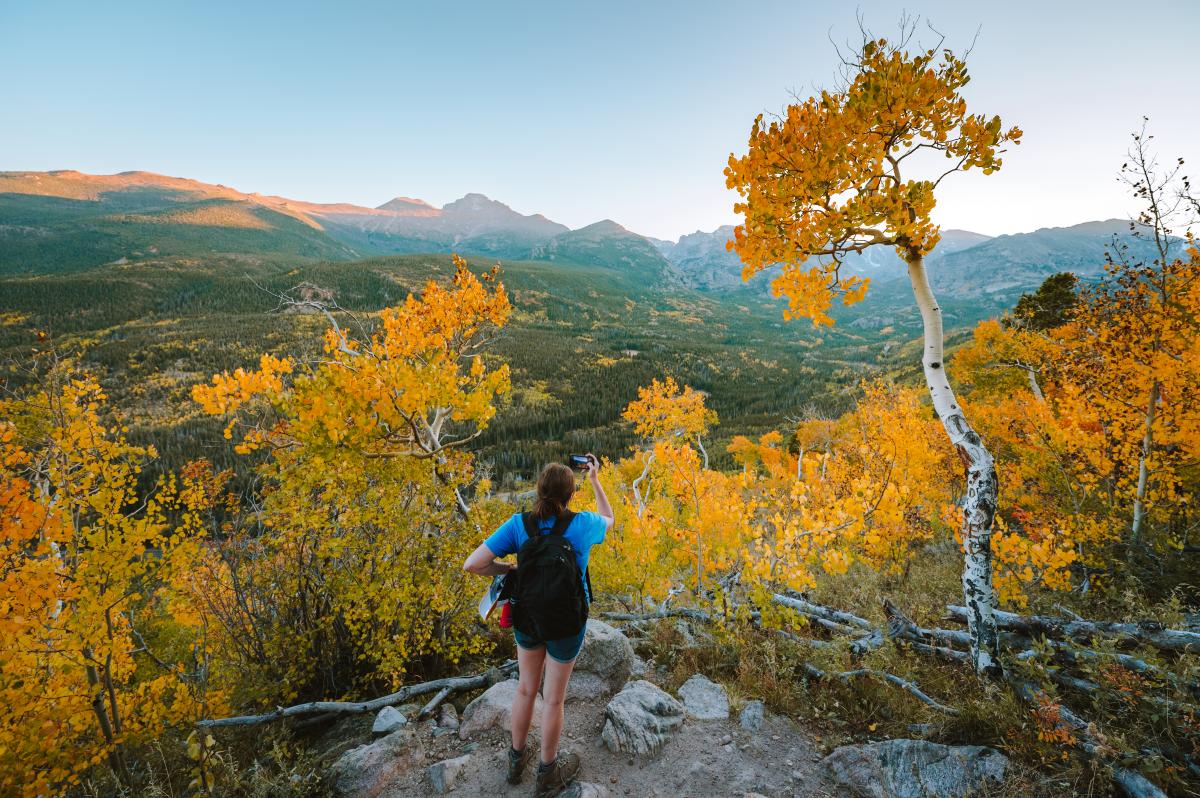 While the autumn months still have much of the summer warmth, it's best to be prepared when embarking on a mountain hike. Layers are crucial. Just remember: You can always take a layer off when you're warm, but you can't add a layer that you don't have when you're cold! 
Puffy Jacket: Easy to throw on when the temperature drops
A camera! The Yellow aspen leaves are quite beautiful against a mountainous backdrop. 
Hiking pants
Extra water and snacks- I don't know about you, but the beauty of the fall foliage makes me stay outside much longer than usual. Fall is one of the best times for an alpine picnic. 
Winter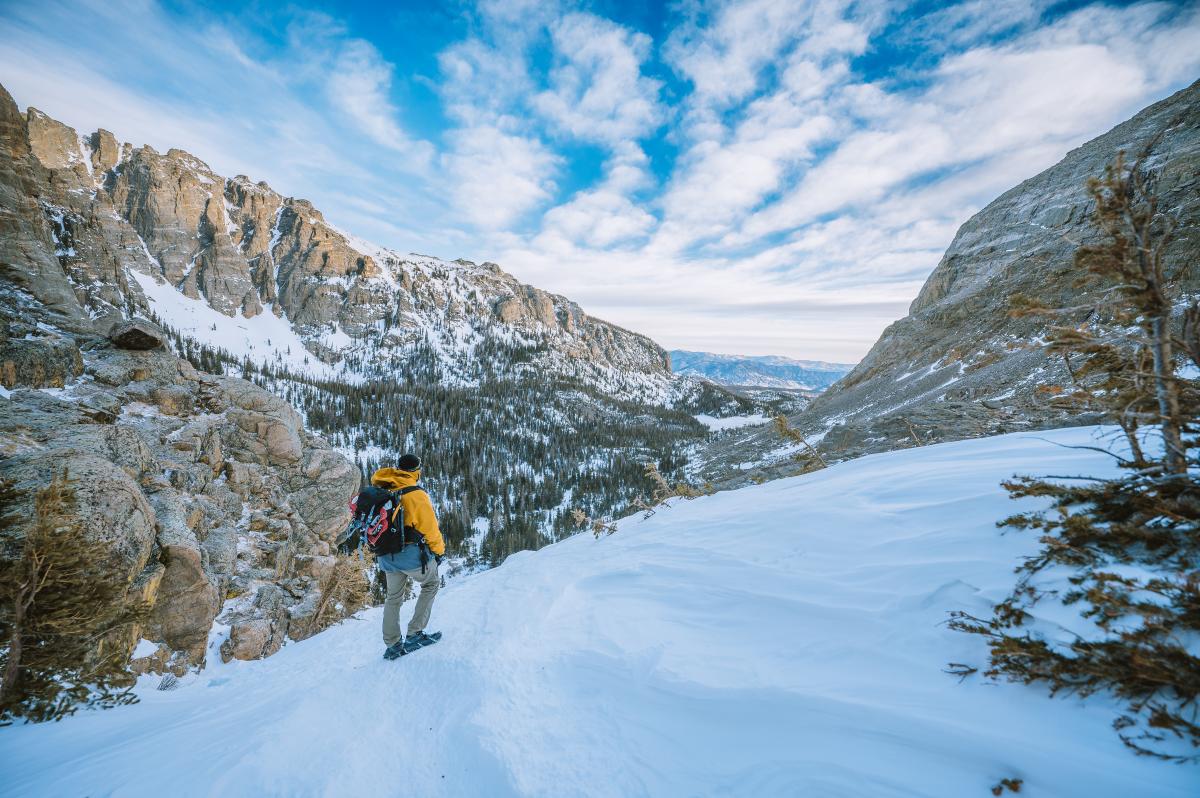 Estes Park and nearby Rocky Mountain National Park in the winter months offer the experience of existing in a winter-wonderland.  Here's a must-have list of what to bring with you on a hike into the mountains during those snowy months:
Micro-Spikes: These are a must-have when hiking in snow. Simply pull these over your hiking boots, and the spikes will provide much-needed traction. 
Snowshoes: These will prevent you from falling waist-deep into a pile of snow on the trail. These come in handy for those parts of a hiking trail that haven't been packed down by other hikers. 
Puffy Jacket: Puffy's are perfect for winter hiking because they're breathable, lightweight, and can easily pack into a backpack. 
Long-underwear: When hiking in those extra-cold temperatures, long underwear provides that extra layer of warmth that will keep you going. 
Thick socks.
Water-proof hiking boots.
Snow pants.
Winter Hat/Gloves.
Snow Goggles.
Trekking Poles.
Spring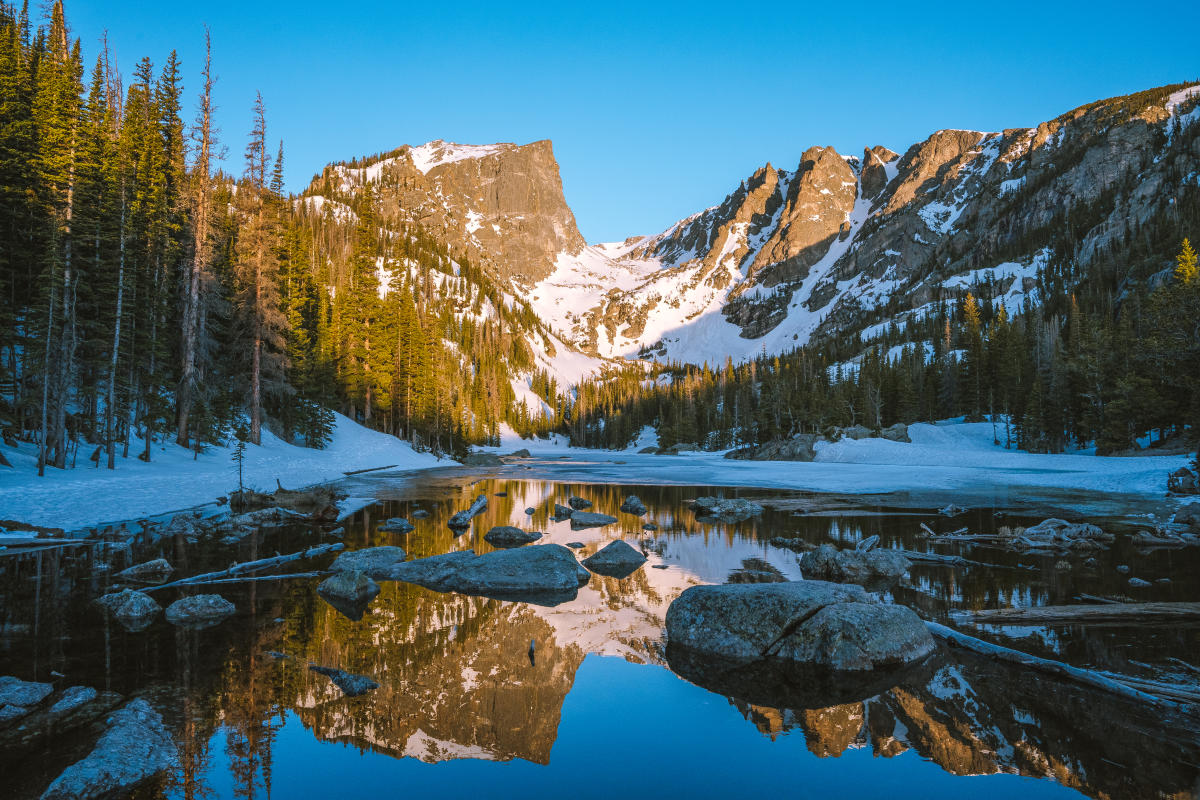 You'll notice this list to be similar to our winter list- that's because Spring in Estes Park is known for its heavy snowfall. In fact, March and April have been known to be our snowiest months! Here's how to pack a daypack to make the most of your springtime trip to the mountains.
Puffy jacket 
A waterproof/breathable shell
Beanie or winter hat
Mid-weight gloves
Hiking boots
Gaiters in case of deep snow
Micro spikes
Trekking poles

On a slippery spring day they'll add extra stability, especially when coupled with micro spikes.

Pants

Yes, pants. There is nothing worse than being surprised, and therefore cold and miserable, due to unexpected cold mountain weather.
Items to always bring along: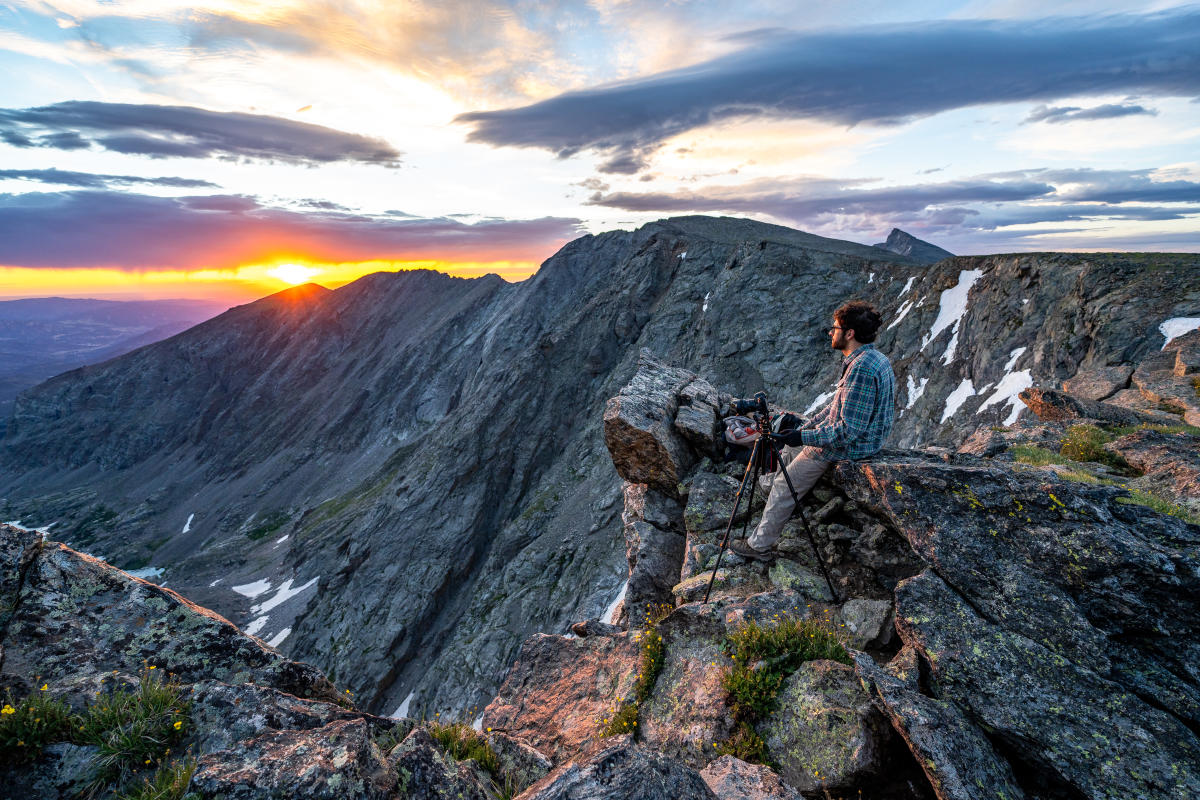 Water and snacks

Always important when going into the backcountry, no matter how far. 

Means of navigation

A map and compass, for example. There is no cell service in the mountains, so don't count on your phone to get you where you want to go.

Sun protection

A hat, sunglasses and sunscreen are highly recommended. The sun shines brightly in the mountains and reflects fiercely off the snow – snow blindness is real! 

Headlamp
Camera

The trails are packed full of Insta-worthy shots to fill your feed with! Follow us @VisitEstesPark if you're looking for some extra inspiration.