Early April is an invigorating time in Estes Park—the cold is easing, new growth is right around the corner and the promise of spring is close at hand; it's an environment that's sure to augment this special day. Spend Easter weekend in Estes Park. Here's how.
Get Up and Out for Sunrise 
Sunrise in itself can be extremely spiritual; it symbolizes a new day. You hear the quiet in new ways, you can truly notice the passing of time as the light slowly paints the trees and peaks. For some, nature is where they feel a higher presence the strongest. From Bear Lake, the alpenglow on Hallet Peak is remarkable. You can match the time it takes to walk around Sprague Lake with the time it takes for the sun to rise. If you're in for a hike, Dream Lake is easy to access. There are also several pull-outs throughout the national park if you want to stay bundled up in the coziness of your car with some hot coffee, it's likely to be a snowy Easter after all. (Pro-tip: get to your viewing spot about 20-30 minutes before sunrise, often the best colors come before the sun breaches the horizon). After the sun has risen, we suggest you stick around for golden hour's soft sunlight.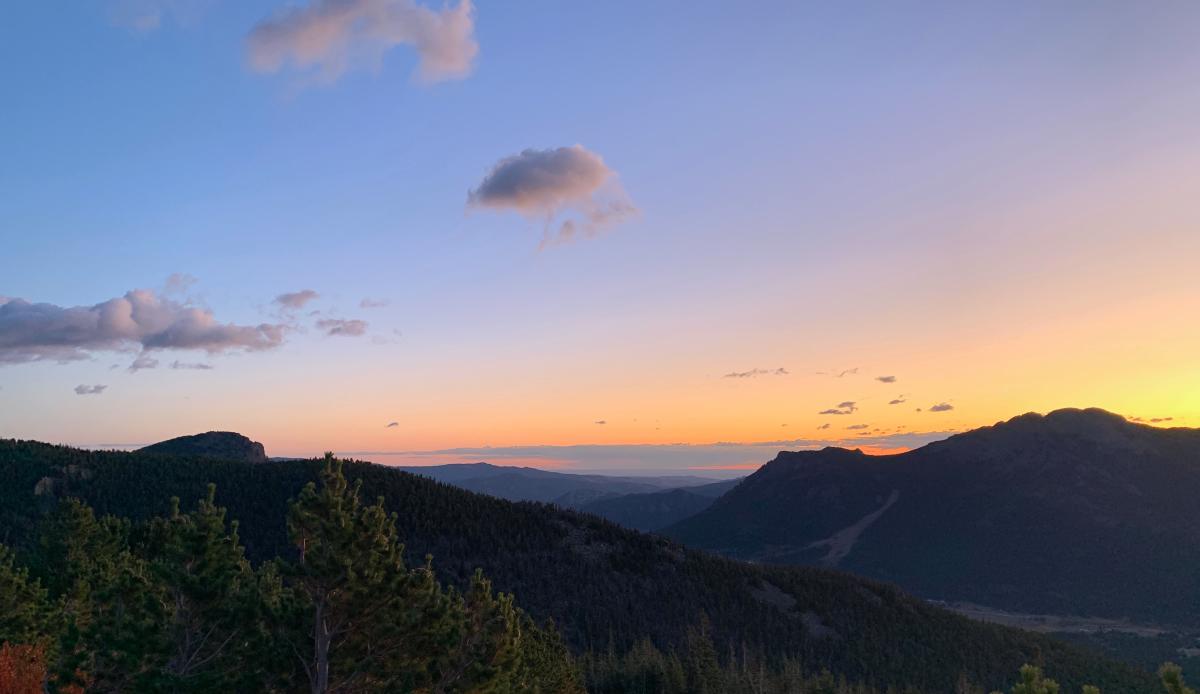 With the YMCA
The YMCA's Easter celebration is the only time we'll give the thumbs up to get closer to wildlife ;) aka the Easter Bunny. Purchase an egg decorating kit from the Sweet Memorial Program building all weekend from April 6 - 9 for $15. Then, join them for their annual Easter egg hunt at 9:30 am at the Lula Dorsey Museum on April 8. 
With Avant Garde Aleworks
Search the taproom and patio for Easter eggs containing prizes like free beer, gift cards to other local businesses, candy & more on April 9! Must be 21+ to participate. Tickets coming soon. Learn more.
Share an Intentional Meal Together
Food is the center of any holiday, and more specifically – the act of cooking is. When we eat together our brains signal to us that we are in a safe place, which fires off positive hormones and emotions in turn allowing us to be more engaged and/or vulnerable with table topics. Cooking together creates gratitude and mindfulness for the food on our plates. Vacations move at such a fast pace, trying to fit everything into a quick weekend getaway, that eating meals together can be a way to slow down and stay present. If you choose lodging with a kitchen, here are some recipes to try out that incorporate local Estes ingredients. Exploring the restaurant scene is also a big part of any vacation, and can make Easter that much more special. 
Fill Your Easter Baskets with Local Goodies 
One of the consistent joys on Easter morning as a kid is waking up to a basket filled with sweets and treats. The Easter bunny is creative in Estes Park. An already joy-filled weekend in Estes can be topped off with a basket filled with the taffy your child was eyeing the day before. On strolls down the idyllic Elkhorn Avenue, the Easter bunny has been known to stop in stores to collect Estes-themed knick-knacks and keeps an eye out for gems that were made in and inspired by Estes and toys you might not find in your everyday shopping at Rocket Fizz. Not a kid? Make your own basket anyway, reward yourself for making it through the past year.