Some mountain names are clearly some lucky person's surname while others make you stop and wonder. While inhabitants prior to when the West was won had logical names for area features, (Colorado's Rocky Mountains were called the Bald Mountains and Longs Peak and Mount Meeker were collectively called "Two Guides") more modern labels may seem… less logical.
Read on to find out how Estes Park area mountain peaks got their names.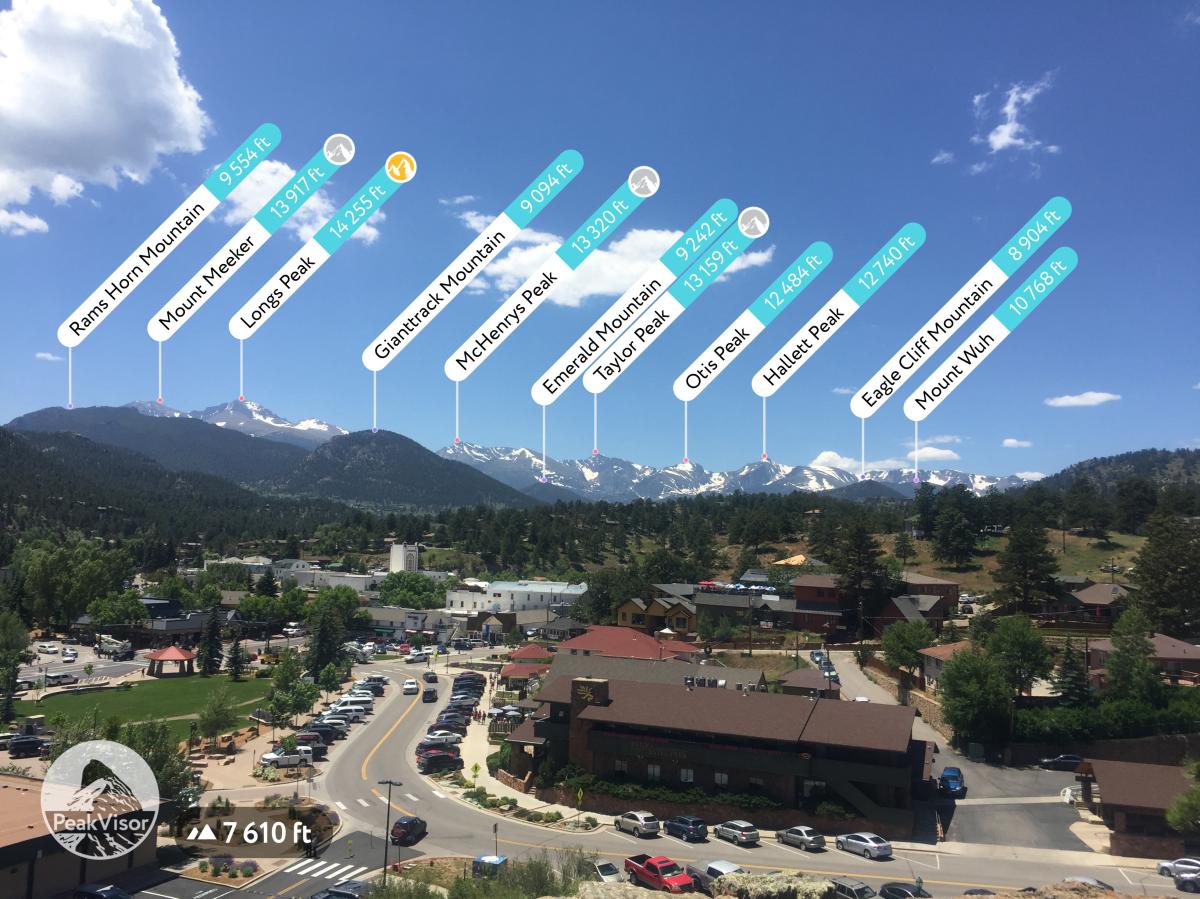 Peaks named based on shape, a recognizable feature or in one case, the character of a book.
Flattop, Knobtop and Notchtop Mountains – named for their distinctive shapes by Roger Toll, superintendent of Rocky Mountain National Park (1921-1928), who was known for his in-depth investigations into national park and monument additions as well as boundary extensions of current national parks.

Ptarmigan Point – Named for Ptarmigan Pass in Rocky Mountain National Park, which is named after the white-tailed ptarmigan, a bird resembling a grouse that lives in the alpine areas of Rocky Mountain National Park.

Snowdrift Peak – Named for the fact that this peak is most often covered in snow due to its location on the Continental Divide. 
Desolation Peaks – Nickname coined by mountain climbers and made official in 1961.
Mount Chiquita – While the word is Spanish for "little girl" this peak did not remind someone of a young girl – this peak was named after the heroine in the 1902 novel Chiquita, the Romance of a Ute Chief's Daughter.
Ypsilon Mountain – This mountain sports a Y-shaped snowfield on its face, inspiring it to be named after the Greek word for the letter "Y". 
Chief's Head Peak – Based on the Arapaho name for the peak: "heads." Aptly named, of course – if viewed from the Wild Basin area of Rocky Mountain National Park the outline of this peak clearly resembles the headdress and face of an American Indian chief looking up at the sky.
Pagoda Mountain – Resembles a pagoda, a tower-like multistory structure associated with Buddhist temple complexes and usually found in east and southeast Asia.
Thatchtop – Thatch is a matted layer of straw, reeds or similar material commonly used to cover roofs. This peak is roof-shaped and covered in matted groundcover, hence the name "thatchtop". 
Mount Lady Washington – Rumor has it that this peak was named by the first woman to summit Longs Peak, Anna Dickinson, who named it after New Hampshire's Mount Washington and the "lady" was added later in homage to Dickinson.
Lumpy Ridge – The Arapaho Tribe called this interesting rocky ridge Lumpy Mountain.
Twin Sisters Peak – A consensus on the origin of this name does not exist – some historical writings claim the mountain's Gemini nature contributed to the name, others reference a pair of turn-of-the-century Estes Valley sisters who had a fondness for it. However, as is often said, sometimes the simplest explanation is probably the truth: from Estes Park, this mountain has three prominent rock outcroppings causing one to wonder why it is not called Three Sisters Peak. When viewed from certain angles in what would have been Colorado's more populated areas on the plains, one can only see two prominent rock outcroppings, hence the name Twin Sisters Peak.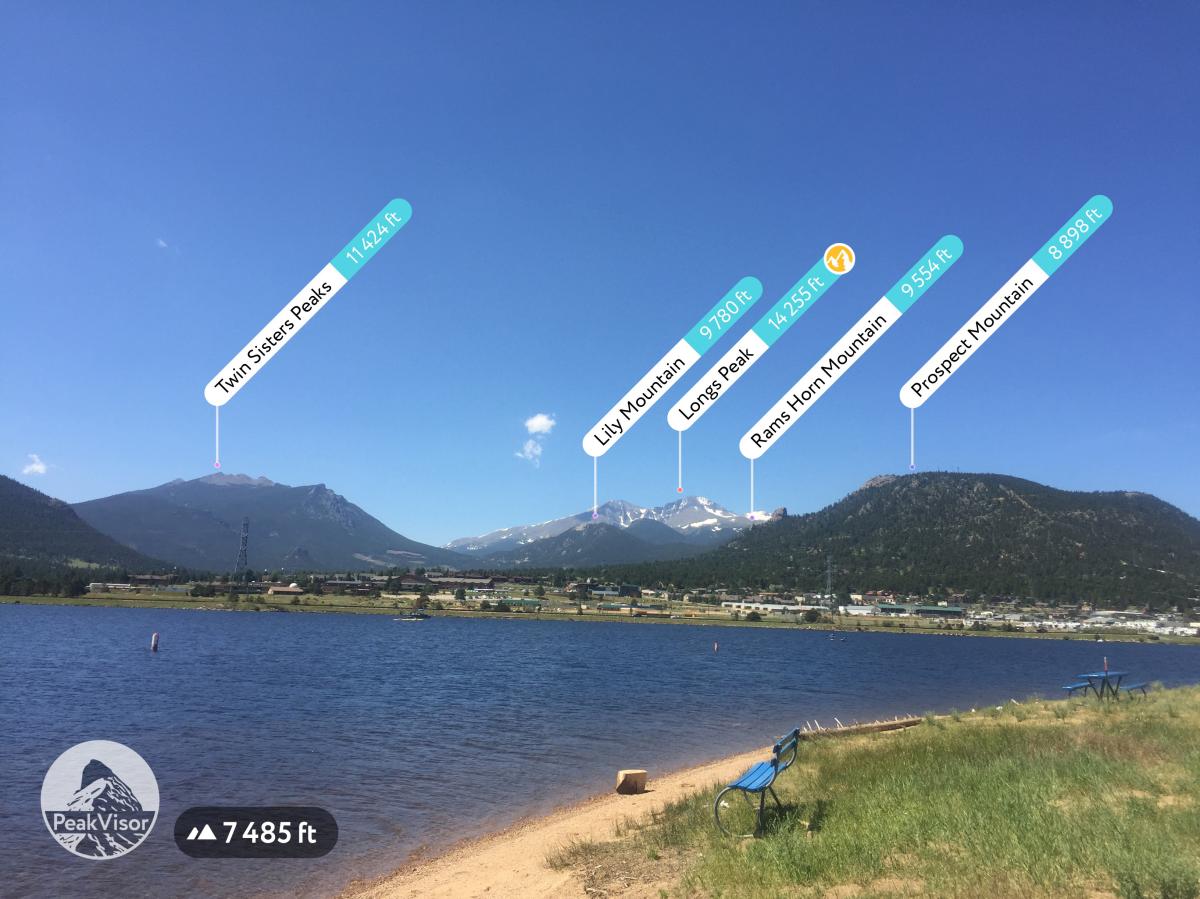 Named for turn-of-the-century explorers, climbers and a few "in the right place at the right time" lucky fellas.
Longs Peak and Mount Meeker – Longs Peak was named for Major Stephen H. Long, who led an expedition to the area that was to be Colorado in 1819. Mount Meeker was named for Nathan C. Meeker, founder of the city of Greeley, Colorado and US Indian Agent at White River. Previous to these eponymous christenings, Longs Peak and Mount Meeker were collectively called Two Ears by French trappers who populated the area in 1799 and Two Guides by the Arapaho Tribe, which migrated throughout the Rocky Mountains and Estes Park. 
Powell Peak – Named after Powell Lake, located on the west side of Rocky Mountain National Park, which was named after the leader of the first group to climb Longs Peak, John Wesley Powell.
Taylor Peak – An educator from Kansas, Albert Reynolds Taylor, visited the area in 1895, giving his surname to this peak. Wikipedia lists the historical name for this peak as The Bangs… your guess is as good as ours!
Otis Peak – Named for Dr. Edward Osgood Otis of Boston, who climbed in the Estes Park area in the 1880s.
Mount Chapin – Most likely named for Frederick Hastings Chapin, who came from Connecticut to climb in the Rocky Mountains from 1886-1888.
Hagues Peak – Named for surveyors and geologists James and Arnold Hague, who worked in the area in the 1870s. 
Hallet Peak – Known as Thunder Peak to the Arapaho, this peak was later named for a rancher, climber and founder of the Rocky Mountain Climbing Club, William L. Hallett.
A few great places to view Estes Park's peaks
Lake Estes and the Birch Ruins are two easily accessible places outside of Rocky Mountain National Park where one will find a splendid view of many of these peaks.
To view them from Lake Estes park at the parking structure and proceed east along the Lake Estes Trail, looking over your shoulder to watch for the mountain view as it opens up. The farther east you go the more mountains you will see. Or, start at the Lake Estes Marina on a cruiser bike.
Insider tip: Rent a pontoon boat, kayak or stand-up paddleboard from the Lake Estes Marina and hit the water to get the best view from this vantage point.
The Birch Ruins rest on a hillside above downtown Estes Park and put you on level with the mountains – to view them take a quick walk up the hillside – it's definitely worth it!
Don't forget to download the Peak Visor app to tell which peak is which after you've found your perfect viewing point. Check out this app and a short list of others that will be helpful during your time exploring.
Speaking of names
Rocky Mountain National Park was almost called Estes National Park. In 1915 the powers that be decided to make the name broader to leave open the possibility of expanding the park to include mountains like Pikes Peak (located almost 4 hours south of Estes Park) within it.
Colorado's Rocky Mountains weren't named for the copious amounts of rocks found there. They were named after the French translation for "stone Sioux," which is the English translation of the name of an Indian tribe that lived in the Canadian Rockies.
This post was made possible by research from Colorado Place Names, 3rd Edition by William Bright. Check it out to discover more fun facts about the names of Colorado places and features.