Passionate, action-oriented students at Estes Park Middle School (EPMS) raise awareness of environmental issues and advocate for change.
The Environmental Resilience Team at EPMS is an after-school club committed to creating positive environmental change through advocacy and action. Every year, participating students develop projects to mitigate natural hazards and build community resilience. For the last three years, their projects earned accolades in the statewide RISE (Resilience. Innovation. Sustainability. Environment.) Challenge, placing first in the previous two years.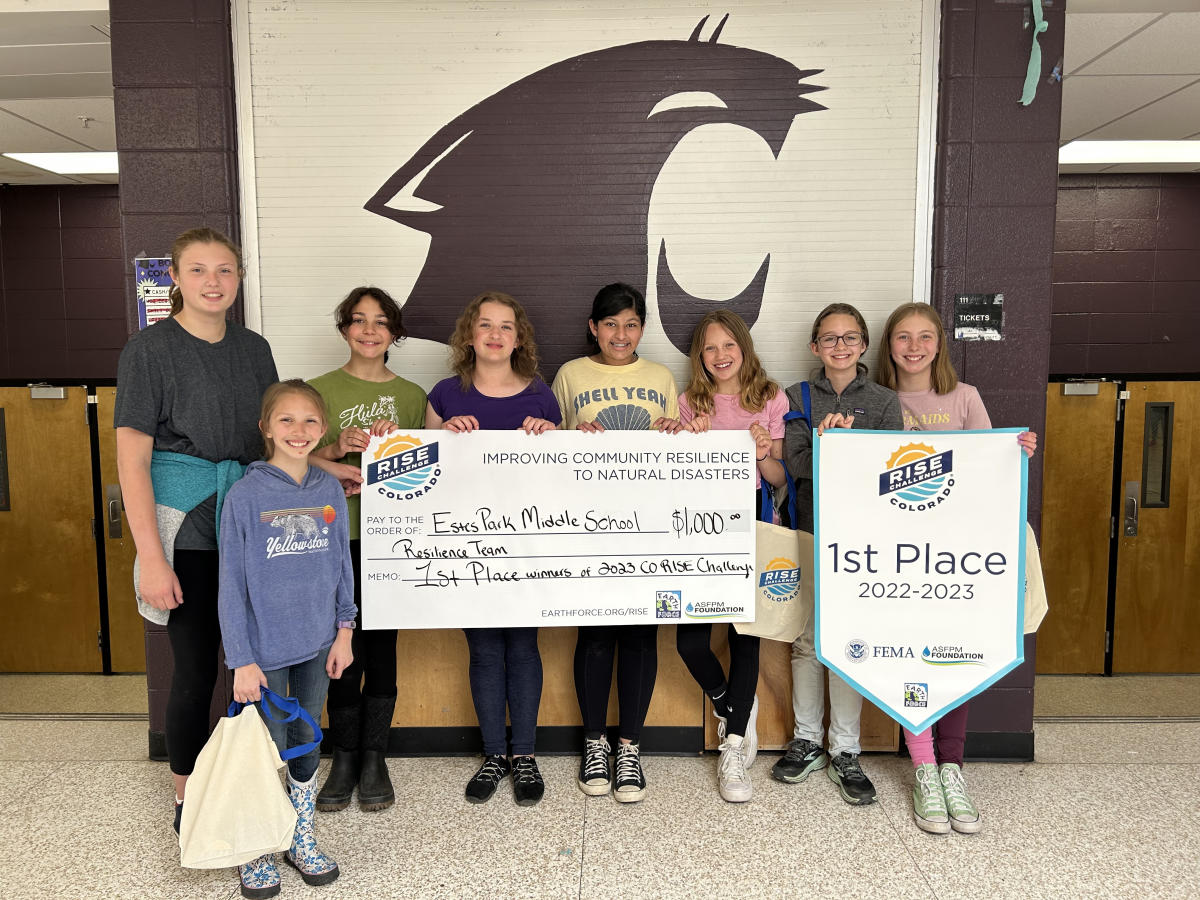 When developing projects, "oftentimes, the students come up with so many ideas that they establish a voting system to help focus on a matter that means most to them," says Ravi Davis, 6th Grade Science/STEAM teacher and team facilitator.
No strangers to the threat of wildfire or flood, this year the team's project was twofold. They focused on supporting the implementation of wildland urban interface (WUI) codes and restoring unhealthy wetlands. Estes Park is a WUI, an area where the natural environment intermingles with and transitions into a built environment and is susceptible to natural disasters like wildfire.
Support for WUI codes grew from the team's prior wildfire resiliency work, which involved fire mitigation and handing out go-bags. Support turned into advocacy after a discussion with the Estes Park Fire Protection District Chief made the students aware of a WUI bill under consideration in the Colorado Senate. "The bill establishes a Wildfire Resiliency Code Board and serves the purpose of ensuring community safety and resiliency to wildfires in WUI areas," said the students in a presentation to the Town of Estes Park Trustees. "The bill also identifies hazards and where defensible space is needed. It defines where WUI areas are, and it adopts codes to ensure that buildings and homes stay safe," they continued.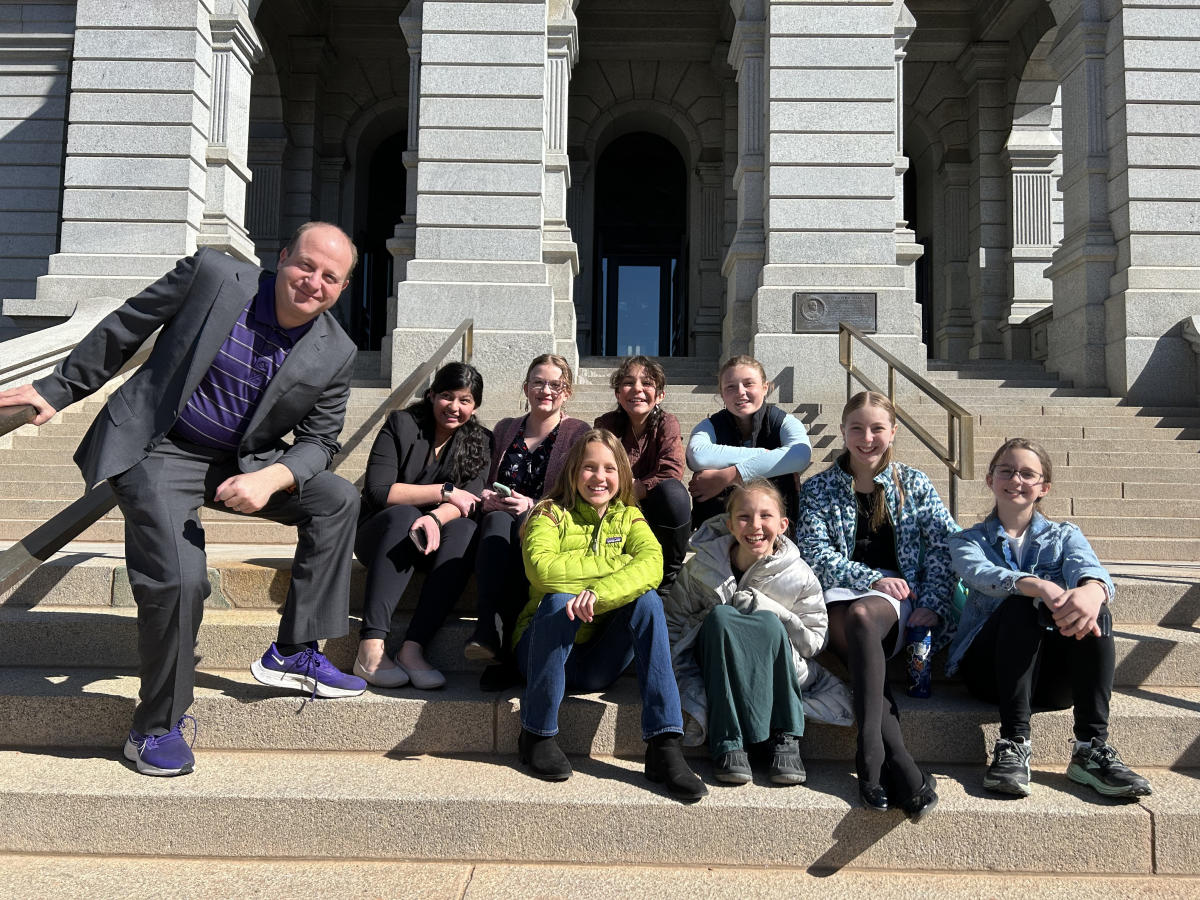 Advocating for the bill allowed the students to visit the Colorado State Capitol to meet with the bill's sponsor, Senator Lisa Cutter, to discuss how wildfires impact Estes Park and testify at a House committee hearing. They were also able to meet Governor Jared Polis. The bill passed in April, thrilling the students. "Being able to research that bill, enabling them to truly understand what it was about and what it would do, gave purpose and meaning to their cause," said Davis. "The students were incredibly happy to see a bill pass, knowing that they were a part of it in some way."
To address the area's unhealthy wetlands, the team took action to restore watersheds in Rocky Mountain National Park (RMNP) and Estes Park. Healthy watersheds help to prevent the spread of wildfire, mitigate the effects of floods and restore biodiversity. To help, they presented on this topic at an Earth Day event and put in physical work by prepping willows for summer planting in RMNP's Moraine Park and planting native riparian trees and shrubs uprooted by the 2013 flood along Fish Creek.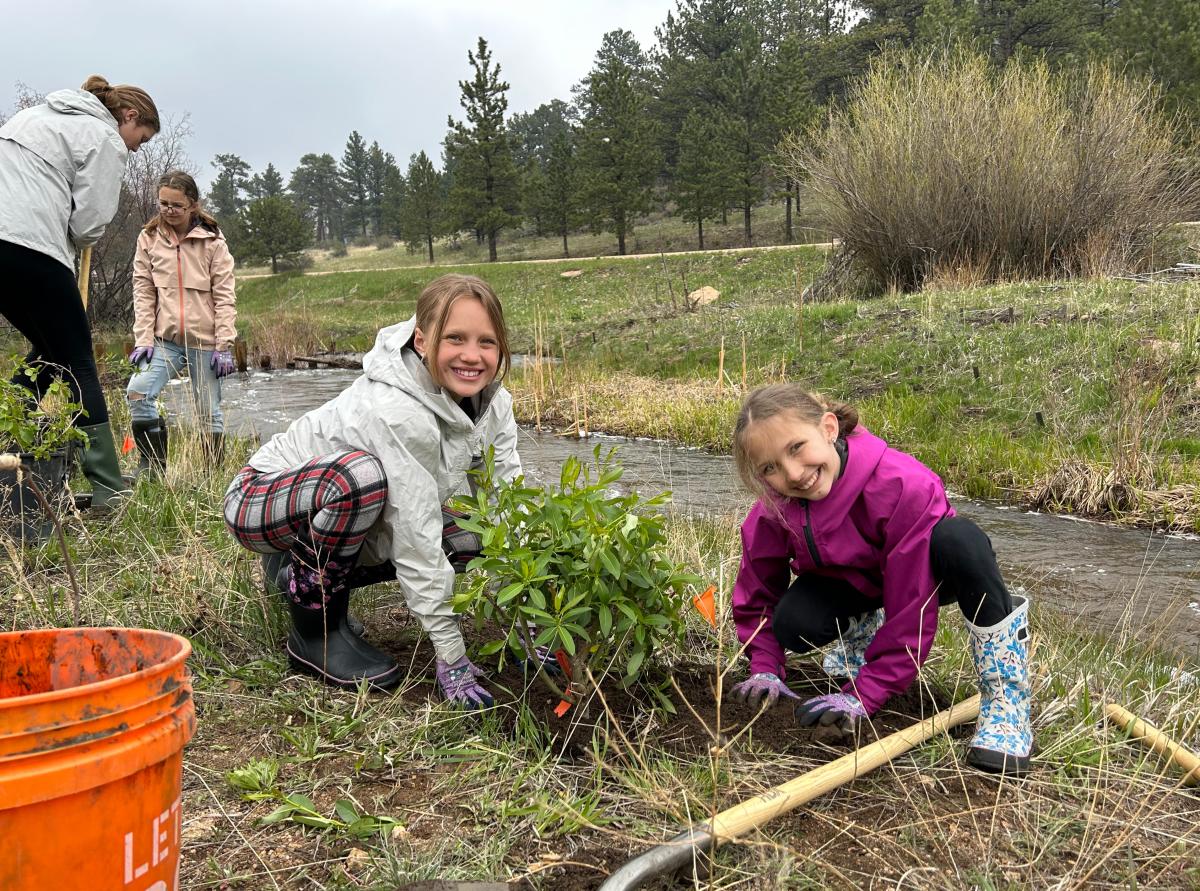 Davis is very proud of her students. "The passion and perseverance the team shows is astounding. It is heartwarming to see how the team comes together for a cause. This is truly a student-led team, bringing innovative ideas as well as many long hard-working hours, all outside of their school commitments," she commented. "The knowledge and skills that the students gain are valuable life-long tools in their journey to becoming successful leaders within our community and beyond."